Lego Masters final, review: An unlikely contender for greatness akin to Bake Off
Such a sweet treat that needs to retain its essential building blocks of fun and amateurism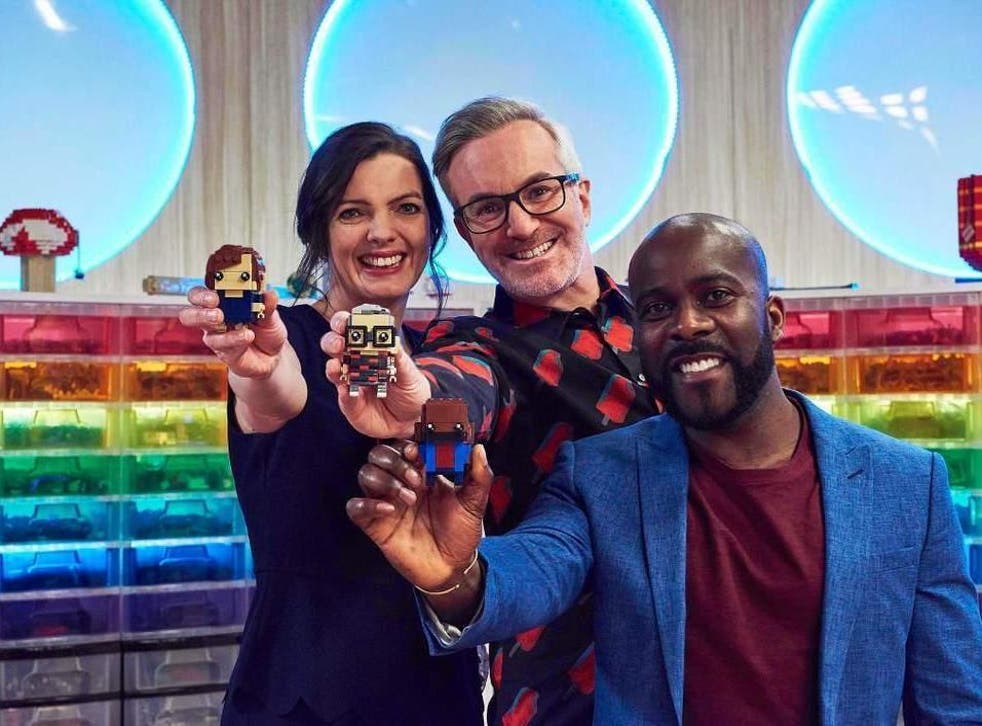 Everyone in telly land must be searching desperately for "the next Bake Off" – and Channel 4 may have found it in Lego Masters, which clicked magnificently together for its grand finale.
Lego Masters shares many of the standard componentry of a competitive light entertainment show – knockout rounds, brief biographies of the "ordinary" folks on screen, and emotionalism. But it is marginally less nerdy and ridiculous than, say, Robot Wars, and, involving no edible items, it makes a pleasant change from the countless reality shows based on food.
Lego Wars is also mostly free of annoying celebs, amateur singers who think they're the new Amy Winehouse, vicious back-biting and a "prize" of a £100,000 job working for Alan Sugar. Rather, these winners get The Lego Trophy, which is like any other trophy except that, instead of being made from a precious metal, it's, er, Lego; and they get the chance to exhibit their work at the Design Museum.
Well, yes, maybe on second thoughts Lego Masters is an unlikely contender for greatness, but, then again... whoever thought baking fancy cakes would make for gripping viewing?
Every old Christmas TV episode on Netflix

Show all 23
Lego Masters is such a very, very sweet treat that you could almost contract Type 2 Diabetes just from watching it.
The final treated us to an extra helping of sucrose with the addition of a bunch of "kids say the funniest things" type infants as consultant "junior judges". They say that children can be cruel, but there was no sign of that with this lot, as they specified the "ideal fantasy robo-pet" they wished the final four pairs of Legoistes to construct for them. "Scaly back"; "Sings the macaroni cheese song"; "Got a fireworks launcher", and "Lizard legs" were some of the design parameters, which made them sound like David Icke going off on one about Prince Philip and the reptile Illuminati.
Anyway, the Legoteers (I'm varying my nomenclature since I don't know the correct term for them) tried to oblige. Stuart and Izzy, (pushy) father and (pushy) daughter team, armed with an unlimited quantity of bricks, some motors and basic software, came up with a pig named Lollop. This actually farted and shat itself, with little brown Lego pieces in an unfamiliar usage. It was like Peppa Pig meets a scat movie.
This must be some kind of television first and was the most innovative porcine screen event since Rebecca Loos masturbated a porker on Channel 5's The Farm in 2004. Anyway, a flatulent swine fashioned from acrylonitrile butadiene styrene pieces that made weak puns was enough to get Stuart and Izzy through to the final two.
They were facing up to father and son Paul and Lewis, who stuck to the robo-pet remit more faithfully with Bob the Lizard. When their final creation was revealed, I actually gave a gasp of amazement, and it is a very long time since anything inside the magic rectangle has elicited that sort of reaction from your jaded reviewer (not since Rebecca Loos's love scene with that whimpering hog, probably).
Access unlimited streaming of movies and TV shows with Amazon Prime Video Sign up now for a 30-day free trial
Sign up
The final Lego Masters challenge was to create a "supersize model that inhabits its own world". Somehow, Paul and Lewis dreamed up the most enchanting inspiration – a typical 1930s seaside scene. And so they crafted a gigantic fat fellow with hooped one-piece bathing suit and Kaiser Bill moustache falling through his deck chair – and with a nasty little, motorised crab ready to nip his bum as he descends: a fine homage to those classic "saucy" Donald McGill postcards. The garnish was a Lego bucket and spade and – simple but effective – undulating loose piles of yellow Lego system bricks acting as eerily realistic sand.
Plus – and here my affection for the winners turned into full-on hero-worship – they recreated a vintage "what the butler saw" hand-cranked Mutoscope in Lego form. I mean, come on – surely more impressive than anything on Bake Off or The Apprentice?
Judges Fran Scott (scientist) and Matthew Ashton (Lego Vice President of Design) were kind and enthusiastic throughout, and Melvin Odoom an unobtrusive and charming host. Worryingly for them, however, along came Sue Perkins, formerly of Bake Off, as "guest judge", while the playful incidental music echoed those pinky-plonky tunes that punctuate Bake Off.
As I say, Channel 4 may have some grand Bake Off-style plans for Lego Masters – but the show will need to retain its essential building blocks of fun and amateurism. Brilliant as she is, they don't need Sue.
Join our new commenting forum
Join thought-provoking conversations, follow other Independent readers and see their replies