Mare of Easttown review: Kate Winslet is undimmable despite the encompassing gloom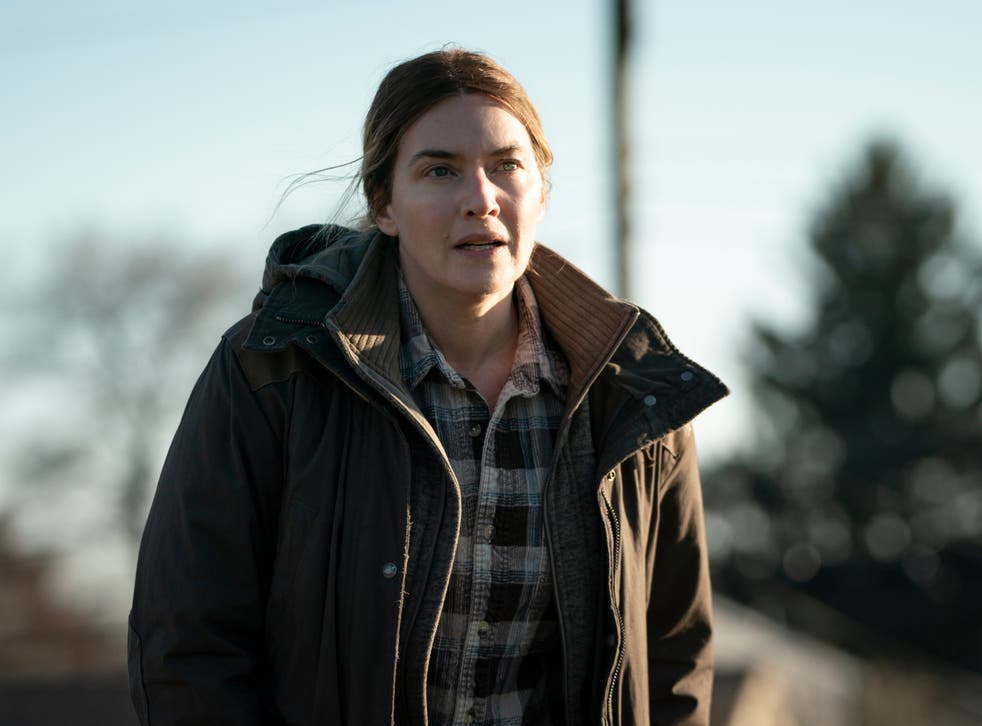 What's the collective noun for Kate Winslet performances? A raft? Actually, she has a bad record with those. Anyway, after her windswept turn as a Victorian fossil hunter in Ammonite last month, she's back, in drastically different circumstances. In Mare of Easttown (Sky Atlantic), HBO's dark new seven-part miniseries, she plays Mare Sheehan, a detective in the Pennsylvania town of – wait for it – Easttown, who is sucked into a murder inquiry while her personal life falls apart.
The stately first episode establishes it as a place of two halves. Most of Mare's work takes place in a sad, rusting town, blighted by unemployment and drug abuse. At home, she's closer to the affluent, suburban side of things. She lives with her mum Helen (Jean Smart), teenage daughter Siobhan (Angourie Rice) and grandson Drew (Izzy King), the son of Kevin, her son who died.
Her ex-husband Frank (David Denman) has moved into a big house backing onto hers with his new partner, where Siobhan can hang out in comfort. Siobhan is academic and obviously more middle-class than the other kids around her, enough so she might be able to go to a good college and get out. Victuals reinforce the class divides. While Frank borrows oregano for his rib roast, Mare drinks to live up to her Irish name and eats like a teenage boy, stuffing down pizzas and cheesesteaks and, at one point, squeezing cheese out of a can.
These details, elegantly picked up by the director Craig Zobel, help to build a convincing world. Its star will get most of the attention, but it is well acted throughout. The other standout in this opening episode is Cailee Spaeny (from Alex Garland's Devs) as Erin, a teenage mum caught between an angry father and a useless ex-boyfriend. Winslet seems to relish the challenge of the accent and the depressing setting. Beneath the accumulated layers of rage and disappointment, there are flickers of a brave and big-hearted spirit. She starts small, building the character through little details: a flash of annoyance or a wince of pain. When a visiting novelist and creative writing professor, Richard (Guy Pearce), tries to pick her up in a bar, she is initially resistant before she succumbs to the exoticism of this out-of-towner. Men in Easttown usually aren't up to much, so it takes a while for her to thaw.
At times, Mare of Easttown feels self-consciously novelistic, and not only thanks to the presence of a novelist. Like Updike's Rabbit Angstrom and Franzen's Patty Berglund, Mare was a high-school basketball star, still remembered by the town for a game-winning shot years ago. Series writer Brad Ingelsby is himself the son of a professional basketball player. As with Mare's literary forebears, adolescent glory weighs heavily on the ordinary life that follows.
Pennsylvania was a Trump swing state, and in the two sides of Easttown we are clearly meant to see two visions of America. Plenty of other series have taken on the gloomy small-town Gothic challenge, but if True Detective's influence is obvious, there are sprinklings of Broadchurch, Fargo and Happy Valley, too. Mare of Easttown is much easier to watch than I Know This Much Is True, Mark Ruffalo's joyless HBO miniseries from last year, and much of that is down to its star. Mare's undimmable despite the encompassing gloom. Thanks to her, Easttown feels surprisingly warm for a town full of dead teenagers.
Register for free to continue reading
Registration is a free and easy way to support our truly independent journalism
By registering, you will also enjoy limited access to Premium articles, exclusive newsletters, commenting, and virtual events with our leading journalists
Already have an account? sign in
Register for free to continue reading
Registration is a free and easy way to support our truly independent journalism
By registering, you will also enjoy limited access to Premium articles, exclusive newsletters, commenting, and virtual events with our leading journalists
Already have an account? sign in
Join our new commenting forum
Join thought-provoking conversations, follow other Independent readers and see their replies