The Morecambe & Wise Show: The Lost Tapes, review: A fascinating piece of TV history, but not that entertaining
Lost reels of The Morecambe & Wise Show from 1968 have been freshly restored. But the material is not a patch on the pair's later Christmas specials, finds Gerard Gilbert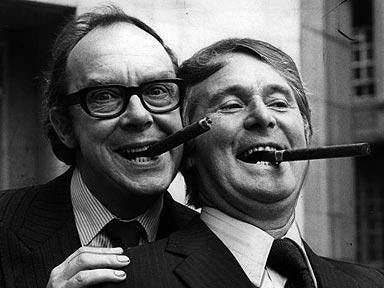 The Morecambe & Wise Show: The Lost Tapes (BBC2) is surely more fascinating for students of British TV comedy than for a family audience lolling around on their Boxing Day sofas and hoping to be entertained by one of Eric and Ernie's legendary Christmas shows.
Originally broadcast in 1968, two episodes of The Morecambe & Wise Show were presumed lost until these tapes were stumbled upon in a derelict cinema in Sierra Leone by Philip Morris. Described by Michael Aspel, in a brief new introduction to the show, as the "Indiana Jones of TV archives", Morris is the same chap who rediscovered lost reels of Doctor Who and Harry Worth episodes.
The grainy black-and-white reels have been buffed up, colourised and are presented here with no further comment. The BBC has scheduled them directly after the 1971 Morecambe and Wise Christmas Show that everyone knows and loves (even if they weren't there at the time, it's been repeated so often) – the one with André Previn and Glenda Jackson. But really, it would have been more instructive to have shown The Lost Tapes in tandem with the 2017 drama about comedy writer Eddie Braben, Eric, Ernie and Me; anyone planning to watch on catch-up can curate their own illuminating double bill because Eric, Ernie and Me is currently on iPlayer.
It was Braben, Ken Dodd's long-term gag writer, who took over The Morecambe & Wise Show in 1969 and helped turn it into what we remember today. These lost tapes are from when Sid Green and Dick Hills were still in charge of the sketches – and although much is familiar, especially Eric's surreal silliness, the material also feels thinner and more stilted. The longest sketch is more Harold Pinter than Morecambe & Wise in its setup, with three middle-aged men sitting around eating breakfast in what's supposed to be Eric's flat. Why? The whole scenario is slightly sinister.
The musical acts, Kenny Ball and his Jazzmen (featuring a clarinettist with a haircut Paul Weller would emulate a decade later) and a long-forgotten female big-band singer called Chris Longford, come and go without introduction, comment or interplay with the headlining duo, while Eric and Ernie interact with the studio audience rather than – as in later years – the audience at home. They also have a way of shouting their lines at each other, rather like Abbott and Costello, that doesn't feel quite right for television. Braben would go on to change all this and it is fascinating to see the raw material he had to work with. Fascinating, but mostly not that entertaining.
The most recognisable aspect of the show is the introduction, with Eric in a yellow sou'wester and carrying a plastic fish, having allegedly just sailed single-handedly around the world (for the historians among us, the whole sketch is an unspoken reference to Sir Francis Chichester's 1966-67 solo circumnavigation) and then the big song-and-dance finale. This is where Michael Aspel (or "Michael Aspirin" according to Eric) comes in, a very lean and fit looking young Aspel with something of Danger Man-era Patrick McGoohan about him.
I could have done with learning a bit more about what has motivated Morris, a former oil-rig worker once kidnapped in Nigeria (according to his Wikipedia entry). "What drives you?" Aspel asks him in the introduction. "It's national heritage… I don't see how I could not," seems an inadequate reply. This particular episode, however, is a piece of national heritage more likely to find a place on media studies courses than next to the nation's bosom.
The Morecambe & Wise Show: The Lost Tapes airs on BBC2 at 7.50pm on Boxing Day
Support free-thinking journalism and attend Independent events
Join our commenting forum
Join thought-provoking conversations, follow other Independent readers and see their replies