Mum review: Cathy's on-off relationship with Michael is a bit like Brexit
We are still kept guessing about the status of Cathy's love life in the third and final series of BBC2's family sitcom 'Mum', which stars Lesley Manville as a bereaved widow embarking on a new relationship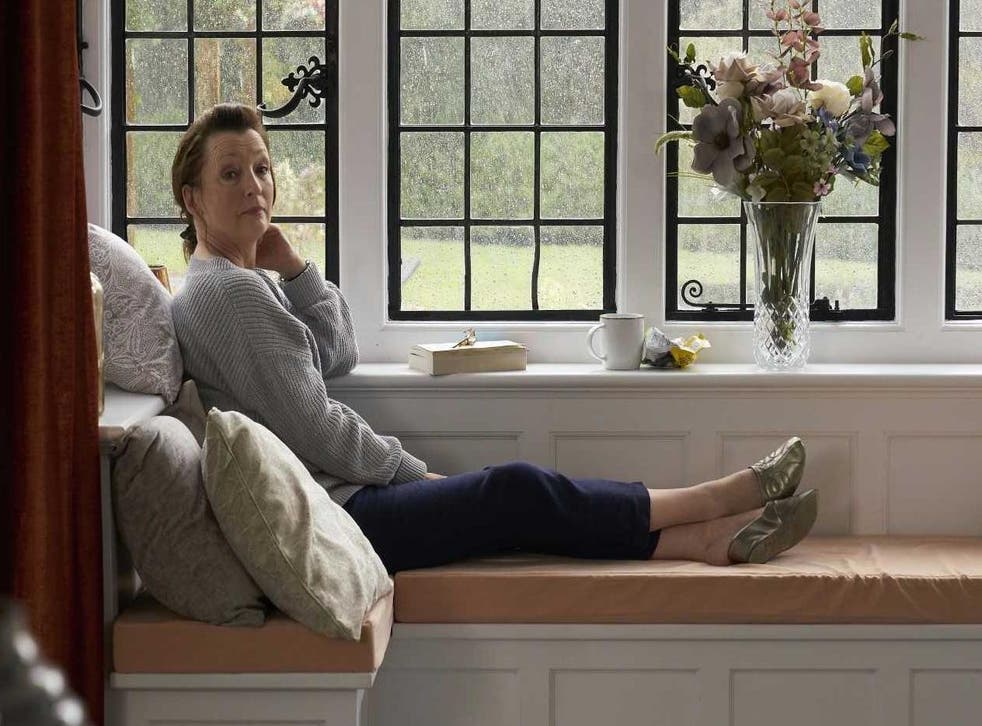 Mum (BBC2), then, has embarked on its third and final series, and I'm not sure whether to be delighted or not. Delighted, that is, because its easy pace, sharp observational humour and wit make it a pleasure to consume, and because now we might find out whether the two lonely central characters will at last declare their love; but not, simply because there won't be any more Mum.
Written and directed by Stefan Golaszewski, it's the story of how middle-aged widow Cathy (Lesley Manville at her very best) copes with bereavement, her close-knit family and just getting on with it. She knows Michael (Peter Mullan) anyway, a divorced friend with kids of his own, and the first two series, each roughly covering a year of her life, were occupied with the tortuous business of the pair of them getting together. By the end of the last series they had just reached the point of holding hands at a fireworks party. It was touching. The will-they-won't-they question seemed to be resolved. At last.
Yet maybe not. This week we find Mum/Cathy/Manville invited by her brother Derek (Ross Boatman) to spend a week at a posh mansion that he and his snobby partner Pauline (Dorothy Atkinson) have hired, apparently funded by her enormous divorce settlement, and, thus her ex-hubby (we never get to meet the poor man). Also tagging along are Cathy's aged cranky mum and dad (Marlene Sidaway and Karl Johnson), plus son Jason (Sam Swainsbury) and his girlfriend Kelly (Lisa McGrillis).
Picking up from them getting together last November, it now seems that Cathy and Michael have embarked, tentatively, on some sort of serious relationship. There are no steamy sex scenes – that really wouldn't seem quite right – but it is apparent – body language, little kisses, he bringing her glasses along, references to "last night" – that they have spent a least some time in bed, but as surreptitiously as possible, as Cathy is keen that Jason doesn't know about their closeness. However, it is also clear that Cathy isn't quite as committed as Michael would like her to be – "It was… nice… probably do it again at some point" she tells poor old Michael. He does his best not to look crestfallen.
The best TV shows of 2019 (so far)

Show all 47
And so, rather skilfully, we are plonked right back where we've long been – wondering about what that "probably" means and how "nice" things really got between this superannuated Romeo and Juliet.
Uncertain as the chemistry between their characters may be, the rapport between Manville and Mullan is pretty compelling, and will keep us watching right to the end of this run. The key really is whether Sam will ever be reconciled to his mum's interest in Michael; when he asks the man who he never wants to become his step-dad "Why did you come?" Sam just edges from his usual easy-going self into something quite poisonous. It was quite the "moment".
Those tributes delivered, there was some wonderful scene stealing to relish. The moment when a tearful Kelly sort-of tells her mum she is pregnant by asking questions supposedly on behalf of "a friend" – though it is increasingly obvious anyway that she's expecting – is just so touching, that you immediately feel protective towards this dipsy, naive, slightly idiotic but sweet young woman. By contrast, Dorothy Atkinson's portrayal of the petty, greedy, social-climbing monster is simply superb, and I liked the way that her absurd airs and graces have begun to infect Michael, who so worships her that he aspires to be like her but also tragically can't quite manage to match her peak pretentiousness. Their idea of upmarket is Radio 4 ("a radio station where they don't play music and you can't phone in"), the Daily Telegraph and guest towels folded into swan shapes.
Sad to say, Cathy's on-off relationship with Michael is a bit like Brexit. It's been going on for about the same length of time, and it carries with it the same degree of emotional intensity for the observer, so that one minute you think it's sorted out and the next you realise that it isn't, and it may never happen. On balance, though, Mum is a bit more fun. Fingers crossed for Cathy and Michael, then, and now for Kelly and Sam's baby. I sense they will have determined the future framework of their relationship before Brexit is over.
Join our new commenting forum
Join thought-provoking conversations, follow other Independent readers and see their replies