Poldark series 4 episode 1 review: Love Island but with more male chest hair
The trouble with Poldark the character and Poldark the show is that there isn't much to like about either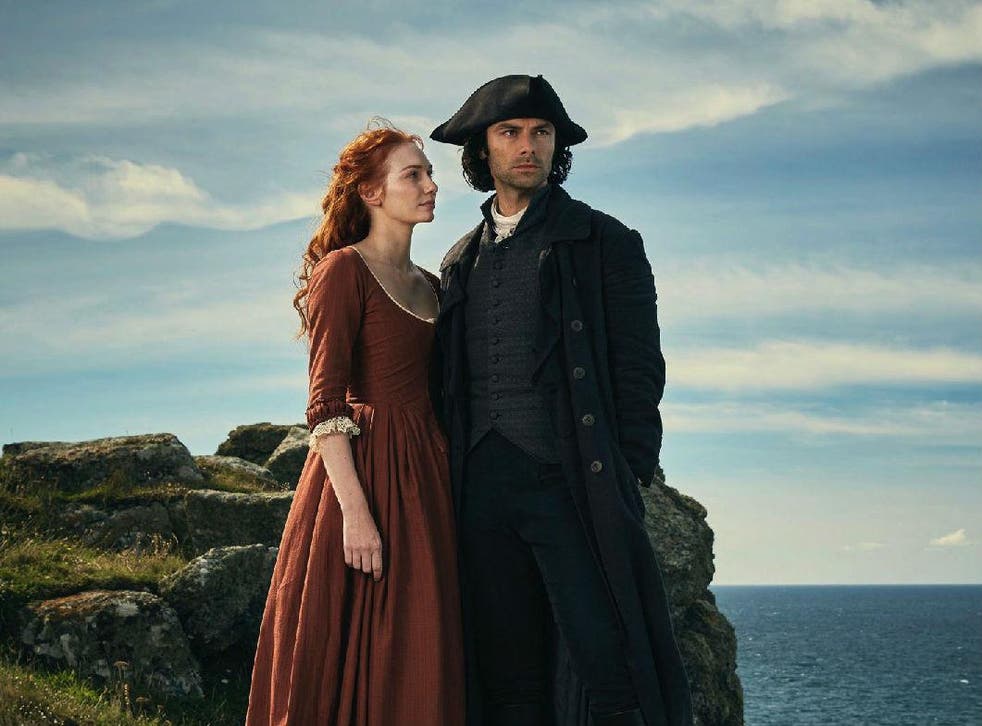 Long before the end of this first episode of the new series of Poldark, I felt like emulating the eponymous hero himself and getting up in the living room, and addressing the television with the sort of hammy, mannered, language Aidan Turner has to cope with, roughly as follows:
"Gentlemen - and ladies - of Her Majesty's broadcasting corporation. Your viewers have had to endure much privation these many years - Mrs Brown's Boys; the Antiques Roadshow; David Starkey."
"Have we not suffered enough? Must we endure more two-dimensional period drama? Have you no shame in your hearts?"
Well, they don't, the BBC, have any shame that is, and they were even blatant enough to kick off with the absolute crashing bore of a cliche of having Poldark emerge from the Atlantic waves shirtless, an entirely gratuitous scene, the sole purpose of which was to ensure the money shot was delivered at the start just as the audience has come to expect.
From there on, in fact, it was the drama that started to drown, which was the only way to derive much enjoyment out of it.
The trouble with Poldark (character) and 'Poldark' (show) is that there isn't much to like about either. Ross himself isn't a bad sort, but that's the problem. Aside from his enviable abs and equally handsome horse galloping like in a Lloyd's Bank ad across the Cornish countryside, also handsome, he was quite a boring bloke. You'd actually not want to spend much time with him down the tavern smoking a clay pipe and drinking scrumpy, plotting a spot of smuggling rum and muskets. He's too nice, basically, going around doing good and being misunderstood: as in this edition, when he was on a mission to try to stop some local men, including a couple of his brothers in law, from being hanged.
He succeeded for the most part, in getting them off for "riotous assembly, theft, violent affray, common assault and murder". He did so through the last minute and highly incredible instrument of a (not very good) speech at the gallows. This exacted some sort of legally vague pardon for most of them, which even in this absurdly Tolkienified Cornwall seemed daft.
The lads had been rioting and had put a merchant to death simply because grain was being exported to Lisbon for "Portuguese dandies" rather than kept onshore to feed them and their kin in a time of hardship. Yet it seemed to me the economic case for free trade and for exports so that Global Britain could pay its way in the world, just as nowadays, had gone by default. Besides, if the legal doctrine of common enterprise is to have any meaning then, of course, every rioter ought to have been hanged. No-one pointed any of that out, and so Poldark's sentimentality carries the day. I wasn't impressed, frankly.
Still, Poldark isn't as annoying as Hugh Armitage (Josh Whitehouse), a wet, sickly youth who, inexplicably, is put up as a love rival for Poldark's missus, Demelza (Eleanor Tomlinson). His sexual secret weapon is poetry that is presumably written so as to seem irresistibly attractive but which is just rubbish, such as:
Access unlimited streaming of movies and TV shows with Amazon Prime Video Sign up now for a 30-day free trial
Sign up
"Lips to my lips unfold
Tale of our love is told
Hallowed by sea and sand".
That last line is a reference to a quickie he'd got out of Demelza on the beach at Newquay, or somewhere, when Ross had gone off to get the Doom Bars in. Hugh is being very brave about going blind, as well as bland, and dying but I just wish he'd get on and peg it. That'd stop his love poems.
Demelza, by the way, may or may not be a bit of a slapper, but is also, like Poldark, quite a goody two shoes, and thus just as irritating. Why does she have to sing for heaven's sake?
On the whole, I much preferred the villains. I liked George Warleggan (Jack Farthing), who was just smarter and had a better idea about politics and what the country and Cornwall needed than Ross Poldark. You'd enjoy finishing off the port with that bastard. Tough choices rather than promising all things to all men is this George's schtick. Think of George Warleggan as Chancellor George Osborne - clever, ruthless, scheming - and Poldark as Jeremy Corbyn, naive, sometimes dim and unworldly, if you like. Poldark will soon be running for Parliament, which will make him more insufferable.
I even found the oleaginous vicar, the Reverend Osborne (Christian Brassington) hugely entertaining with his open disdain for "the Methodists" and open delight that they were about to meet their maker. In the 1970s dramatisation the role was taken by Christopher Biggins, and his spirit was channelled superbly into this latest iteration, a nice blend of sin and ecclesiastical camp.
So Poldark is really a bit of a socialist parable, but gone all wrong. It was written about a century and a half after when it was set by a bloke from Manchester, Winston Graham, in the 1940s, the Attlee era of the brave new welfare state. A product of those times in other words, rather than Poldark's. There were few if any such proto-social democrats to be found in the late eighteenth-century English squirearchy.
Graham's novels - a depressingly substantial body of work - have been adapted now by Debbie Horsfield, whose politics I cannot know, but in any case the dialogue has been somehow rendered in that stilted, sub-Jane Austen lingo you might term "periodese". Sadly this is what we've come to expect from anything given the label "historical" ie set before about 1930. Thus we find George's wife, and Ross' ex, suggesting they spend more time together with "I think it beneficial we are not so much apart". There's really no need.
That, though, is as nothing compared to what the poor old yokels were lumbered with. Their Cornish accents were so thick that they were left comically incomprehensible. Not since the heyday of Professor Stanley Unwin or Adge Cutler and the Wurzels have we heard such ripe West Country tones (please - Google them).
The bumpkins' were uniformly costumed in drab olive green - presumably to signal through simple colour coding "this is a bumpkin" to a sleepy Sunday night viewer - such that they looked like the costume department had put them through a spray paint shop before filming. Indeed I sensed that only with the utmost restraint had the producers refrained from kitting them out in full smocks and chewing a blade of straw as they proled their way through the proceedings.
Poor Beatie Edney, as Demelza's maid Prudie, and Miss Wizened Wench of St Austell, 1796, was especially ill-favoured. She deserves special respect as a sort of animated Rembrandt picture. She too deserved better.
Poldark, then. Never have so many tricorn hats, so many bonnets, so many bodices, breeches and buckles been sacrificed for such scant dramatic purpose. Poldark is Love Island with more male chest hair and less convincing conversations.
Fare thee well, then, esteem'd viewers of thine tablets and tellies, and prithee forgive this contumely.
Register for free to continue reading
Registration is a free and easy way to support our truly independent journalism
By registering, you will also enjoy limited access to Premium articles, exclusive newsletters, commenting, and virtual events with our leading journalists
Already have an account? sign in
Register for free to continue reading
Registration is a free and easy way to support our truly independent journalism
By registering, you will also enjoy limited access to Premium articles, exclusive newsletters, commenting, and virtual events with our leading journalists
Already have an account? sign in
Join our new commenting forum
Join thought-provoking conversations, follow other Independent readers and see their replies