Poldark series 3 episode 8: Sex and politics proved irresistible in the penultimate instalment
Ross and Demelza were both tested, while the baddies battled it out in the corridors of Cornish power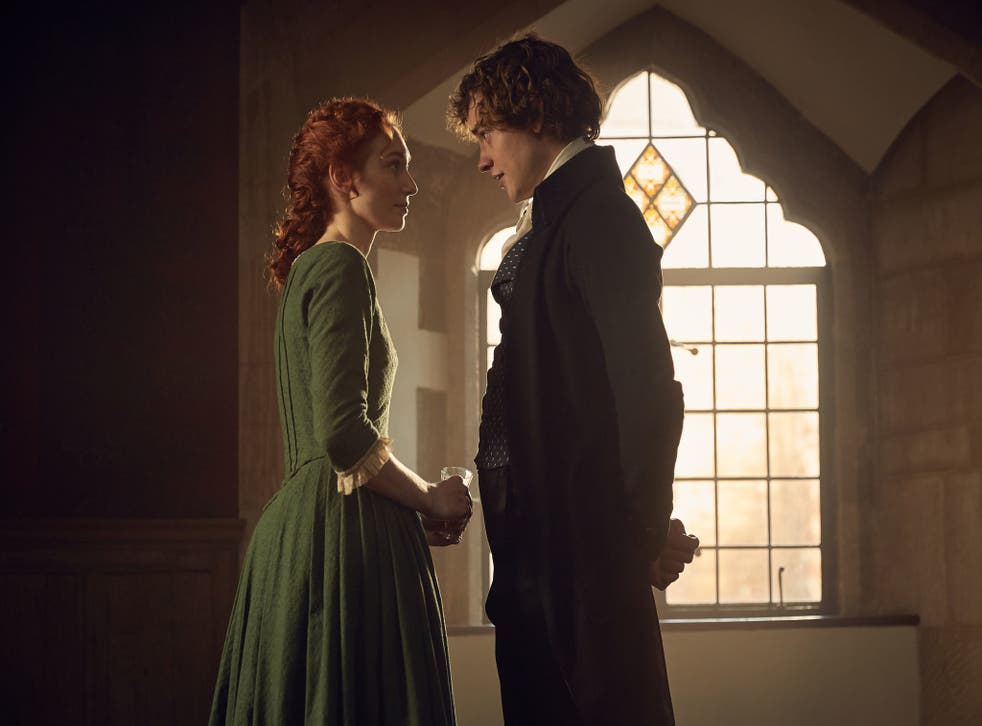 Blimey, this was a lust-charged episode. What with Hugh Armitage making a play with poetry for Demelza, Rowella unhooking her corset and flashing her ankles for Ossie Whitworth, Emma attempting to get Sam Carne into carnal love, Ross and Elizabeth only narrowly resisting a romp at Aunt Agatha's graveside, and Prudie encouraging her mistress to get on with "roughin' and tumblin' about the meadow", everyone was almost at it or talking about getting their end away. And it was all done with the mix of light and shade that makes this series such a good watch
Reverend Ossie Whitworth's antics were a case in a point. I tip my tricorn to Christian Brassington for his portrayal of the morally bankrupt vicar. First, we laughed at him barely able to contain himself as he spied Rowella's (Esme Coy) feet through the keyhole – those sighs, yelps and shudders will haunt me – then we shivered as he forced a shaking Morwenna (Ellise Chappell) to allow him his "conjugal rights". There is something of the pantomime villain here – would a man truly want his wife to die in childbirth? – but you know that when you relish a character's presence on screen that it is villainy done well.
Jack Farthing's George spent most of the episode looking like he was chewing a wasp after Agatha's revelation that little Valentine might not be pure Warleggan. He quizzed poor Dwight (Luke Norris) about the appearance of premature babies. Have you noticed that George speaks as though every word has a full stop after it? "I'm. Told. That. An. Eight. Month. Child. Has. No. Hair." Dwight was probably wishing he was back in Quimper rather than having to listen to it. His life would be a hell of a lot easier if Jeremy Kyle could step in. A lie-detector and an on-air DNA test would shut Georgie up.
The TV shows you'll be bingeing in 2017

Show all 27
The ludicrous Hugh Armitage (Josh Whitehouse) tried to snog Demelza (Eleanor Tomlinson) tonight and the penny finally dropped for Ross (Aidan Turner) that his wife might fancy another bloke. She resisted his scribblings and questionable sketches in favour of another glass of port but we could see she was tempted. The chemistry between Ross and Elizabeth (Heida Reed) was more palpable and he predictably could not resist a kiss, living up to his flawed-hero reputation. Back at Nampara, his soliloquy on torn loyalties was moving, if faintly pathetic. Demelza was more up-front about her temptations for "another", but time will tell if the couple make it through to the end of the series without her getting any action from the cherubic lieutenant.
Elsewhere, GC (Harry Marcus) was on hols from Harrow and is now surely the most emotionally astute 13-year-old in Cornwall? I thought boarding school was supposed to do the opposite but he was back wing-manning Morwenna and making wheels with his pal Drippy Drake. Incidentally, fettling iron is this series' scything in fields - mark my words.
As well as all the lusting, there was also the serious business of politics to attend to. George won the vote to be Truro's new MP and Lord Falmouth was fuming. Winston Graham wrote some great baddies but it's top-drawer casting that brings them to life on TV. James Wilby was a delight as the power-hungry peer. His lines were a bit 18th Century Politics for Dummies (sample: "It is for we, the aristocracy, to govern. Who better to uphold the traditions that make this country great?") But the delivery, gravelly patrician with a hint of spitting cobra, made him a moreish villain.
So to sum up, no one is happy, sexual frustration is rife, miners are starving, George Warleggan is doing his best Jeremy Corbyn impression and failing miserably, putting liberty, fraternity and equality at risk, and Capt'n Ross still has a chance to put his head above the parapet to sort it all out. That's a lot to resolve with one episode left. Thank God for series four.
Join our new commenting forum
Join thought-provoking conversations, follow other Independent readers and see their replies