Prisoners of War, Sky Arts 1, Thursday Episodes, BBC2, Friday Cardinal Burns, E4, Tuesday
The Israeli precursor to 'Homeland' is a slow-burning domestic drama (with added torture)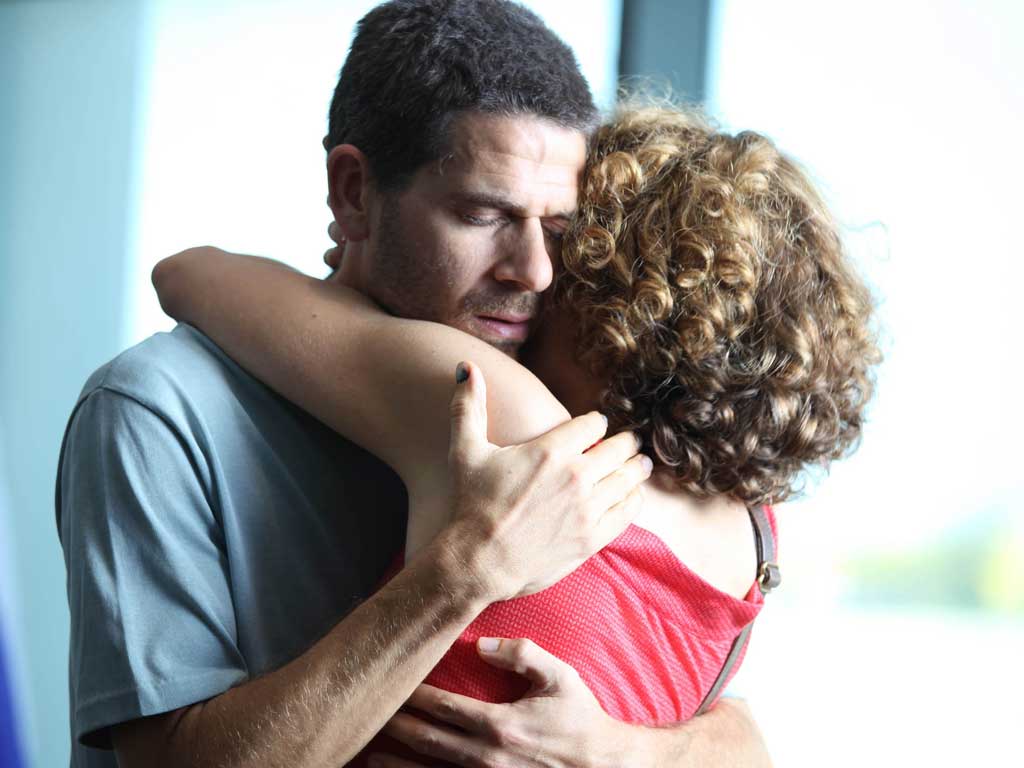 A lone woman speeds along a dusty road in Iraq; she's a CIA operative; she hits a queue, abandons the car and calls Langley to try to get an execution stayed; she bribes a man to get her into a prison and moments before she's bullied away by guards, the executed-to-be whispers something incendiary to her.
Thrilling stuff. That's how the first episode of Homeland began.
Opening sequence, take two: four people sit in a hotel room in silence. A man knocks, brings in a piece of paper. Someone signs piece of paper. Man takes piece of paper down a corridor. "What now?" "We wait."
We sure do: it's not until half-an-hour in that we glimpse the equivalent of Marine Sergeant Nicholas Brody. This is Prisoners of War, the Israeli original upon which Homeland was based, and a deal has just been brokered to release three IDF soldiers. Anyone expecting a thriller akin to the American hit will be disappointed; but take it for what it first appears to be – a domestic drama (with added torture) – and this production has much to recommend it.
Rather than the slick pomp of Sgt Brody's return, the arrival of Uri Zach and Nimrod Klein on home soil is downbeat: there is nothing of Damian Lewis's buff poster boy in these men, cowed by 17 years in captivity.
There is a suggestion, before one of them is allowed on the plane, that he might have been "turned" by his captors, but we do not know which. Rather, it is played as a sidenote to be explored later. The drama instead derives from how they will cope with normal life. It won't be easy: one has a dope-fiend delinquent daughter who decides that the best way to welcome her father back is to ask whether he was raped; the other has been supplanted in his beloved's bed by his brother. The third body has come back in a box, though still remains very much alive in the mind of his sister, who seems to be suffering from even greater post-traumatic stress than Zach or Klein.
Bipolar maverick Carrie Mathison – who drives much of Homeland's action – is here a rational, experienced military psychiatrist, accentuating the sense that while this is a less flashy progenitor of the US series, it is serious, raw, and, most importantly, steeped in reality. Given that it was filmed while the soldier Gilad Shalit was still being held by Hamas, it would never have become Israel's most successful drama had it been anything but authentic. It is accepted in that country, where national service is mandatory, that everything should be done to secure the release of captured soldiers, as they could be anyone's daughter or son. And this is why it is entirely right that it is family-oriented and realistically gripping rather than military-based and brashly breakneck.
If only Episodes could be as involving. A dramedy about a British couple writing a TV show in the States, the first episode of the second series suffered from a paucity of both drama and laughs. It's all very meta-meta, and while it just about got away with it before, now they're throwing TV criticism of the show-within-a-show at the screen, the self-referencing joke is wearing thin.
At one point one of the writers says of the critics, "So much rage. Why? Why? It's just a little TV show", and he might as well be talking about Episodes as his own series. It's hard to get worked up about it, and when they give you the line that it's "an uninspired placeholder until something actually funny comes along", the script is pretty much summing itself up.
That "something actually funny" could well be the sketch show Cardinal Burns, which is off to a good start with such characters as a surprisingly successful office flirt and a spoken-word poet who's less street than mews; as well as the outstanding revelation that Banksy is in fact a dull bloke who lives in Hadley Wood, gets his supplies from Homebase, and replaced the petrol bomb in his "Flower Power" protester graffiti with a bouquet "more to amuse myself than anything".
Access unlimited streaming of movies and TV shows with Amazon Prime Video
Sign up now for a 30-day free trial
Sign up
Access unlimited streaming of movies and TV shows with Amazon Prime Video
Sign up now for a 30-day free trial
Sign up
There were some duff notes, but far more hits than misses. It's sharply written, nicely paced, it feels fresh and it made me snort – and that's more than can be said for Episodes.
Join our commenting forum
Join thought-provoking conversations, follow other Independent readers and see their replies