Rick and Morty season 3 episode 1 review: Relentless callbacks as the duo embark on their darkest season yet
** SPOILERS AHEAD **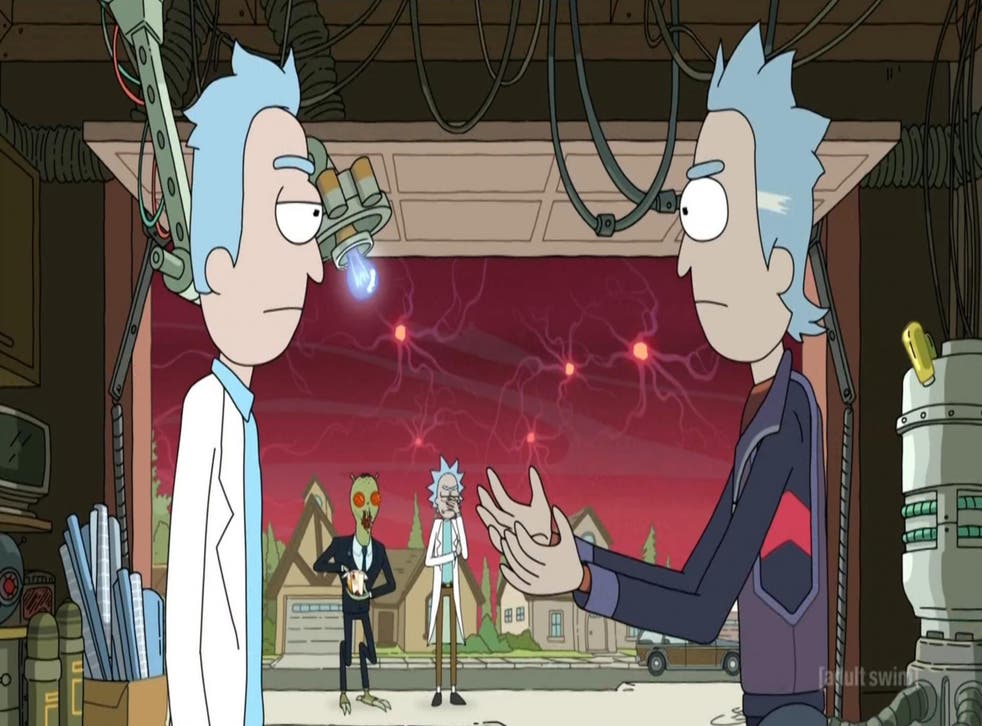 Bam. Seemingly out of nowhere, the season three premiere of Rick and Morty has landed - on April Fool's Day, no less - perfectly capturing the show's bonkers sensibility. You can imagine Dan Harmon and Justin Roiland pitching the idea to Adult Swim, the two of them shouting 'Wubalubadubdub' until the executives agreed on a Beyoncé-esque surprise release.
While the Lemonade singer dropped an almost immaculate album, Harmon and Roiland have released one of their finest episodes to date. For 22 straight minutes, we're taken on a turbulent adventure that ties up loose ends while causing more chaos for the beloved Sanchez/Smith family.
The episode begins with the Galactic Federation trying to persuade the eponymous Rick to reveal the secret to his portal gun, the Granddad having been captured during season two's climatic 'The Wedding Squanchers'. As we know from 'M. Night Shaym-Aliens!' - in which Aliens used virtual reality to trick Rick into revealing the recipe for concentrated dark matter - Rick's always one step ahead, escaping this time using some kind of mind transplanting device.
On Earth, the Galactic Federation has taken over. Jerry may have been promoted five times despite not knowing what he does, Beth's turned to alcohol again, and Summer can't stand Earth anymore now humans - minus the Smiths - are living underground. Deciding she's had enough, Summer goes on a quest to save Rick - something Morty doesn't approve of (Oh, how the tables have turned between these two).
Rick and Morty - Season 3 Promo
After digging up dead Rick from the garden - another callback to seasons' past and a dark reminder of life's meaninglessness when multiple dimensions exist - the duo find the portal gun. Morty, though, takes us to Cronenberg world to show Summer the devastation Rick has caused. Here, they find themselves in trouble once more, as Morty's true parents and sister eat Cronenburgers. Luckily, Ricks from the Citadel of Ricks (more callbacks!) are on hand to save the day. Kind of.
Brought before the Council of Ricks, the pair are used as bait for 'our' Rick (i.e Rick from dimension C-137). Meanwhile, Rick has been infiltrating the Citadel with the mind-transportation device, using a gigantic portal gun to transport the Ricks' Citadel into the main Galactic Federation spaceship.
Rick C-137 also managed to transport his mind into one of the Council members, crashing their meeting and killing the other Ricks. There is, however, one last obstacle: one of the Ricks has Summer hostage. C-137 bluffs about letting Summer die and Morty points a gun on his Granddad, eventually pulling the trigger. But, that's just another part of Rick's plan. The fake gunshot distracts Councillor Rick, allowing real Rick to kill him. The trio destroys the Galactic Federation currency, leading to Earth being freed and the Smiths all back together.
Being Rick and Morty, though, there's one last twist. Whereas everything's back to 'normal', Jerry makes a stand against Rick, leading to Beth calling for a divorce. Things end with Rick telling Morty this was his plan all along: to get Beth to divorce Jerry so he could be the house's Alpha male and they can go on adventures all the time. All - it should be noted - to hopefully bring back McDonald's delicious Mulan-sponsored Szechuan sauce ("That's my story arch, Morty").
The TV shows you'll be bingeing in 2017

Show all 27
Really, there was barely any breathing room in episode one. Jokes landed ("No, I don't want to see your POG collection") while the dark nature of Rick and Morty was on full display. Morty has become entirely cynical of Rick, so-much-so that he attempted to murder Rick. That's a hugely dark turn for a character who's been through so much: could we be seeing the origins of Evil Morty? After all, if Rick C-137 is the Rickest or Ricks, surely Morty C-137 is the Mortiest of Morties? Expect their ongoing, tension-riddled relationship to heat up throughout the season.
Access unlimited streaming of movies and TV shows with Amazon Prime Video Sign up now for a 30-day free trial
Sign up
Also, with Rick mentioning at least nine seasons and some sauce, this seems an appropriate time to remember Harmon's other show, Community. One of the gags throughout the latter seasons of that show regarded the Darkest Timeline, where our gang wore fake moustaches and wore Matrix-esque dusters. Harmon and Roiland have always tasked viewers with thinking about the darker notions of humanity. Could we be witnessing Rick and Morty's Darkest Timeline? Sure, we care for our titular adventurers, but their travels are beginning to bring out the worst in them, particularly Morty.
The world may have been reset, but the scars remain on our heroes. Rick and Morty, therefore, looks set to get a lot darker from here on out (if that's possible). If the show's quality remains this great, then we've got lots to look forward to this season. Let's just hope Jerry disappear for too long, his naivety will be much missed.
Season three of Rick and Morty has yet to receive an official release date. Harmon has previously spoken about the delay candidly here.
Join our new commenting forum
Join thought-provoking conversations, follow other Independent readers and see their replies