The Independent's journalism is supported by our readers. When you purchase through links on our site, we may earn commission.
Sharp Objects season 1 episode 1 'Vanish' review: Blue detective
Our protagonist's depression is, for once, not her superpower in HBO's new Amy Adams-starrer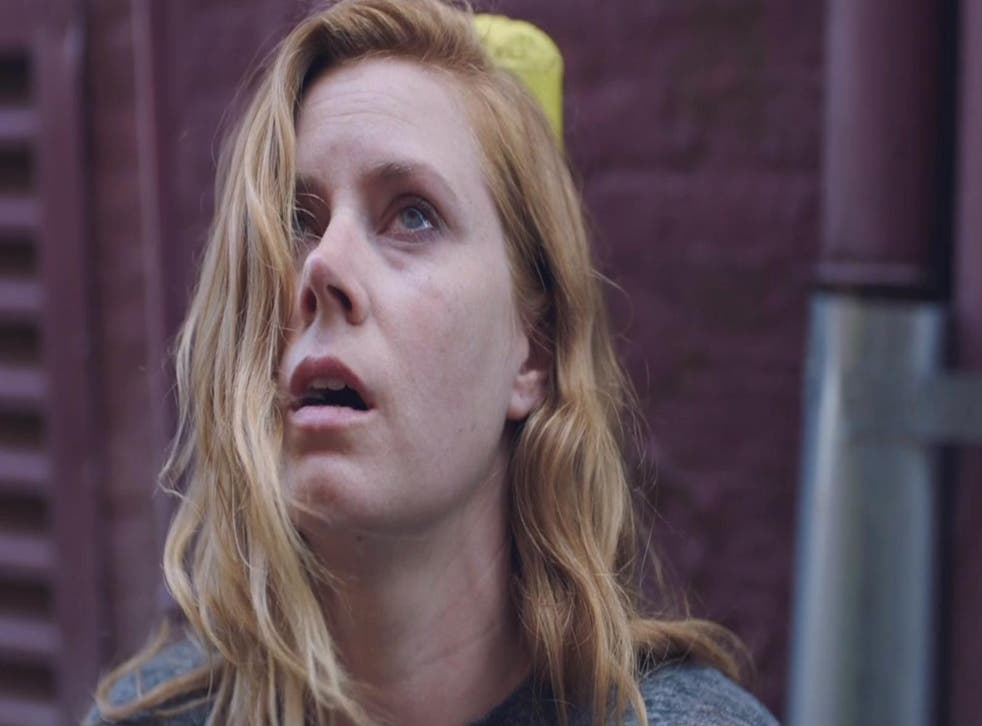 In the opening moments of Sharp Objects (HBO, Sky Atlantic), as tattered political posters peel from dull brick walls and streets lie empty, numb and yet somehow threatening, you might be thinking 'really, another bleak crime mystery set in a dead-end town?' If the episode had been mislabelled as the True Detective season 3 opener I can' imagine there is anyone who wouldn't buy it, as 'Vanish' has the same muted, patient and sombre feel.
Where it does depart from the tried and tested small town, slow burn formula however, where the murders are grisly and the pain is repressed, is with its protagonist. For once here we have a detective (well, Camille is a crime reporter but she essentially functions like one) whose depression is not their superpower. So often in television does a character utilise their introspection and desperation to excel in their career, thinking like a more mentally healthy person wouldn't and/or giving everything to their job in lieu of a social life. But Camille isn't a crime-solving mastermind with the dark psyche needed to get into the mind of a killer. She's not even particularly interested in her day job, only returning to her sleepy hometown of Wind Gap, Missouri because her editor assigned her there. She's just really fucking sad.
Amy Adams is a perfect casting choice, possessing a believable and palpable pain as Camille just tries to get through the damn day, crippled by alcohol addiction and repressed memories that we begin to glimpse through flashback. This is sometimes conveyed in a trope-y way, Camille at one point driving down an open road listening to blues and sipping directly from a whiskey bottle. In others, it's achieved more subtly, with hints at how little she has her shit together coming via her phone's cracked screen or how her eyes tend to settle on bleak juxtapositions. In a police chief's office she squeezes a pink hippo stress toy - the eyes bulging from its rubber head - and is positioned while sat in front of his desk in such a way that his pen appears as a spike impaling her head.
The whole season has been directed by Jean-Marc Vallée, and he brings a vague auteurist feel that Big Little Lies fans will recognise, while the script is an adaptation of the novel by Gillian Flynn, best known for Gone Girl, another no-bullshit look at the female condition.
There's a lot of talent both in front of and behind the camera, then (in terms of the former, additional shout-outs go to Patricia Clarkson, who plays Camille's aghast mother, and Sophia Lillis, who channels Mia Farrow as a young Camille), and there's something alluring in how honestly the show sees the world. "Can we just talk," a detective says to Camille over too many straight doubles, "I'm starved for some city folk conversation: I'll ask you a question about your life, you can ask about mine [etc]". "I don't really do that, chat," she responds blankly.
And yet this pilot left me a little cold, and not just in the sense that it was intended to. I am one of the few people who hasn't read the novel so what lies ahead is a mystery to me, I just hope it overwhelmingly focuses on our pent-up protagonist and resists becoming yet another hunt for a sadistic killer.
Sharp Objects airs Sunday nights on HBO in the US and follows Monday nights on Sky Atlantic and through NOW TV in the UK.
Join our new commenting forum
Join thought-provoking conversations, follow other Independent readers and see their replies