Sherlock season 4 episode 2 review: Benedict Cumberbatch's detective drama takes a dark turn
Toby Jones plays a character described by Holmes as 'the most dangerous and despicable human being I have ever encountered'
Sean O'Grady
Monday 09 January 2017 00:02 Comments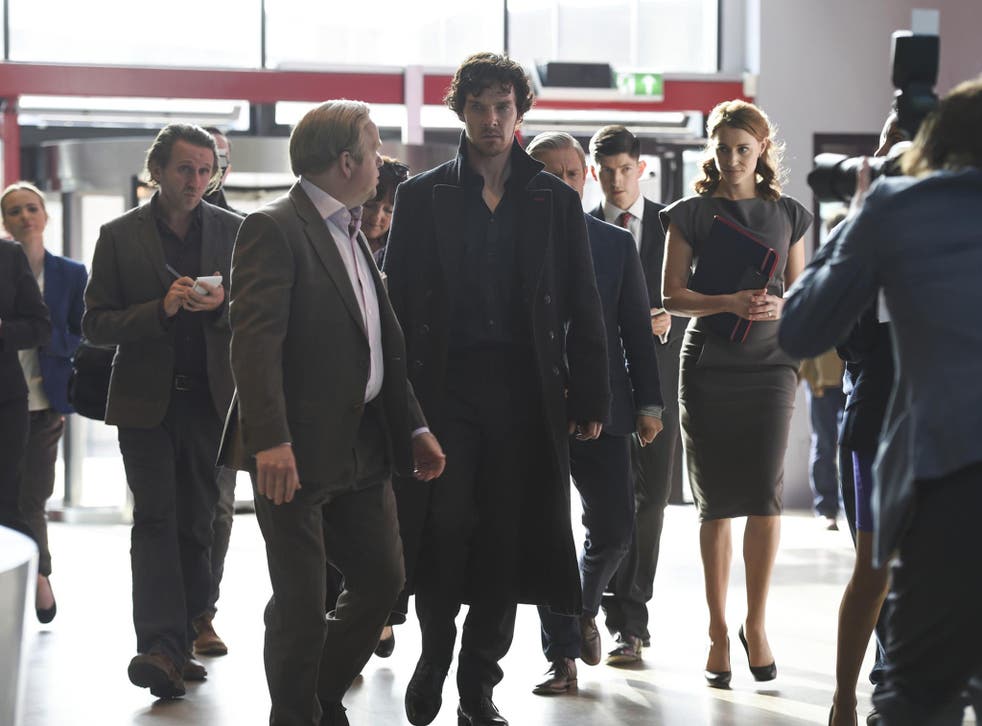 Well, that was fun. Rarely can drama have come so morbidly loaded as last night's Sherlock, and rarely carry so much morbid fascination for the viewer. Much of this was of course down to the masterful Toby Jones, who fulfilled with consummate ease Sherlock Holmes' description of his character, Culverton Smith, as "the most dangerous and despicable human being I have ever encountered...a living, breathing coagulation of human evil". Moriaty is Alan Titchmarsh by comparison to Smith.
It didn't take very long to realise that Jones' appallingly creepy villain in "The Lying Detective" bore more than a passing resemblance to the late Sir Jimmy Savile. The clues were piling up quite impressively - the Yorkshire background, plus his, well, morbid, ease with cadavers, the false uncle to the kids, the hiding in plain sight aspects of the plot. Why, they even gave our monster the keys to the hospital which he financially supported and loved to visit. All Smith needed was a lurid track suit and a cigar to complete the picture.
Silly as some of the plot was, such as the willingness of responsible adults to take a drug that will erase aspects of memory, we didn't care because we were distracted by the sheer depravity of the main protagonists, including Holmes' descent into Shakespearean smackhead.
Sherlock's demons are back to haunt him in the new trailer
It takes quite a talent to turn a lame pun - "cereal killer" into a compelling horror story - but Jones certainly managed to turn Culverton Smith from cuddly purveyor of cornflakes into mass murderer. So Jones lifted what is already superbly produced TV onto an even higher level. It didn't really matter that we could guess what was going on earlier than usual. That was part of the perverse, intelligent fun. Right to the end the episode retained its ability to surprise, with the emergence of a possible Holmes' sister, who we'd previously assumed to be Watson's therapist, bit on the side "E", or Elizabeth, or, most unsettlingly, Smith's down and out daughter. Not quite sure what E is, actually.
Without wishing to sound as self-consciously smart-arsed as Sherlock Holmes, it was inevitable that Toby Jones would turn up sooner or later in the BBC's much modernised Sherlock. Every generation of actors yields a clutch who end up "in everything" and Jones, like Benedict Cumberbatch and Martin Freeman has become a ubiquitous presence on our screens (and deservedly so). So it is that he found himself up against with Cumberbatch and Freeman's internet-age Holmes and Dr Watson. There is a reason why these talents rest less than most actors, and The Lying Detective demonstrated precisely why. They are reliably excellent, and versatile with it. I could not know precisely when Jones would arrive, that is in which episode of which series, but it was always apparent that he was a going to fit in nicely. Like the resolution of a Holmes mystery, it's quite obvious really. Pass me my pipe, would you?
In a possibly self-conscious tribute to Sir Arthur Conan Doyle, his re-imaginers, Mark Gatiss and Steven Moffatt, produce extremely long editions - in their case 90 minutes of TV when most iPhone clutching millennials have a famously short attention span: a brave strategy. It works because of the richness of the production. It looks expensive, and worth every penny.
Men dominate things, it has to be said, so it is only right to congratulate Amanda Abbington, as the late Mrs Watson (yes, that works), Una Stubbs as Mrs Hudson and Lindsay Duncan as intelligence boss Lady Smallwood and making the best of the space left to them.
It is no end of a compliment, from this reviewer at least, to mention that Sherlock has the same appeal as those classic series of The Avengers you may remember. In the heyday of that show, circa 1967, it enjoyed vast international success because of its wit, the interplay between the main characters, the fast pace, the genuinely tense moments of danger, the semi-detached relationship with the world of spies and spooks, the stylish direction, the correct sense of when to use sets and location filming, its playful fascination with exciting new technologies, and the sense we were on the edge of an age when anything might be possible. There is even the same interest in "mind games" and attention to detail in the gentlemen's tailoring. Sherlock, being as much of its time as The Avengers was, is a usually less sexist affair than when TV producers felt they needed a leading lady with "M (for man) Appeal".
Sherlock deserves to be the huge artistic and commercial success that is has become. It is a great exchange rate earner for Britain, and proof of the potency of our creative industries. In an age of Brexit and fears for the future of the economy, Gatiss, who revels in his role as Holmes' nattily dressed brother, and Moffatt have at least partly solved the rather tricky mystery of how Britain is going to make its living in future. If only our politicians were as smart as them, let alone Holmes and Watson. Or Culverton Smith, come to think of it.
Register for free to continue reading
Registration is a free and easy way to support our truly independent journalism
By registering, you will also enjoy limited access to Premium articles, exclusive newsletters, commenting, and virtual events with our leading journalists
Already have an account? sign in
Join our new commenting forum
Join thought-provoking conversations, follow other Independent readers and see their replies