Staged, series 2, review: What was innovative has become stale and indulgent
The first series of this thespian comedy captured the confusion and claustrophobia of our suddenly curtailed lives but, six months later, the tone is out of step with the national mood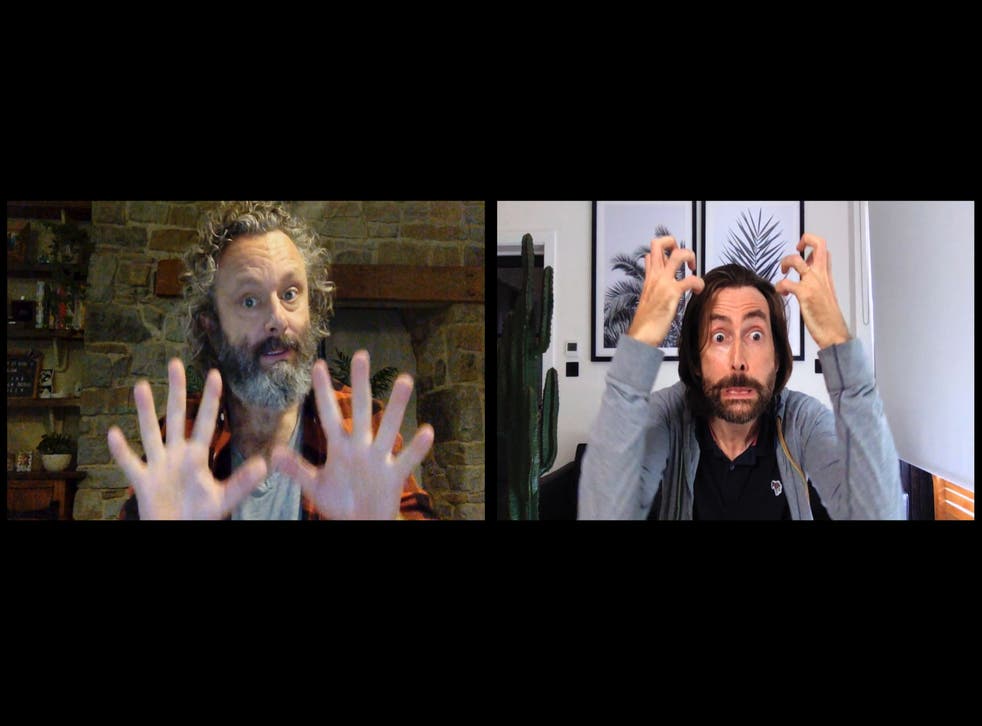 Unless David Tennant and Michael Sheen know something the rest of us don't, we must assume it was a happy coincidence that the second series of Staged got under way an hour or so after the prime minister had announced another national lockdown. The two are inseparable. Staged and lockdown that is. Not Staged and Boris Johnson. Sheen, as we know, has little time for the establishment.  
The first series, filmed entirely over Zoom, captured something of the confusion and claustrophobia of our suddenly curtailed lives. Tennant and Sheen, playing caricatures of themselves, bickered and sighed and grumbled about being bored and out of work. Just like the rest of us. We were never quite sure which bits were scripted or why Sheen was shouting at the birds but, whatever, it felt right at the time. Not so much now. What was innovative and generous in June comes across, six months later, as stale and indulgent. Our patience has worn thin. The moment has passed.  
Everyone involved clearly knows this but hopes to get away with it by confronting the problem head-on. So in an extra layer of meta-narrative, we have comedian Romesh Ranganathan presenting a fake chat show called "Romesh Ranganathan's 6 Months in Lockdown", in which he interviews (over Zoom, obviously) Tennant and Sheen, both still acting, about whether or not they were acting in the first series. "Any chance of another series?" asks Ranganathan. "I mean, it was so specific to that moment, wasn't it?" says Tennant. "It was so about being locked in your house…" Sheen interrupts: "I mean, hopefully we're not going to go into another lockdown."  
It's one thing, though, to acknowledge this difficulty – and having done so, it is then largely glossed over – and quite another to actually get around it. And the fact remains that, as Tennant says, "it was so specific to that moment". Perhaps Staged was always this smug and we just didn't notice, so grateful were we to have something new to watch, but the tone is now horribly out of step with the national mood.
The big joke in the first episode is that Michael Palin, another guest on "Romesh Ranganathan's 6 Months in Lockdown", is not really a fan of Staged at all, which we only discover when the four of them are talking "off-air". Palin never quite seems at ease – like us, he appears to be wondering what on earth he is doing here – and there is something grating about the faux self-deprecation of having him deliver the line "they won't talk about you because you're not funny" in the second series of a well-received comedy.  
Things improve when the exhausting origami of a TV show within a TV show unfolds and we return to the more straightforward set-up of Tennant and Sheen chatting on their laptops or with their partners. There is a lovely scene, in which Tennant and his wife Georgia are sitting, surrounded by luggage, only to discover that their flights to South Africa have been cancelled. "Watch this space," sighs Georgia. "I f***ing hate this space," replies David. Ah, pissed off and over it – that's more like it.
Similarly, when Tennant and Sheen discover that a mooted American version of Staged will, in fact, star different (British) actors, the defeated melancholy – "I'm known in America," gasps Sheen to his agent, an underused Whoopi Goldberg – adds some welcome sourness to the mix.
Staged may yet get better, then. There will be plenty of special guests and Sheen's ever-shaggier beard is always worth a look – but the best thing I can say about this episode is that it was all over in 15 minutes.
Register for free to continue reading
Registration is a free and easy way to support our truly independent journalism
By registering, you will also enjoy limited access to Premium articles, exclusive newsletters, commenting, and virtual events with our leading journalists
Already have an account? sign in
Register for free to continue reading
Registration is a free and easy way to support our truly independent journalism
By registering, you will also enjoy limited access to Premium articles, exclusive newsletters, commenting, and virtual events with our leading journalists
Already have an account? sign in
Join our new commenting forum
Join thought-provoking conversations, follow other Independent readers and see their replies