Star Trek: Discovery, episode 13 review: 'What's Past is Prologue'
Another excellent episode, topped by a surprise death
Andrew Lowry
Tuesday 30 January 2018 17:41 Comments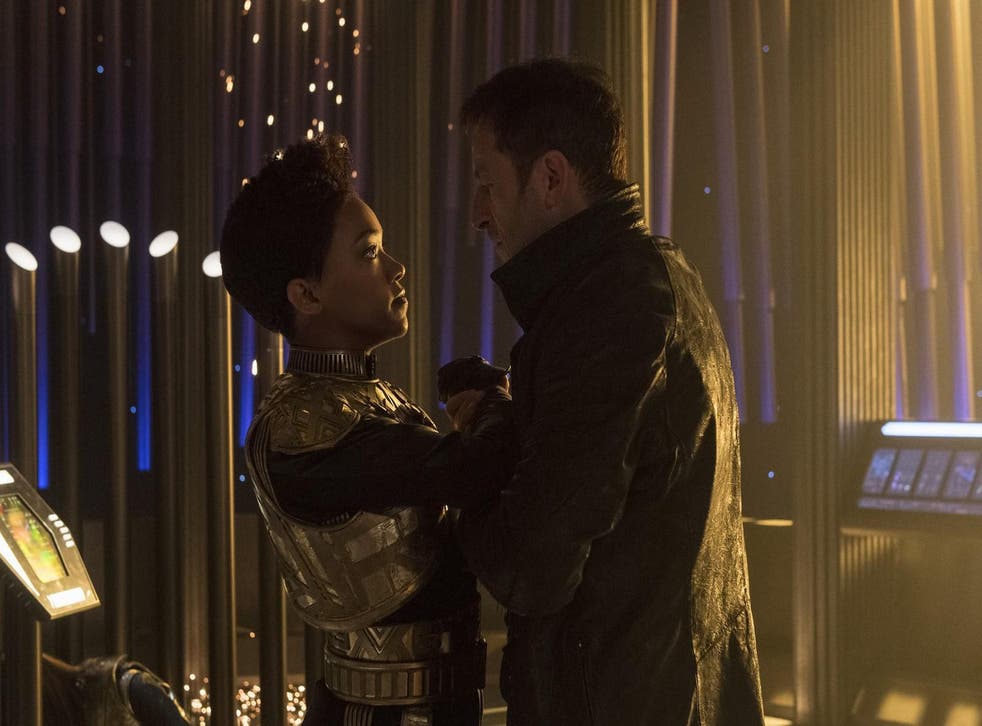 Perhaps because of its troubled production history – gaining and losing celebrity showrunner Bryan Fuller in quick succession – Star Trek Discovery has been more of a shaggy dog story than was probably intended.
Just take a look at Michael Burnham's story: she's betrayed a beloved mentor, been instrumental in the beginning of a war, fallen in love with a secret Klingon-human hybrid, fought in many battles, been beamed to a parallel universe by accident, discovered that the parallel version of her former mentor is an evil galactic emperor, and occasionally communicated with her foster father over space telepathy. That's a busy dance card for anybody, let alone the heroine of a space opera.
Anyway, as signalled by the title of this thirteenth episode, the reins are being tightened and a more unified vision for the show is coalescing – and it's bloody marvellous. This episode played more like a season finale or Game of Throne's signature penultimate-episode bloodbaths rather than a place-setter for the climactic moments of the season – honestly, the producers have their work cut out if they're to top this.
There's also a clarity emerging in the previously somewhat muddy thematic architecture of the season. Some long-time fans have carped at the relative lack of hope in STD, its violence and grit admittedly at odds with (most of) Trek past. In a wise move, the show is now interrogating just this question in the figure of Lorca, who was revealed last week to be a fugitive from a dark, fascistic parallel universe, explaining his pretty cavalier attitude to the values the Federation was supposed to have been founded on.
We waste no time getting down to the ramifications of Lorca's heel turn, with Jason Isaacs doing everything but twirling his moustache as he re-mounts his coup on Emperor Georgiou who, it turns out, he resents for not being racist enough. Bear in mind, this is someone we saw destroy all life on a planet a few episodes ago; a certain contemporary resonance is driven home with a line about 'making our empire glorious again.' Let's just say Emmanuel Macron probably wasn't on the writers' minds when they came up that line.
TV preview 2018: Everything to look out for

Show all 16
Much of this episode is straight-up action, with two surprisingly well-choreographed battles between Lorca and Georgiou's forces – indeed, good fights have become an unlikely signature of STD.
Meanwhile, amongst all the mayhem, we see the very deliberate contrast drawn between all this division and friction and the calm, compassionate atmosphere the Discovery has taken on under Saru's acting captaincy. His speech to the crew after they learn that they may be on a suicide mission is worth quoting at length: "It is well-known that my species has the ability to sense the coming of death. I do not sense it today. I may not have all the answers. However, I do know that I am surrounded by a team I trust. The finest a Captain could ever hope to command. Lorca abused our idealism. Make no mistake: Discovery is no longer Lorca's. She is ours. Today will be her maiden voyage. We have a duty to perform, and we will not accept a no-win scenario. You have your orders. On your way."
Sounds like something Picard could say, right? Freed from Lorca's malign agenda, STD can be… well, a Star Trek show. Doug Jones nails the delivery – he's a contortionist and specialises in makeup work, here as in Pan's Labyrinth, but he's an underrated vocal performer too. His early-episode captain's log is beautifully delivered: he's such a good actor he's managed to take Saru from an iffy Data substitute to the show's secret weapon. Good on him.
Meanwhile, on the Discovery's engineering deck, Stamets and Tilly are working out how to get the Discovery home. In fine Trek tradition, their solution is utterly baffling – something to do with flying their ship through the artificial star powering Georgiou's flagship while at warp and riding the resulting energy through their spore drive – but what matters is the crew is working together. It may not be especially scientific, but Stamets being guided by the spores' projection of his murdered lover is a nice touch.
Access unlimited streaming of movies and TV shows with Amazon Prime Video Sign up now for a 30-day free trial
Sign up
Before that, however, we need to resolve the power struggle at the top of the Terran Empire. Long story short: Lorca loses. And he doesn't just lose. He is stabbed in the back with a broadsword, before being booted out of a trapdoor to be vaporised by the artificial star mentioned earlier. In explicit detail. What a death! Jason Isaacs is a reliable performer, and he's been rock solid as Lorca: how will the show fill his charismatic boots?
Well, Burnham brings parallel-universe Georgiou back to our universe as a Brucie bonus, which is pretty unexpected. Even more unexpected: the Discovery has overshot their destination, and arrived nine months after they left our universe. In the time in between, the Klingons have won the war. What are our brave heroes to do, especially now they have a space tyrant as a surprise passenger?
Holy moly, roll on next week.
Register for free to continue reading
Registration is a free and easy way to support our truly independent journalism
By registering, you will also enjoy limited access to Premium articles, exclusive newsletters, commenting, and virtual events with our leading journalists
Already have an account? sign in
Join our new commenting forum
Join thought-provoking conversations, follow other Independent readers and see their replies