Ted Lasso review: Jason Sudeikis is a hapless football coach in this likeable if uneven comedy
Where a five-minute comic promo doesn't require much in the way of character development, over a whole series, Ted Lasso must get us rooting for this clueless Spurs newcomer
Ed Cumming
Friday 14 August 2020 13:46 Comments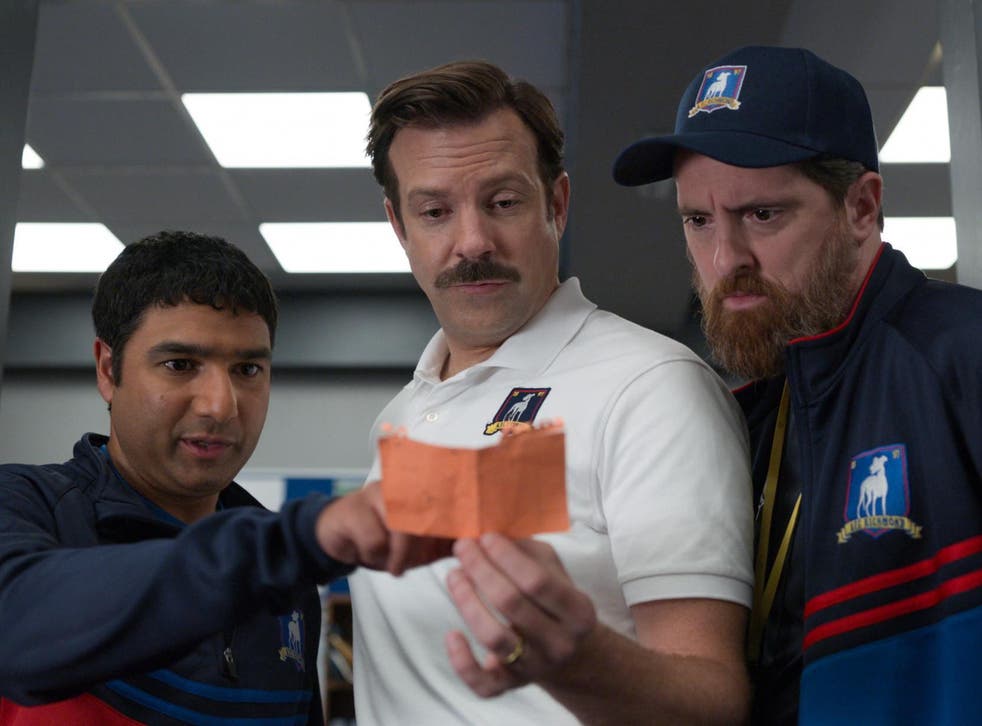 Football fans may remember two short NBC promos depicting the (fictional) exploits of a hapless American football coach called Ted Lasso, brought over to the UK to manage "the Tottenham Hotspurs". The first film in 2013, which starred SNL regular Jason Sudeikis, showed Lasso's disastrous six-and-a-half hour career at the club, in which he told the press his players would give it their all for four quarters, expressed surprise that Wales was part of the UK, and failed to understand the offside rule. In a sequel the following year, Lasso turned his hand to punditry, before returning to coach an American girls' soccer team using his newfound Premier League nous.
They were funny ads, which riffed knowingly on the stereotype of Americans failing to understand British sport, and have had more than 20 million views on YouTube. Seven years on, AppleTV+ have given Ted a whole run of 10, half-hour episodes, created by Sudeikis and the Scrubs maestro Bill Lawrence. In this new universe, Lasso and his assistant, Coach Beard (Brendan Hunt), arrive in the UK to take charge of AFC Richmond, a struggling (and fictional) Premier League club, whose playboy owner has left the club to his ex-wife Rebecca (Hannah Waddingham) after a messy divorce. Rebecca claims to have appointed Lasso as a brave roll of the dice, but in fact the hire is part of a secret plan to drive the club into the ground in order to spite her ex.
Where a five-minute comic promo doesn't require much in the way of character development, over a whole series, Ted Lasso must get us rooting for him as well as laughing at his footballing malapropisms. Rather than a brash idiot, this version of Lasso is a sweetly hopeful Pollyanna, who truly wants to get the most out of his band of misfits. "Do you believe in ghosts, Ted?" Rebecca asks, as she talks him through the club's history. "I do, but more importantly I think they need to believe in themselves," he replies.
The more rounded character is a better use of Sudeikis's talents, and from the start, you hope he wins over the dressing room. The natural authority figure is Roy Kent (Brett Goldstein), an Anglicised Roy Keane and midfield tyrant, while the team's main talent is Jamie Tartt (Phil Dunster), a preening ego with a glamour model girlfriend called Keeley (Juno Temple, doing the cast's best comic work). Nick Mohammed turns up, doing his Nick Mohammed affable-useless thing, as the kitman/waterboy Nathan. There is even a laconic turn from James Lance as "Trent Crimm", a journalist for The Independent, which in this universe is owned by the same tycoon as The Sun.
The series is less sharp than the original promos, but there are other compensations. Lasso's boundless optimism, in the face of so many different shades of cynicism, slowly wins us over. He's not a total ingenue, either, and has enough spine to give the episodes texture. Ted Lasso ropes you in, even if it's more by likability than laughter.
Register for free to continue reading
Registration is a free and easy way to support our truly independent journalism
By registering, you will also enjoy limited access to Premium articles, exclusive newsletters, commenting, and virtual events with our leading journalists
Already have an account? sign in
Join our new commenting forum
Join thought-provoking conversations, follow other Independent readers and see their replies