The Enfield Haunting, Episode 2, TV review: A kid possessed by a demonic paedophile? Scary stuff
But the ghosts are at their most effective when out of sight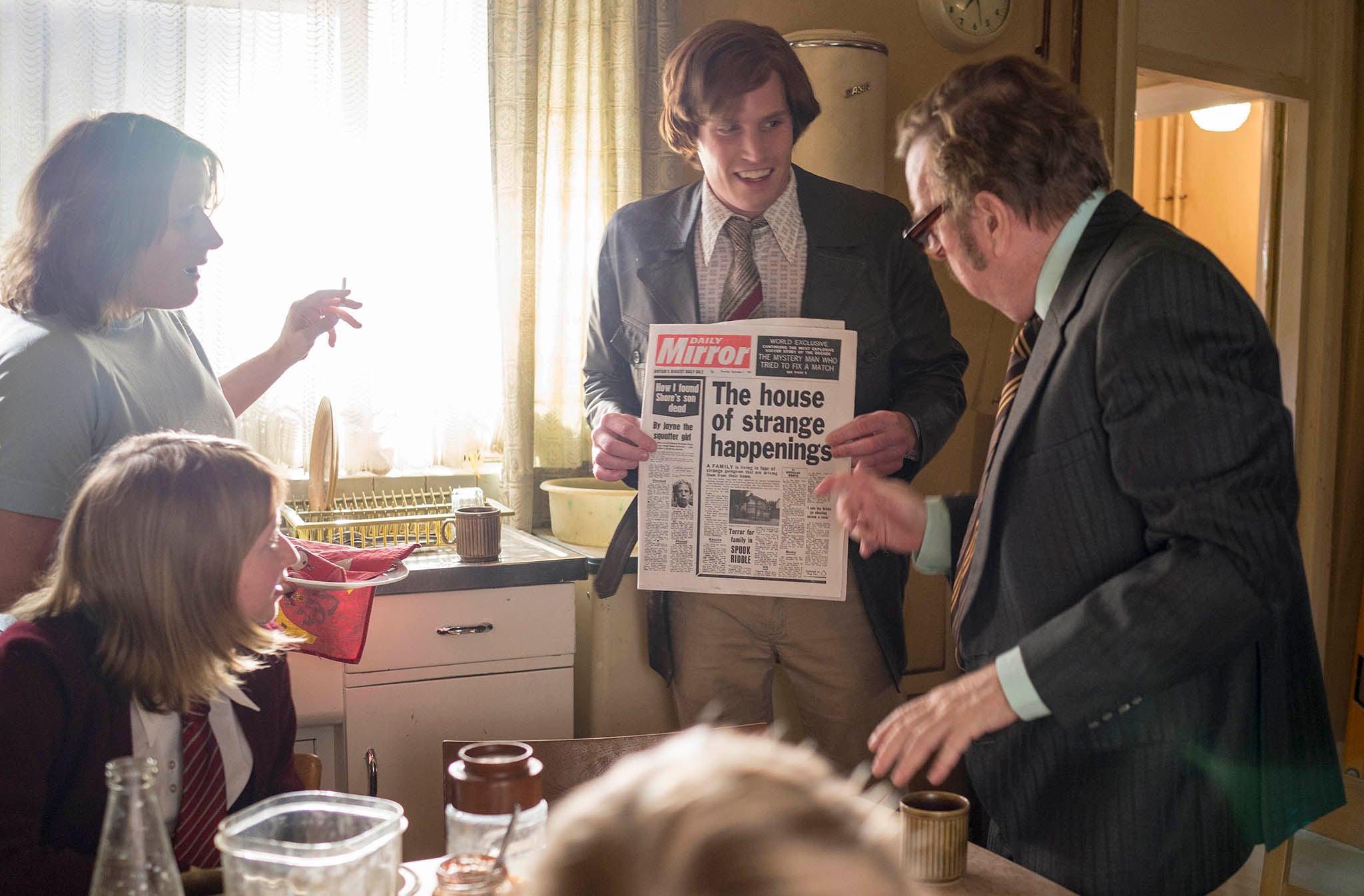 Back in the 1970s, when the country was in thrall to electric carvers, the colour brown and glass figurines, the idea of poltergeist activity was front page news. Now that we're in the jaded future, with its iPads and different colours and 'taste', this kind of thing is resigned to the latter pages of the tabloids, somewhere between TV listings and those slightly weird soft porn-y cartoons. The Enfield Haunting doesn't seem sure which decade it's pitching its bumps in the night at.
Are we the late-1970s Daily Mirror readers, puzzling over our cornflakes, trying to decipher whether the chilling claims of the Hodgson family are real or hoax? Or are we the knowing 21st Century techno-science sceptics, surfing the internet superhighway of facts, confident that paranormal activity is something believed only by people who post inspirational quotes on Facebook? In other words, in the universe of The Enfield Haunting, are ghosts real?
My guess is that, unless next week's finale pulls the rug out from under my feet, the programme has never really made its mind up. Eleven-year-old Janet Hodgson (a really tremendous, unnerving performance from Eleanor Worthington-Cox) has now become a mouthpiece for the poltergeist who, it turns out, is a foul-mouthed child molester. Cue some Exorcist-style demonic voice projection and plenty of possessed-kids-say-the-darnedest-things fun.
It seems everyone is under attack from Joe the Poltergeist – 1970s catalogue man Guy Playfair (Matthew Macfadyen) got pelted with marbles, Maurice Grosse (Timothy Spall) and his wife Betty (Juliet Stevenson) were mocked about their dead daughter and faltering marriage, and Janet's dad's girlfriend got branded a 'slut'. Even the pets weren't safe as the budgie snuffed it and the goldfish was radically evicted. With unsurprising timing, troubled Janet's anxiety has all but gone away.
The scares – creepy man appearing in the mirror, trinkets piled in the middle of the sitting room - work nicely and the balance between what could be real and what is imagined in the characters' heads is handled well. However, it's the moments when the ghosts become definitively 'real' that are the most troubling.
To my mind, there were three unexplainable events. Firstly when the medium spoke to Maurice using the same words his late daughter would have done; secondly, when Guy was thrown across Janet's bedroom. These two, to some extent, could be explained away but the third is the real kicker. While Maurice is trying to impress the Society for Psychical Research, 'Joe' fails to give any answers that an 11-year-old girl couldn't have. Maurice, in desperation, gets Janet to take a mouthful of water before whacking some sellotape over her mouth. 'Joe' then duly chunters on about the 1953 FA Cup Final – there's no way Janet could have spoken these words.
The Enfield Haunting
Show all 8
So, in the world of the show, ghosts are real then? This, for me, robs us of the tantalising prospect that this is a brilliant hoax, rather than a drab ghost story. However, I'm ready to have the rug pulled next week…
Join our commenting forum
Join thought-provoking conversations, follow other Independent readers and see their replies