The Fall, TV review: And the resolution of Stella Gibson's cliffhanger is... we're all a bit guilty
A show which has been accused of lingering too long over gratuitous murder, ends up accusing us, the viewers, of revelling in it. A nice touch by writer Allan Cubitt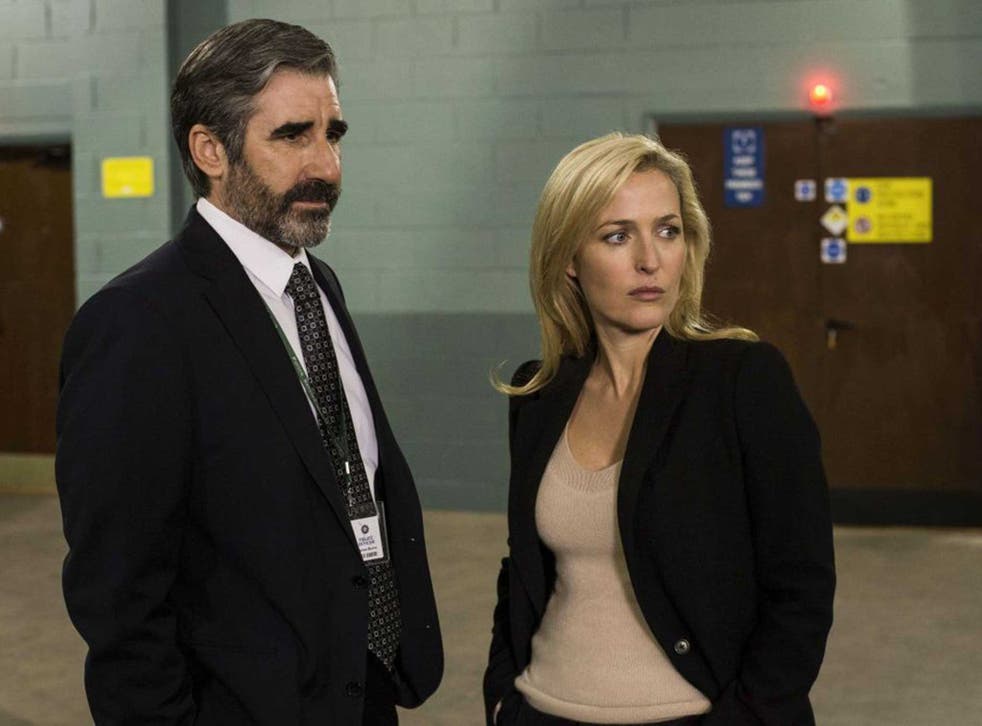 Lots of people felt tortured by the cliffhanger ending to the first series of The Fall (BBC2). That might seem an odd choice of words given the series' sadistic subject matter, but inviting viewers to experience an uncomfortable empathy with his characters has always been part of writer/director Allan Cubitt's game.
Certainly there were some tantalising questions still unanswered at the end of series one: Would Detective Stella Gibson (Gillian Anderson) finally catch up with serial killer Paul Spector (Jamie Dornan)? And what dark psychology lay behind his depraved acts? Last night's series two finale brought resolution on both these counts, while leaving just enough wriggle-room for a possible series three return.
But before Stella and Spector could share a scene, there were some loose ends to tie up. Up until now, the degree to which Spector's wife, Sally Ann (Bronagh Waugh), was or was not aware of his crimes had been left open, but here she was curtly dismissed by Gibson as "stupid and incurious, but innocent". In the B-storyline, Jimmy Tyler (Brian Milligan) went from loyalist rent-a-thug to story-propelling plot device – a promotion of sorts – and unexpectedly, it was his attempts to track down and terrorise his estranged wife which gave this episode its most heart-thumping stand-off.
The Fall - Series 2

Show all 26
Meanwhile, in the interview room, Spector just looked bored. Never much of a talker, it seemed unlikely he'd start gabbing now – and with all the damning evidence the police had already gathered, was a full confession even really necessary? Not for Belfast's Public Prosecution Service, perhaps, but it was for the viewers.
So, after the obligatory over-protective speech from angsty Eric Cantona look-a-like ACC Burns (John Lynch), Gibson and Spector were finally face to face. Stella wanted to know how he'd kept his compulsion in check for so long: "You're a barren spinster, so you wouldn't know, but small children take up all your time," was his enjoyably snippy response. It's good to know that in the modern world, even misogynist serial killers will happily take on their share of the childcare. Spector's delusions of grandeur were straight out of "Nietzsche for Dummies", but this at least made him easy to outwit: "Yes you felt empowered, invincible even... but you're under arrest," Gibson pointed out. He still had enough pluck left to arch an eyebrow and murmur "unexpected..." when Stagg was found still alive. It was a rare moment of pantomime villainy in Dornan's otherwise subtle performance.
In fact, the most unsettling thing about Spector, was never what he said, or even did, so much as the way he looked. Cantona and Stella's toy-boy Tom (Colin Morgan) were both deeply disturbed to be compared to a killer and Stella described the insinuation as "repellant". So when, in one extraordinary sequence, we the viewers were challenged about our fascination with this pretty-boy psychopath it wasn't entirely unexpected. Gibson delivered the line looking into the camera, as though addressing us directly. Was it the "people who like to read and watch programmes about people like [Spector]" who should be asking themselves questions? Touché, Cubitt, touché.
Playhouse Presents: Marked on Sky Arts 1 made for a sweet palette cleanser after all of The Fall's bitter cynicism, though it took a while to accept 24 star Kiefer Sutherland as a typical dope in the English surburbs. He played Jim, a man whose pre-Christmas financial situation was so dire, he agreed to take on a contract killing. Stephen Fry was the Santa Claus/social worker who talked him down. Imagine It's a Wonderful Life, the Sainsbury's advert version, and you're not far off.
Register for free to continue reading
Registration is a free and easy way to support our truly independent journalism
By registering, you will also enjoy limited access to Premium articles, exclusive newsletters, commenting, and virtual events with our leading journalists
Already have an account? sign in
Register for free to continue reading
Registration is a free and easy way to support our truly independent journalism
By registering, you will also enjoy limited access to Premium articles, exclusive newsletters, commenting, and virtual events with our leading journalists
Already have an account? sign in
Join our new commenting forum
Join thought-provoking conversations, follow other Independent readers and see their replies