Great Sport Relief Bake-Off, review: Samantha Cameron is every inch a Stepford Wife - even her cakes turn out a blue
Tonight's first round featured comedian Jason Manford, EastEnders actress Maddy Hill, former England goalkeeper David James and the Prime Minister's wife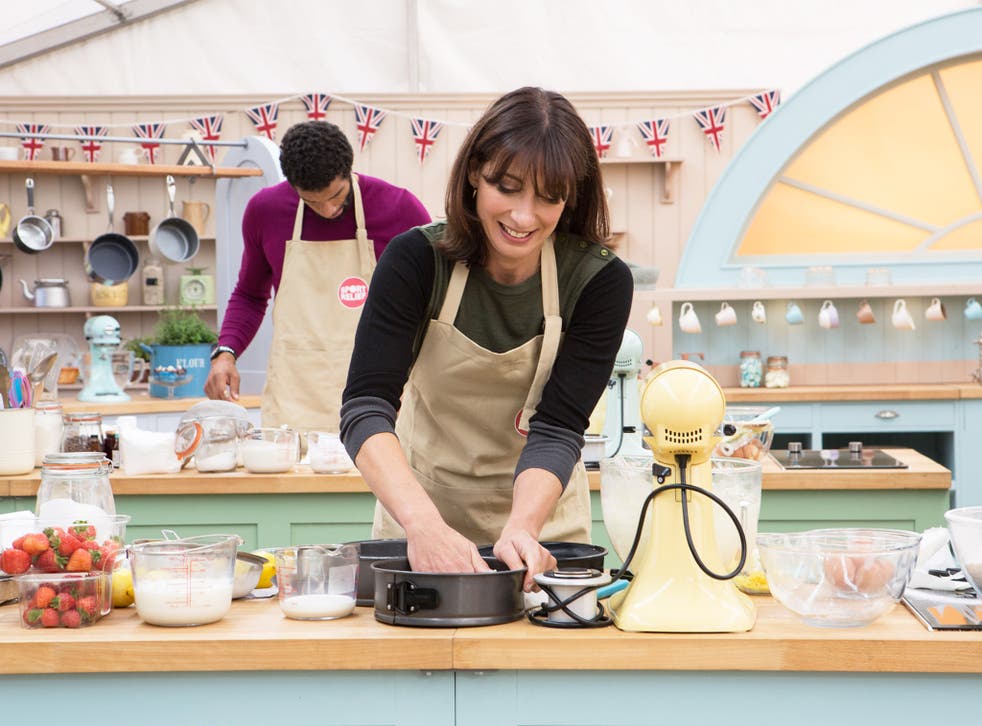 If there's one thing The Great British Bake-Off is missing, it's people who can't bake. Having passed countless auditions to get on the show, there's no danger of someone not knowing, for example, what a whisk is used for or of anyone thinking that a giant slotted spoon and a sieve are essentially one and the same. Until now, that is.
Thanks to The Great Sport Relief Bake-Off, we can now indulge our oh-so-unkind passion for watching people fail with the oh-so-much sweeter pastime of raising money for charity.
Tonight's first round featured comedian Jason Manford, EastEnders actress Maddy Hill, former England goalkeeper David James and the Prime Minister's wife. I refer to Samantha Cameron as this because she appeared to define herself exclusively by it. "David said to me last night 'I'm really worried about the technical'," were her first words. Then, when she did well in the canapés challenge, she gushed that they'd want her to "work in the Downing Street kitchens". And during the technical round – a horror challenge to bake a praline-filled choux pastry-based Paris-Brest – she commented on the mess: "At home I'm very good at tidying up as I go. My husband… is not so good."
Best Great British Bake Off innuendos

Show all 6
During the final "trophy cake" round she mentioned something other than being a wife – being a mother. Her Surf's Up cake (which was enviously executed) was inspired by her children. It was also a perfect Tory blue. A coincidence? I think not.
Sam Cam was every inch the Stepford Wife and a seriously good baker. She was pretty much the only one though. Jason executed some decent canapés and even won the technical round but his re-creation of the Ashes trophy was a disaster. And David was hilarious. In the canapés round he essentially made a giant chicken pasty.
When Mary Berry questioned how bite-size his (partially raw) "canapés" were, he criticised the size of her mouth before downing one whole. "If I don't win," he said. "Then someone's cheated."
He excelled himself in the technical challenge by not finishing last. His Paris-Brest was no worse than anyone else's. And this despite his praline tasting, according to Paul Hollywood, like "powdered almonds". He also didn't know what it meant to "dust" with icing sugar so just poured a load through a slotted spoon. Luckily for him, Maddy had made her pastry the consistency of water and she mistook a cup of salt for a "pinch".
When it came to the trophy round, David opted for an American football helmet cake. This involved him making five sponges – including one cooked with a fork wedged in it the middle to "act as a heat conductor" – before covering it all in a layer of royal icing which promptly ripped. It took four people to put the helmet on the presentation plinth. And it still came last. Yeah, David, someone MUST have cheated.
Speaking of cheats, Catherine Tate led the cast in one-off comedy drama Do Not Disturb, about a wife desperate to reconcile with her husband after she'd cheated on him with a (considerably) younger man.
Set in a Stratford hotel on the couple's 10th wedding anniversary, it started well. The initial arguments about who had done what with whom were both witty and realistic. But it rapidly descended into slapstick and suffered from the same problem so many comedies do – the whole premise is based on a series of misunderstandings (including a drunken best man asleep in the couple's en-suite) which would just never happen in real life. Tate and estranged husband, John (Miles Jupp), made a convincing couple and Tate looked fantastic. But the overall effect was one of pure cringe. But then they do say cheaters never prosper.
Register for free to continue reading
Registration is a free and easy way to support our truly independent journalism
By registering, you will also enjoy limited access to Premium articles, exclusive newsletters, commenting, and virtual events with our leading journalists
Already have an account? sign in
Join our new commenting forum
Join thought-provoking conversations, follow other Independent readers and see their replies