The Handmaid's Tale review, season 3 episode 7: In Gilead, the horrors are eye-catching as well as stomach-churning
In a rare moment, we see through June's mask of dispassion and are allowed a glimpse of what is roiling underneath. As the series hurtles towards its end game, it will surely not be the last time that happens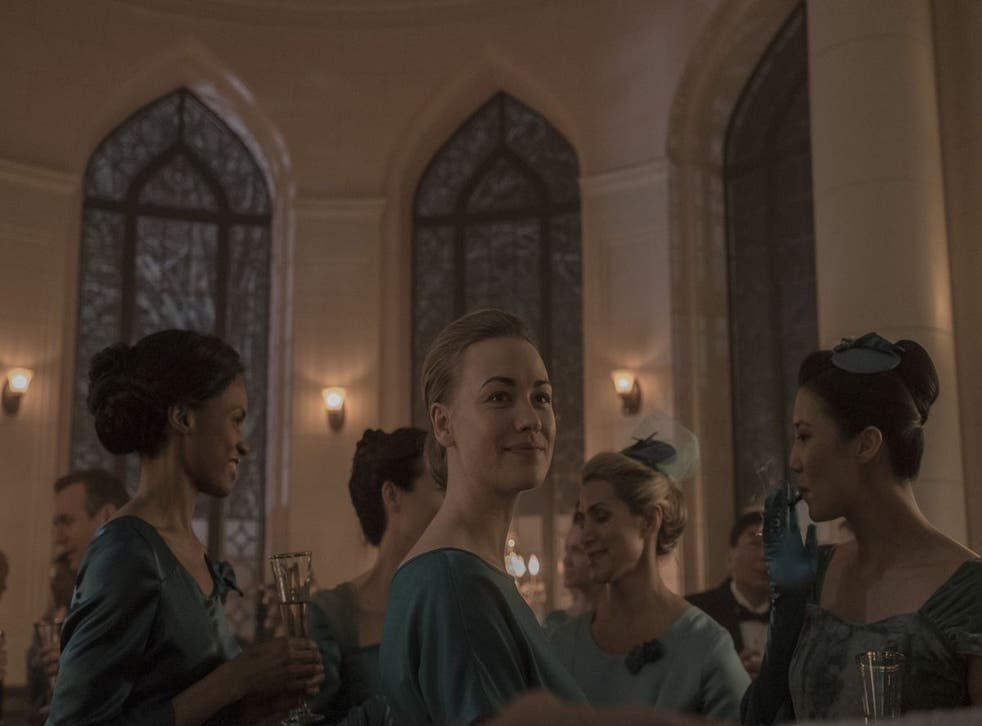 The Handmaid's Tale is often beautifully bleak, its portrayal of a Christian dystopia rendered with a painterly eye. But it seldom lowers itself to the savage twists and feints that are the lifeblood of many prestige dramas (what would Game of Thrones have been without the ever-present threat of a knife in the back?). Here, the violence is all on the surface – seldom impinging on the gears and levers of the storytelling.
That changes in horrific fashion this week, as June (Elisabeth Moss) learns the price of her attempt to take on Gilead on her own terms. There's a genuine gut-punch when she discovers the Martha who tried to help her contact her daughter has been betrayed, and now must hang for her "crime". Suffocating dread is supplanted by a short, sharp jolt.
The whistleblower is – well, who else? – Ofmathew (Ashleigh LaThrop), Gilead's Stockholm Syndrome sufferer-in-chief. She has sold out June for her fellow Handmaid's own good, she explains – meaning every word.
The cruelest irony is that Martha's sacrifice is for naught anyway. At the fake plastic supermarket where the Handmaids shop – essentially the fifth circle of hell if the fifth circle of hell was a Tesco Metro – Martha quietly shares with June the location of her daughter Hannah's school.
The highest-rated TV shows on IMDb

Show all 10
This is a huge opportunity. June can't get near Hannah so long as her child's new "parents", the Mackenzies, are keeping watch. But they won't be at the school, and a friendly guardian will let her slip through. To get there June recruits Mrs Lawrence (Julie Dretzin), whose nervy disposition, we discover, goes hand-in-hand with a gentle heart.
Alas, the plan comes unstuck when it turns out that the sympathetic guard is away. Having already come clean to Mrs Lawrence about her motives for their walk in the fresh air, June slips around the back to the high wall. She can hear her daughter but not see her, and breaks into sobs.
Not that she has much time to grieve the separation from her child. Mrs Lawrence has become emotional and incoherent and June must take her away.
Shadows also lie heavily in Canada. Those pesky Swiss diplomats mediating the Waterfords' campaign to have baby Nichole sent back are now grilling Emily (Alexis Bledel). Confronted with her "criminal" behaviour in Gilead, she doesn't even have the strength to be incredulous as her interrogator lays out the charges (how strange The Handmaid's Tale should randomly insert Switzerland as a villain this year).
Emily endures the humiliation with clenched jaw and dead eyes. But later, at a street protest with Moria (Samira Wiley), her cold fury melts into molten anger and she attacks a Canadian minister. In Washington, meanwhile, the Waterfords (Joseph Fiennes and Yvonne Strahovksi) are seduced by the glitz of Gilead high society. We're still getting a weird vibe off Fred's touchy-feelie superior, Commander Winslow (Christopher Meloni). And there's a potential bump, as Winslow explains that it might be wisest for now to let Canada keep Nichole, so that she can be used as a bargaining tool.
Access unlimited streaming of movies and TV shows with Amazon Prime Video Sign up now for a 30-day free trial
Sign up
The court intrigue is forgotten, though, as we return to June and the bombshell of Ofmathew's treachery. Because in Gilead, the horrors must be eye-catching as well as stomach turning. The gallows are manned by the Handmaids who, all together, pull the colour-coordinated red ropes that move the hanging platform into position. The kindly Martha dangles horribly and Ofmathew proudly reveals she is the traitor in the Handmaids' midst.
"You should be thankful." says Ofmathew "Your temptation has been lifted." June blows her bonnet and comes close to strangling Ofmathew before the other Handmaids pull her away. The visceral fury rippling across Elisabeth Moss's face is unnerving. It's one of the few occasions this season we see through June's mask of dispassion and are allowed a glimpse of what is roiling underneath. As the series hurtles towards its end game, it will surely not be the last time June's unforgettable ire burns through.
Register for free to continue reading
Registration is a free and easy way to support our truly independent journalism
By registering, you will also enjoy limited access to Premium articles, exclusive newsletters, commenting, and virtual events with our leading journalists
Already have an account? sign in
Register for free to continue reading
Registration is a free and easy way to support our truly independent journalism
By registering, you will also enjoy limited access to Premium articles, exclusive newsletters, commenting, and virtual events with our leading journalists
Already have an account? sign in
Join our new commenting forum
Join thought-provoking conversations, follow other Independent readers and see their replies