The Independent's journalism is supported by our readers. When you purchase through links on our site, we may earn commission.
The Handmaid's Tale season 2 episode 8 review: The cracks are forming in Gilead
It's Yvonne Strahovski's turn to shine in Serena Joy-heavy episode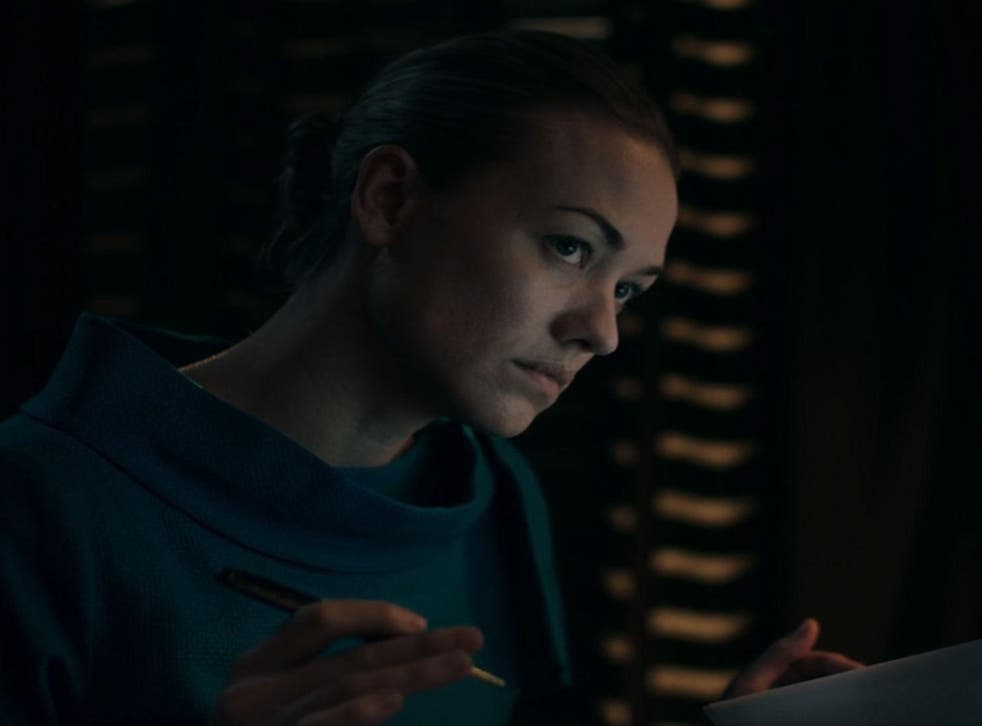 "Blessed be the fruit". "May the Force be with you."
Something huge happens midway through this week's episode of The Handmaid's Tale: June (Elisabeth Moss) laughs. It's in response to the above quip delivered by Janine (Madeline Brewer) which serves to ground these characters as more than just the breeding cattle of Gilead's theocrats and also reminds viewers that these events are somehow taking place in a world where Star Wars exists.
It's moments like this (see also: June cracking on with an episode of Friends a few weeks back, or even Serena Joy listening to Lionel Richie track "Easy" in the episode's opening moments) which makes every horrific act all the more disturbing.
One of the most interesting aspects of The Handmaid's Tale has always been to imagine how particular characters would have interacted had the world not gone to hell in a handbasket. This is floated none more glaringly than in the scenes between Serena Joy (Yvonne Strahovski) and June following the former's request that her handmaid help cover up last week's transgressions following the terrorist attack which nearly bumped off her husband, Commander Waterford (Joseph Fiennes).
As June reads and edits Serena's documents - breaking the law in a pretty huge way - she asks this very question, imagining the two being colleagues in a past life. Serena appreciates June's talents as an editor, June commends her writing skills. Their exchange gives off some semblance of twisted camaraderie. In these interactions, the villainous Serena is subtly fleshed out (we discover that as well as holding extremist beliefs, she detests knitting) and by the end, viewers may be concerned to find they are somehow inexplicably *whisper it* rooting for her.
This is to the credit of Strahovski, who continues to huddle under the radar as low-key one of the best things about this show, officially completing the impressive triumvirate of leads alongside Moss and the inimitable Ann Dowd.
When compared with every episode of the masterful second season so far, 'Women's Work' is a considered foot off the brake, its slow-burn tension not dissimilar to episodes from season one. The lion's share is dedicated to the poor health of baby Charlotte whom Janine gave birth to for the Putnams (she's now called Angela), a plot turn which sees Serena go above the orders of her husband to ensure she doesn't die. To do this, Serena enlists the aid of a top neonatal specialist named Dr Hodgson. The twist? She's a Martha (a Rita-style servant to a fellow high-ranking family).
One scene sees Gilead's doctor, who used to work with Hodgson in an old life, hand over his stethoscope to her and the result is as powerful as June picking up the pen in the closing moments of the previous episode. It's almost a shame that the emotion running through Hodgson's face doesn't preview an episode dedicated to her story.
TV preview 2018: Everything to look out for

Show all 16
It's all emblematic of one thing - that Gilead's cracks are forming, assisted by every whip the commander gives his traitorous wife in Serena Joy's most important scenes yet. "Can I get you anything, Mrs Waterford?" asks Offred, seeming for the first time to truly want to help the same woman who is keeping her from seeing her daughter Hannah. Just two weeks ago, this would have been an unthinkable notion. With two episodes left to go, however, who knows what plot turns are around the corner? Perhaps Offred will have another reason to laugh again sooner than expected.
The Handmaid's Tale season two debuts weekly on Hulu every Wednesday in the US and airs on Channel 4 every Sunday
Follow Independent Culture on Facebook
Register for free to continue reading
Registration is a free and easy way to support our truly independent journalism
By registering, you will also enjoy limited access to Premium articles, exclusive newsletters, commenting, and virtual events with our leading journalists
Already have an account? sign in
Register for free to continue reading
Registration is a free and easy way to support our truly independent journalism
By registering, you will also enjoy limited access to Premium articles, exclusive newsletters, commenting, and virtual events with our leading journalists
Already have an account? sign in
Join our new commenting forum
Join thought-provoking conversations, follow other Independent readers and see their replies