The Kitchen, BBC2 - TV review: A delightful slice of British life
Even if it is a piece of performance pie...
Ellen E. Jones
Tuesday 07 October 2014 11:29 Comments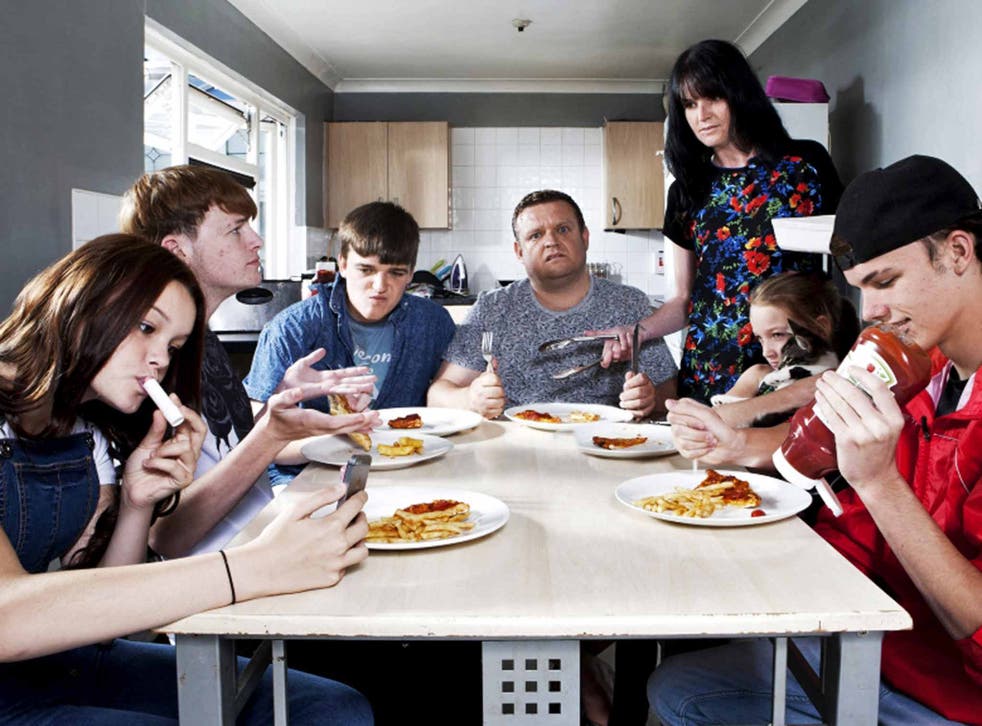 Don't most normal people eat dinner off their lap in front of the telly? Those of us that do already have a series to reflect our lives, but now there's one for those that don't. The Kitchen, which began on BBC2 last night, is a fixed-camera documentary from the people who brought us Gogglebox, only this time the topic is family meal times.
Like Gogglebox, this three-part show is a welcome opportunity to nose around strangers' homes and observe British family life in all its variety. Are you and yours most like the young London flat-sharers who gossip about dates over a low-carb meal of turkey chilli? Or more like the Mitchell-Cotts of Suffolk, an aristocratic family fallen on bad times, who now enthusiastically embrace the crusties' cordon bleu of "freeganism". "We don't eat roadkill very often," said dad Hamish, "but if we ever do, we definitely don't tell anybody."
Perhaps you identify with the Bradshaws, a pensioner couple in Devon, whose dogged loyalty to English cuisine should qualify them for an OBE. "We've been on holiday and if the food's not to our liking we've eaten literally nothing," said Mrs Bradshaw. Italy was the nadir, apparently: "It were all pasta and pizza and things like that."
Production company Studio Lambert has once again found eight families you'd happily spend an evening with. They're all talkative, warm and entertaining – a little too entertaining, in fact. When watching Gogglebox, there's always the sense – real or cleverly constructed – that the famillies are so hypnotised by their own goggleboxes, they've begun to behave naturally.
The success of all such fly-on-the-wall documentaries depends on subjects who can eventually half-forget they are being filmed. But in The Kitchen, how easily a dinner table becomes a stage! Were we lapping up an authentic slice of British life? Or just a large piece of performance pie?
Both Mr Harrar and Mr Gale talked us through their impressive menus like they were auditioning for MasterChef, and even self-confessed culinary dunces, the Barry-Powers regularly muster up three different meal options to suit the whims of their five fussy kids. The food is the element of the show that will vary each week, but unless someone eventually pops a TV dinner in the microwave, I'm crying foul. Surely everyone must just plop down in front of the TV at least one night of the week? For that reason, The Kitchen's potential for Gogglebox-style full-series success seems limited, but as an hour of television, it's delightful.
Register for free to continue reading
Registration is a free and easy way to support our truly independent journalism
By registering, you will also enjoy limited access to Premium articles, exclusive newsletters, commenting, and virtual events with our leading journalists
Already have an account? sign in
Join our new commenting forum
Join thought-provoking conversations, follow other Independent readers and see their replies