The Town That Took On The Taxman, TV review: Rebellious business owners get a crash course in tax avoidance
The traders set up an offshore company and present their plan to HMRC's Director General of Business Tax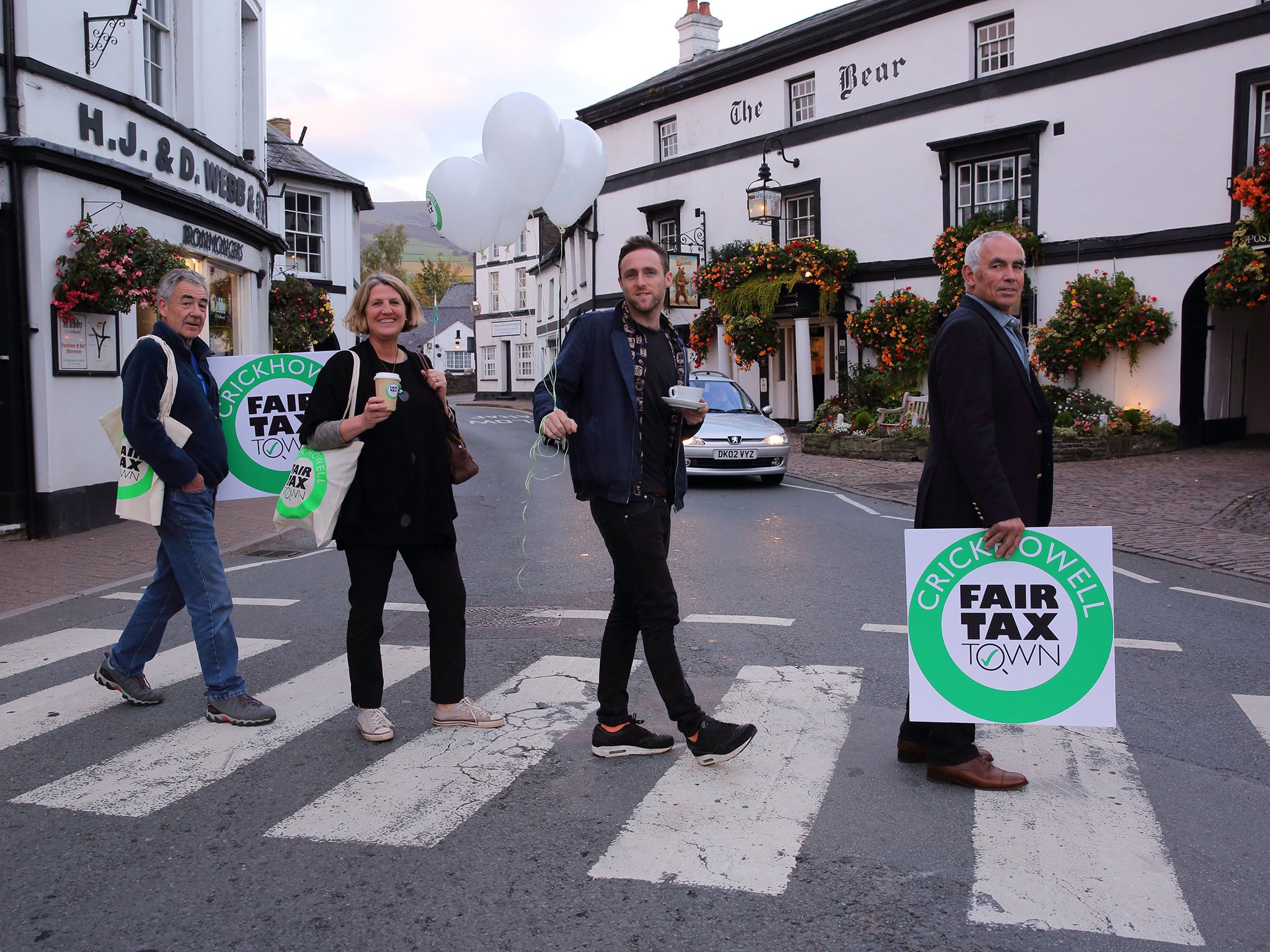 It probably wasn't wise of HMRC's top business tax collector to infer that the Welsh traders who took their town offshore as a protest against the loopholes used by global brands to avoid paying tax were small-fry.
The Town That Took On The Taxman, screened by BBC Two documentary next week, takes the rebellious local business owners from Crickhowell to the Isle of Man and the Netherlands where they are given an understanding of how it is that companies including Facebook, Google and Caffé Nero have limited UK corporation tax liability.
Led by Steve Lewis, owner of the Number 18 Café, and advised by tax experts, the traders set up an offshore company which apes the structures used by multinationals and present their plan to James Harra, HMRC's Director General of Business Tax.
Pleading for a "level playing-field" for small businesses, they ask for the same "VIP treatment" that HMRC gives the likes of Google, which is regularly called in for informal discussions about its tax arrangements.
But Mr Harra tells them: "There are 5m small businesses and 2,000 large ones. I don't have the ability to put a named person on every small business." HMRC puts its resources into "understanding what high-risk multinationals are doing."
The only way to give HMRC a major headache, the Welsh traders are independently advised, is by turning their protest into a national movement which would force the taxman to plug a substantial loss of revenue.
Small towns across Britain are now signing up to the "fair tax" campaign including Hebden Bridge in Yorkshire and Leek in the Peak District.
But can Crickhowell maintain a united front? Mr Lewis faces his own rebellion from colleagues harbouring ethical doubts. "Don't get in my way," he snaps at Irena Kovaleva, the town's "Russian oligarch" (she owns the optometrists and the ice-cream parlour) when she suggests that vital public services would suffer if all business taxes were withdrawn.
Mr Lewis, who has paid £137,000 corporation tax over the five years in which Caffé Nero has paid zero, is preparing a minimal tax submission which will ring alarm bells at HMRC. Told that he faces a four-year tax tribunal battle to make his case stick, the café owner said: "I'd like to fight the legal battle and change the law to create a transformational change in the tax system of Britain."
Guided by presenter Heydon Prowse, the traders set up a company in the tax haven of the Isle of Man and are shown how they can cite "intellectual property" to reduce the profits they declare. A tax avoidance expert in the Netherlands, used by big firms to avoid "withholding taxes" on dividends, tells the visitors that paying tax is merely "the individual choice of every citizen." As for Ms Kovaleva, she eventually returns to the fold after Mr Lewis convinces her that victory is within Crickhowell's grasp.
The Town That Took On The Taxman, BBC2, January 20 at 9pm
Join our commenting forum
Join thought-provoking conversations, follow other Independent readers and see their replies