The Trip to Spain episode 1 and 2 review: An ode to the hollowness of the holiday
Coogan and Brydon's latest journey is like Hemingway if he'd been obsessed with daytime TV instead of bullfighting
Christopher Hooton
Monday 03 April 2017 16:02 Comments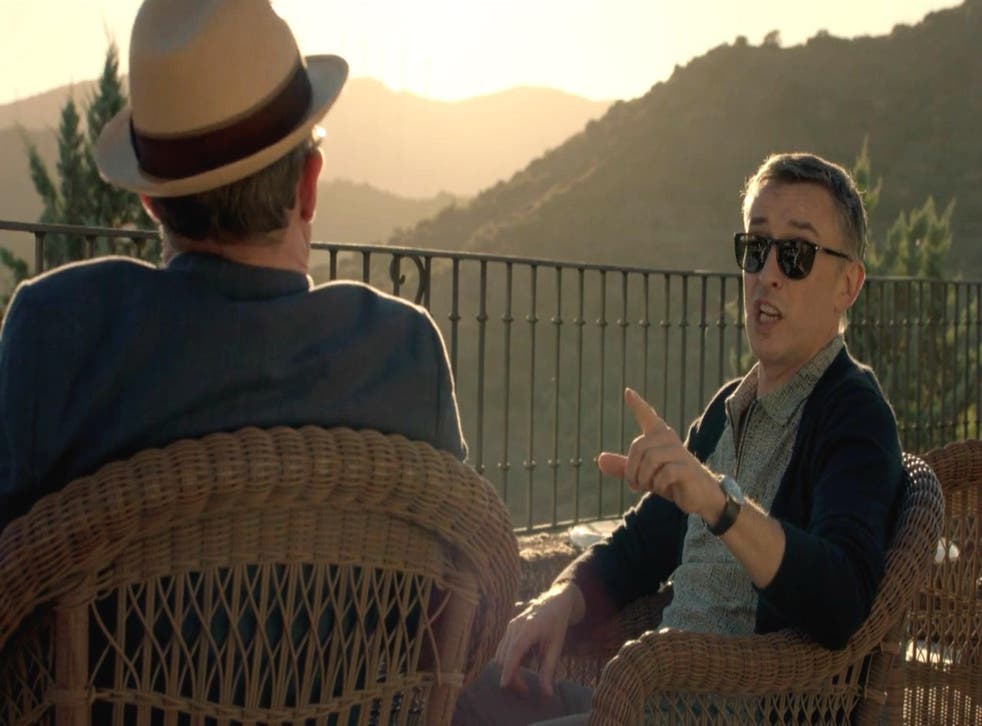 After spending a lot of time reviewing shows like Westworld and Game of Thrones in recent months, it's quite refreshing appraising something like The Trip to Spain, which is the antithesis of narratively complex, information-heavy television. Spoiler alert: two blokes eat lunch.
After putting out a rockumentary/mockumentary in 2016, director Michael Winterbottom returns to Steve Coogan and Rob Brydon's Trip series, new instalments of which seem to get periodically decided on with the same "well, why not" logic as the depicted trips themselves. This time around it's Spain, with the deftly-fictionalised version of Steve Coogan having been asked to review restaurants around the country for The New York Times to promote his upcoming Martin Scorsese-produced film Medium Rare. Apparently lacking any other acquaintances who can stand him for longer than two courses, he invites Rob Brydon along again, who somewhat reluctantly seems to serve as his shrink, clown and moral barometer on restaurant verandas and in tapas bars.
With every outing, the show seems to gain a little more confidence. The Trip (2010) was mostly a vehicle for the pair's masterful impressions, and though they were also a part of The Trip to Italy (2014) and continue to feature in the new series (Brydon doing Mick Jagger doing Rob Brydon doing Michael Caine at a party is a highlight in episode 1), they're now aiming for a little profundity among the comedy.
In meandering conversations over myriad lunches (including one at a Michelin-star restaurant they visit with the correct mixture of amazement and embarrassment), Coogan and Brydon lay bare their actorly and literary pretensions, aware that they're not going to impress each other and yet unable to resist a little braggadocio. It's all fictional, of course, but when the fictionalised versions of themselves bear so many similarities to their real selves, it all comes with a generous dose of self-deprecation and, I'm sure, sobering (and commendable) self-awareness.
"While I think the 'small man in a box' [impression] is brilliant," Coogan tells Brydon of his stand-up bit, "it is also the apotheosis of your career."
When not goofing around and making barbed jokes and observations about each other, talk often turns to women, as it's apt to when men are paired off with alcohol. Last series saw Brydon cheat on his wife, a twist to the series that made me sit up and take note that human drama was also on the menu here alongside anchovies, seared scallops and impersonations. At its best, The Trip to Spain approaches a vibe close to that of Louie or Better Things, and I hope it continues to embrace its dramatic side as the series goes on.
It's a show of modest ambitions, but there's a moreish underlying sadness to it, that seems to evoke those moments on a holiday when you don't really know where to go, or are disappointed by a view or landmark, or wonder whether it was worth all the money and weeks of looking forward to it. I'd like to see more characters in the mix, perhaps a tag-along for the trip or someone who briefly drives them apart, but maybe it's just making the sad point that a pair of middle-aged men are probably going to spend the vast majority of a road trip alone.
The Trip to Spain starts on Sky Atlantic on 6 April at 10pm
Register for free to continue reading
Registration is a free and easy way to support our truly independent journalism
By registering, you will also enjoy limited access to Premium articles, exclusive newsletters, commenting, and virtual events with our leading journalists
Already have an account? sign in
Join our new commenting forum
Join thought-provoking conversations, follow other Independent readers and see their replies