The Walking Dead season 7 episode 1 review: Bold, stoic, and bleak as hell
*Major spoilers for the season 7 premiere follow*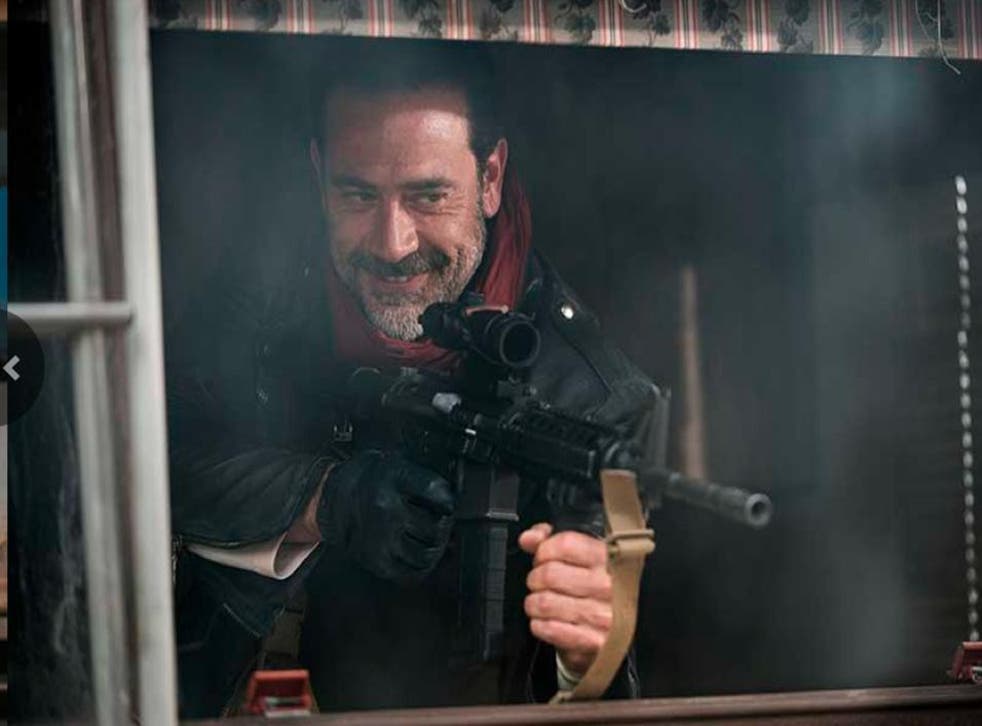 "Welcome to a brand new beginning, you sorry shits" - these are the words of Jeffrey Dean Morgan's baseball bat-swinging villain, Negan, and not producers of AMC series The Walking Dead - although they may as well be.
After an agonising cliffhanger teased a brutal death at the hands of Dean Morgan's new addition six and a half months ago, The Walking Dead's season 7 premiere episode has lived up to the frenzied expectation by doing what this well-crafted series does best; showcasing a barrage of trauma.
'The Day Will Come When You Won't Be' arrives on a tidal wave of anticipation with fans anxious to find out which character has been bludgeoned to death. The fervent discussion has not been dissimilar to the desperation shown by Game of Thrones fans over the fate of Jon Snow earlier on this year. Only, that question's answer was obvious - this one wasn't; and the unexpected twist here? Showrunner Scott M. Gimple has subverted expectation by dispatching of, not one, but two main characters.
Executive producer and director Greg Nicotero promised fans we'd discover the victim's identity early into the episode, and after a short encounter between Negan and Rick Grimes (Andrew Lincoln), we see the moment played out in sickening splashes through the tear-drenched recollections of our shell-shocked protagonist. With so much hype clouding this cataclysmic event, producers clearly didn't want to hear complaints that they'd shied away and such claims would be unjust. So when Negan rains Lucille down upon poor Abraham's skull, we see it. "Suck my nuts," the mustachioed soldier, played by Michael Cudlitz, manages before his head is no more.
Walking Dead Season 7 Episode 2 Trailer
The masterstroke here is unpredictability; not even five minutes has passed and Negan's at it again, this time incarnating the classic graphic novel moment that sees Glenn's luck run out. This is the moment that'll either be commended or criticised by fans, its violence unsettling like no other Walking Dead scene has before. In a genius beat, the action is caused by a single punch thrown by Daryl (Norman Reedus), an act sure to send shockwaves reverberating through this season's future episodes.
Having double bluffed viewers with Glenn's 'death' in season 6, they resign him to a fate almost constructed as second fiddle to that of Abe's main attraction, thus heightening the shock. So visceral is this moment that it's tough not to stand up and applaud the ever-hardworking prosthetic team who make you believe the wonderful Steven Yeun's bulbous eyeball is departing its socket. The fact it's the most tortuous death scene since that of Hershel (Scott Wilson) in season 4 will keep you rooted to the spot.
If all this sounds too bleak to enjoy, that's because it is. Season 7's opening episode is a noble lesson in dedication - less a premiere episode, more a statement of intent. Negan has long been branded a 'game-changer' for the AMC series, and the writers have certainly made sure he's altering things in ways you least expect. Forget David Morrissey's eye-patched Governor or the cannibalistic Gareth (Andrew J. West) - Negan is a malevolent foe to be feared. He will pounce on anyone at anytime with zero display of mercy. How do we know this? Because we see him do so - and it is devastating. Here, ladies and gentlemen, is the first Walking Dead character that will haunt your nightmares.
The Walking Dead Season 7 images

Show all 7
The episode's biggest assault on your nerves arrives in an extended sequence which sees the leather jacket-clad antagonist give Rick three seconds to amputate his son's arm. It's a moment where Andrew Lincoln excels, his character coming full circle: between his snot-nosed splutters of mercy and Carl's resigned plea ("Dad, just do it), this scene - when bookended with the first time we see Rick in season 1 episode 'Days Gone Bye', unaware of the tribulations this "new world order" will bring - causes your bones to cool several degrees.
If viewers knew this was Rick's destination, would they have watched the show? It would have saved them a bucketload of upset, that's for sure. But The Walking Dead has returned as one of the most assured shows on television. While it may be difficult to muster excitement for something this sobering, Gimple has guaranteed that - after six seasons and a boldly stoic opener to season 7 -placing your trust in his hands is one easy task. As the credits roll, your prevalent sense may be of despair, but it most certainly won't be to do with the quality of The Walking Dead.
The Walking Dead airs in the UK on FOX at 9pm
Join our new commenting forum
Join thought-provoking conversations, follow other Independent readers and see their replies