The Walking Dead season 7 episode 10 review: 'New Best Friends' is an off-book step in the right direction
*Spoilers for season 7 episode 10 follow*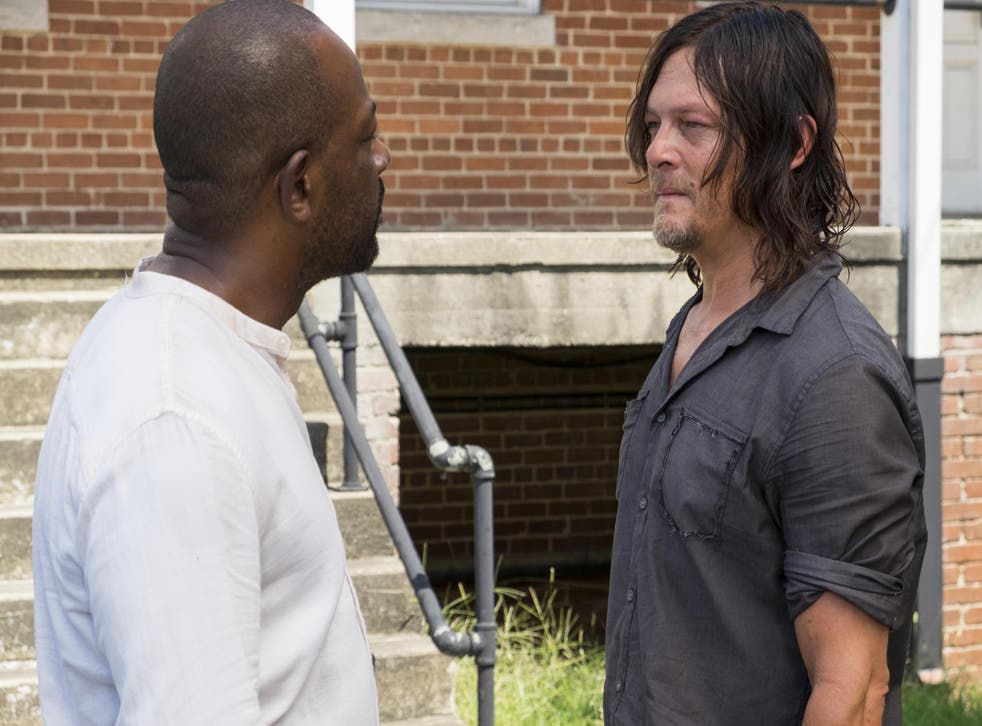 In terms of propelling the story onwards, this week's episode of The Walking Dead took its feet off the pedal instead providing a treasure trove of treats for those who favour plain old simple character interaction. While not being the show's most thrilling episode, 'New Best Friends' felt like an assured step in the right direction - season seven finally feels fully certain of its stride.
The majority of scenes featured in 'New Best Friends' fully exist so as to justify characters' motivations further down the line, the best example of this being the episode's almost rote opening scene which somehow squeezed tension from an oft-repeated scenarios: The Saviours arrive at The Kingdom for a more heated-than-usual supply pick up. Despite not much seeming to occur on the surface, it feels as if future events have been hinted at - one being the fact that this encounter will no doubt contribute to what will hopefully be King Ezekiel's (Khary Payton) future decision to turn against Negan's men. Another moment which may come into play further down the line arrives courtesy of Morgan (Lennie James) whose existence has nw been alerted to the violent clan; this scene sees him use his stick to adeptly knock a gun out of one greasy-haired Saviour's hand before he can use it to hit Ezekiel's Head of Security Richard (Karl Makinen) in the face.
Fortunately for many, this episode was heavy on Daryl (Norman Reedus) - he actually got to say some things too. Reuniting with his weapon of choice - a crossbow (not his - that's still in Dwight's clutches), he's enlisted by Richard to enact a plan which, he tells Daryl, involves sacrificing "some loner" Ezekiel has taken a shine to. Realising this is Carol (Melissa McBride), Daryl shuns Richard and attacks him when he refuses to stand down.
It's this discovery which leads to the episode's highlight: a tear-jerking reunion between the two original characters. in show time, it may have only been just 11 episodes since we last saw the two together (season six episode 'Twice As Far'), but considering the bloodshed and torment fans have endured since then, it certainly feels like longer - and their responses, played affectingly by both McBride and Reedus show just that. In fact, the two haven't flourished this much in a long while - viewers will undoubtedly be grateful for the two small scenes they share together.
Last week's midseason premiere introduced an entire new faction altogether - an ominous one that surrounded Rick (Andrew Lincoln) and company in the episode's closing moments. We now officially know why Rick smiled - he wants to sign them up to his oncoming war against The Saviours. "They own our lives," Rick tells them, adding: "...and if you kill us you'll be taking something from them - and they will come looking.
The group's enigmatic leader Jadis (Pollyanna McIntosh) - clearly relishing the opportunity to play a character with such restrained elan - flat-out refuses, instead opting to throw a defenceless Rick into a pit with nothing but a ravenous walker, impaled with spikes - for company. This unique visual more than makes up for the episode's lack of walker action, solidified by a genuine concern for Rick's safety (not to mention yet another nod from the writers who are clearly wanting viewers to expect Rick to lose his hand just like his graphic novel counterpart.
The Walking Dead Season 7 Episode 10 sneak peek
Things may be looking up for the group - they have dynamite, a semblance of an army and more of the upper hand than they expected at this early stage. With the opening half of season seven's formula switched up and characters littered about in varying locations, there's no telling which way The Walking Dead will go and - perhaps more enticingly, how quickly we'll get there. For a show in its seventh season, that's quite a feat.
The Walking Dead airs in the UK tonight on FOX at 9pm
Register for free to continue reading
Registration is a free and easy way to support our truly independent journalism
By registering, you will also enjoy limited access to Premium articles, exclusive newsletters, commenting, and virtual events with our leading journalists
Already have an account? sign in
Register for free to continue reading
Registration is a free and easy way to support our truly independent journalism
By registering, you will also enjoy limited access to Premium articles, exclusive newsletters, commenting, and virtual events with our leading journalists
Already have an account? sign in
Join our new commenting forum
Join thought-provoking conversations, follow other Independent readers and see their replies