The Walking Dead season 7 episode 6 'Swear' review: A tantalising if odd departure
*Spoilers for season 7 episode 6 follow below*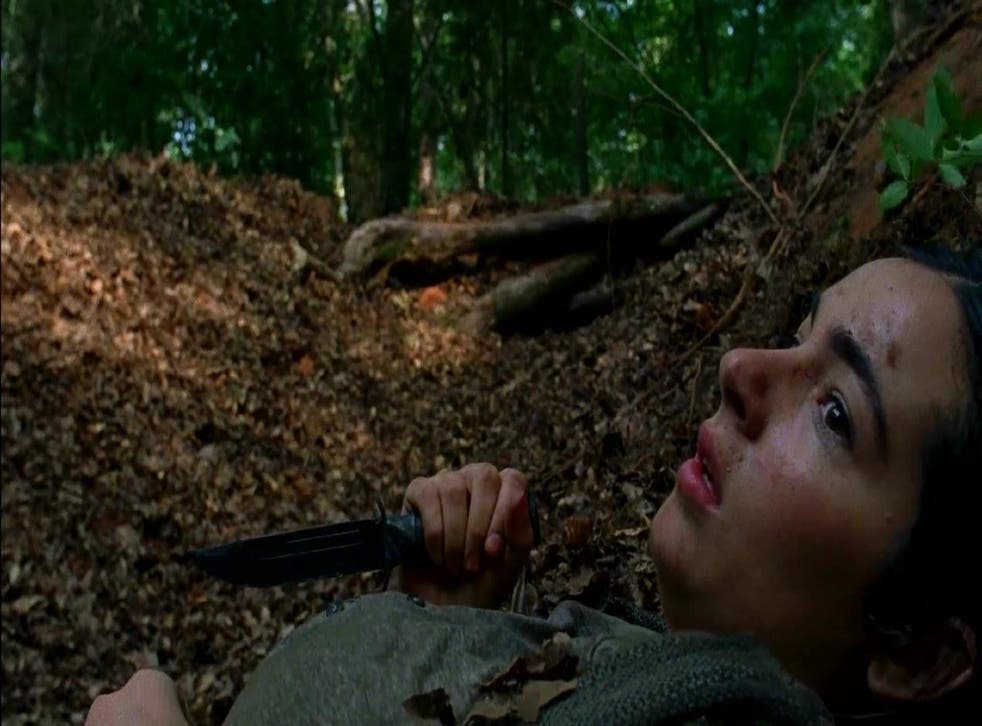 While The Walking Dead has never been a series to keep both feet on the pedal, there's no denying the pace has slowed to as close a standstill it's had since the unfairly-maligned second season on Hershel's farm aired back in 2011.
The series has recently been intent on tearing up the rule book each half season, shedding this storytelling skin in favour of a new technique to keep viewers on their toes. Much like Game of Thrones largely treats its characters to one scene per episode, The Walking Dead season 7's knack thus far is to make you feel you may only glimpse certain characters one episode per season (Carol and Morgan, for example, haven't been heard from since episode two).
With the mid-season finale approaching, it seems this tactic is winding to a close with Tara (Alanna Masterson) and Heath (Corey Hawkins - the new lead of FOX's upcoming 24 reboot) the last characters to be ticked off the 'where-the-hell-have-they-been?' list. Not seen since that chilling season six episode which saw our group cold-bloodedly murder sleeping Saviours at the satellite station, Tara and Heath have been scavenging for the Hilltop Colony ever since - and, in Tara's case, so much more.
It's vital to note that this episode - titled 'Swear' - is a step up from last week's which could rank as one of the weakest in the show's history.
Immediately embracing what The Walking Dead does so well, the episode is a tantalising departure, placing us in a location we're yet to see (the beach) showing us a character in a situation we've no idea how they ended up in (Tara washes up on shore) - hey presto! An exciting gambit. Linearity is bent with the next scene cutting to a time before this moment with every other scene sequentially filling us in on how Tara ended up being assumed a 'bobber' (probably the series' most entertaining name for the undead yet) by members of a new community known as Oceanside.
Granted, if fans were told they'd be getting an episode dedicated to Tara upon her introduction in season four, eyebrows would have been raised. But it's through this character - played with a refreshing charm by Masterson (whose pregnancy is to account for her lack of presence) - that we meet yet another new community, this one placed somewhere just below the Saviours in the hostility stakes. We soon learn it's Negan's fault - after stumbling upon their camp, Tara is fortunate to have her life spared after becoming target practice. "We shoot strangers on sight," she's told by the faction's leader, Natania (Deborah May).
Residing in woodland, the group are comprised solely of women and young children - it turns out the Saviours mass murdered all of their men in cold blood - and are terrified of being found by them. "That satellite post you wiped out, you have no idea what you started," Tara is told, unaware she'll soon learn just how bad they are; she believes her girlfriend Denise - who was killed by an arrow to the eye courtesy of Dwight last season - is waiting for her back at Alexandria.
For a show that's become as sprawling as The Walking Dead, it's refreshing to see past events bear such weight - that episode at the satellite outpost, titled 'Not Tomorrow Yet,' was a real gut-puncher containing plenty of game-changing moments for several characters. It's nice to see that being reflected here six episodes into a new season. It also marked the last time all of the core group were together in one place.
Further proving that last week's episode, plagued by wonky editing and shoddy dialogue, was a momentary blip is director Michael E. Satrazemis who here utilises the larger playing field impressively, the most striking shot of which sees the camera pan back from a Rambo-esque Tara as she peers through trees at the community she sees before her. In fact, this episode serves to heighten what the past four episodes have done exceptionally well - prove that The Walking Dead could currently be the best for female characters on television right now (see also: Rosita, Maggie, Sasha, Carol).
Elsewhere, composer Bear McCreary can clearly be heard using this episode's distinct setting to experiment with the soundtrack in adventurous ways he rarely gets to deploy; as Tara walks from the beach and through the woods, spear in hand, it hits home that regardless of your stance on The Walking Dead, you never know what you're getting from one week to the next - admirable for a show in its seventh season.
Still, unlike Tara - who arrives back at Alexandria as the episode ends - the show is not yet out of the woods: if it teased a new age with the arrival of Jeffrey Dean Morgan's villain, the series - whose dip in quality is becoming more transparent with every week - is yet to capitalise on this. As we go into the final two episodes of season seven's first half, it's all or nothing.
The Walking Dead airs in the UK every Monday at 9pm on FOX
Join our new commenting forum
Join thought-provoking conversations, follow other Independent readers and see their replies