The Walking Dead season 7 finale review: A beacon of light for frustrated fans
*EXTREME SPOILERS FOR THE WALKING DEAD SEASON 7 FINALE FOLLOW*
Jacob Stolworthy
Monday 03 April 2017 05:37 Comments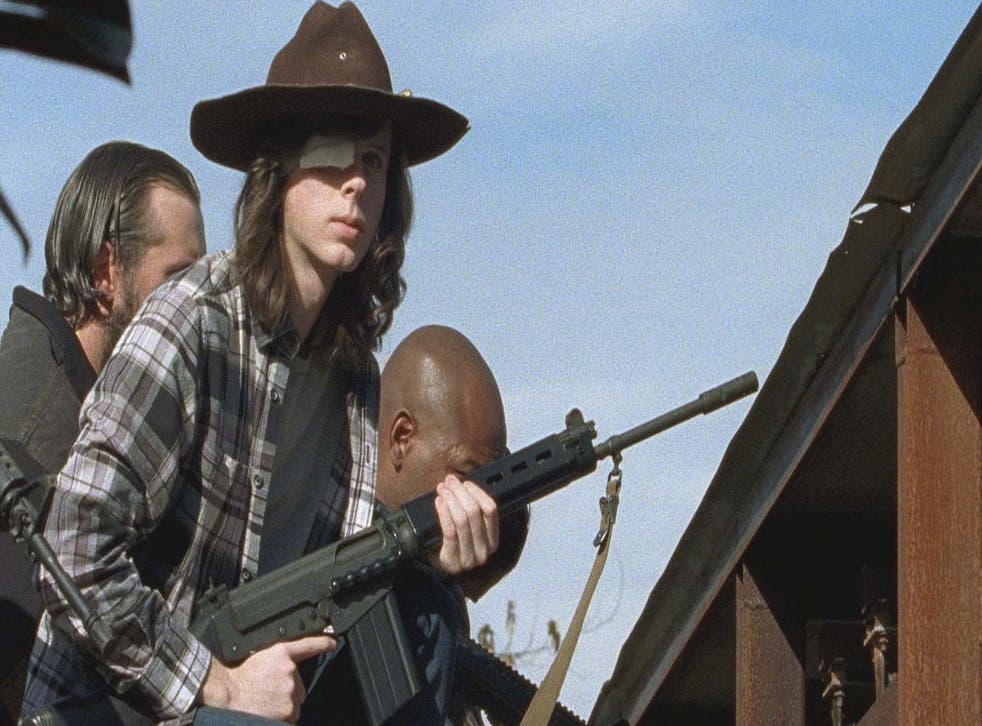 "Welcome to the first day of the rest of your life," Negan tell Sasha at the beginning of The Walking Dead's seventh season finale with no clue her actions will spark the very moment his rule will begin to spiral out of control. It's a prescient line planted by the writers because, sure enough, by the end of the AMC series' seventh run - a season that's received its fair share of harsh criticism - things will never be the same again.
Could Sasha (Sonequa Martin-Green) be one of the bravest characters the show has seen? Quite possibly. The moment she requests the suicide pill from Eugene, she knows full well that to take Negan down, she'll have to become the weapon. Holing up in a casket as The Saviours drive her back to Alexandria to wreak his murderous havoc, she swallows the tablet and casts her memory back to a heartfelt encounter with Abraham (Michael Cudlitz in a surprise appearance) - the man she loved; the man Negan so traumatically bludgeoned to death in the season opener. These moments pepper the episode hammering home the notion that this is a character whose shelf life is up.
It's always sad to see old-timers depart the series, and Sasha - who was first introduced back in the third season's prison arc - is no different (especially when reflecting upon the fact we see her die in the episode's very first scene without initially realising it). Fortunately, it's her final moments that'll endure as the character's most memorable: Negan - prepared for his showdown with Rick - opens the coffin only to find a reanimated Sasha baying for his blood.
It's a typically well-directed moment by maestro Greg Nicotero even if you fully expect it - it's a testament to his efforts that you back away from your screen as fast as you do. If this occurrence stuns momentarily, it's ensuing events which take your breath away in a manner this show has failed to do since Carol's takedown of the cannibalistic Hunters at the beginning of season five.
Having been betrayed by Jadis (Pollyanna MacIntosh), a character now rivalling Gregory as the show's most eye-scratching, the Alexandrians use Sasha's martyrdom as an opportunity to turn the tables. Gunfire ensues, blood is spilt and, ultimately, déjà vu experienced: Rick finds himself kneeling at Negan's mercy as he primes Lucille for his son, Carl. The scene, while well-acted by both Andrew Lincoln and Jeffrey Dean Morgan (they've had a lot of practice at this stage), feels undercut by its repetition: has anything really changed over the course of the past 16 episodes?
It's the following sequence that proves things really have: as Negan prepares to take one clean swing at Carl's head, King Ezekiel's pet tiger Shiva bursts onto the screen sending The Saviours running and TV viewers' collectively clenched fists pumping into the air.
The Walking Dead clip from final episode of season 7
The Kingdom - led by Ezekiel, Carol and Morgan - and the Hilltop Colony, now ruled by Maggie (Lauren Cohan), all arrive finally prepared to lay vengeance upon The Saviours. It's a thrillingly-paced, blisteringly-edited set piece, the effect of which could only have been achieved had the writers taken their time to languidly sow the seeds throughout this past season (viewers' ire be damned).
It's a series highlight filled with fleeting character interactions that you may not notice the first time around (Rick and Morgan's nod will spring hairs on end; Negan's middle finger as he's chased out of Alexandria will induce howls). As an extended battle sequence, it does the trick - that trick being to spark anticipation for the much-hyped war to come in season eight - and, for many viewers, it's a perfect slice of humble pie.
This past season may be a case of too little too late for many viewers, but let them go - this series has never truly been the TV show those fans thought it was, a notion exemplified by Maggie's closing tribute to Glenn. Sure, it may not be the highest-quality show on the schedules but it's a series willing to exist on its own merit without succumbing to a network's demands. While there's no denying this season has showcased signs of creaking, this finale was a beacon of light designed for those who believed The Walking Dead was shuffling off its mortal coil.
More of the same next year, please.
The most shocking Walking Dead moments

Show all 10
The Walking Dead season seven concludes in the UK tonight (3 April) at 9pm on FOX.
Register for free to continue reading
Registration is a free and easy way to support our truly independent journalism
By registering, you will also enjoy limited access to Premium articles, exclusive newsletters, commenting, and virtual events with our leading journalists
Already have an account? sign in
Join our new commenting forum
Join thought-provoking conversations, follow other Independent readers and see their replies