The Young Pope episode 1 review: Jude Law is menacing in Paolo Sorrentino's papal House of Cards
This is no ordinary costume drama
Christopher Hooton
Monday 16 January 2017 09:30 Comments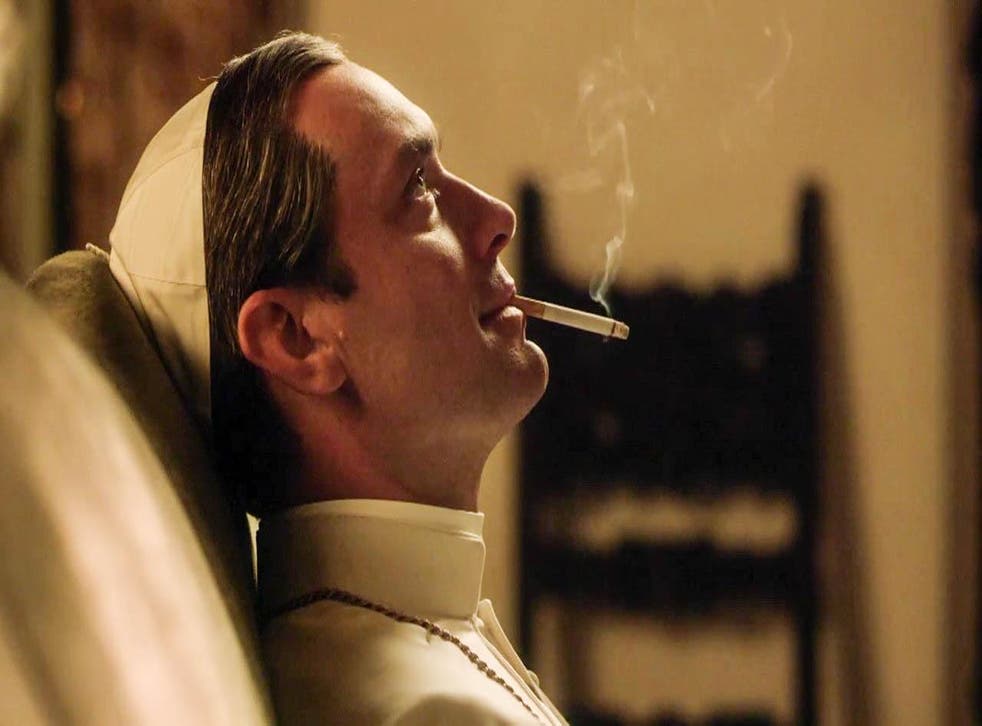 Paolo Sorrentino is best known for his explorations of ennui and opulence Youth and (the utterly brilliant) The Great Beauty, but he's also obsessed by, and has spent most of his career dealing with, the pull of power. Not that these are mutually exclusive of course, especially in the director's native Italy where most of his films take place.
Following on from Il Divo, a film about former Italian Prime Minister Giulio Andreotti, and coming ahead of Loro, a Silvio Berlusconi biopic, is The Young Pope, a 10-part Sky Atlantic drama set in the Vatican.
Jude Law plays Lenny Belardo aka Pope Pius XIII, a fictional first American pope with a disdain for the traditions of the papacy and an appetite for mischief.
Sorrentino is a visionary, and it's clear from the outset that this is no BBC-esque costume drama romp, the first shot seeing Law crawl out from under an enormous pile of unmoving babies. The series is shot in such a way that there is an eerie coolness of temperature to it, and you are very aware of not only the air in its scenes but its quality.
Episode one depicts Pius XIII's first day as pontiff, the surprise choice upsetting cardinal and nun alike with his unorthodox approach and unapologetically American nature. Shunning the beautiful breakfast prepared for him, he demands a Cherry Coke Zero. Pius XIII doesn't suffer fools gladly, in fact, he doesn't seem to suffer anyone gladly, striking down official after official in the Catholic Church with his caustic words. He revels in subordinating people, gradually acting more and more of an asshole in each encounter until it is completely clear to everyone in the room that he despises them and they're forced to leave it, tail between their legs.
There's a perverse enjoyment witnessing the atmosphere in the Vatican's cavernous, opulent rooms turn from sycophancy to malice, and Law has some wonderful, damning lines.
"You're so wise holy father," a simpering priest tells him.
"Not only that," he fires back, "I'm also intransigent, irritable, vindictive and i have a prodigious memory."
I am immediately reminded of another uncompromising head of state, President Frank Underwood in House of Cards.
Both are focused, menacing and constantly have their feet on the throat of those beneath them, but, interestingly, with Pius XII we don't get any fourth wall-breaking pieces to camera, so his motives remain unclear; does he simply desire to disrupt? Or revel in the cold brilliance in power? Is a larger plan in the making? Sorrentino has described the character as "shrewd and naïve, old-fashioned and yet very modern, doubtful and resolute, ironic, pedantic, hurt and ruthless", a paradox of a man who will be intriguing to get to know in the coming episodes.
Watch out for: The aides rushing to arrange the Pope's robes after they are blown around by his helicopter landing in a children's playground
The Young Pope premieres on Sky Atlantic at 9pm on 27 October.
Register for free to continue reading
Registration is a free and easy way to support our truly independent journalism
By registering, you will also enjoy limited access to Premium articles, exclusive newsletters, commenting, and virtual events with our leading journalists
Already have an account? sign in
Join our new commenting forum
Join thought-provoking conversations, follow other Independent readers and see their replies