Top Gear review: Same shtick, different cast as Chris Evans and Matt LeBlanc take on Jeremy Clarkson's mantle
Do they really think there is anything novel about taking the mickey out of Reliant three-wheelers?
Sean O'Grady Comments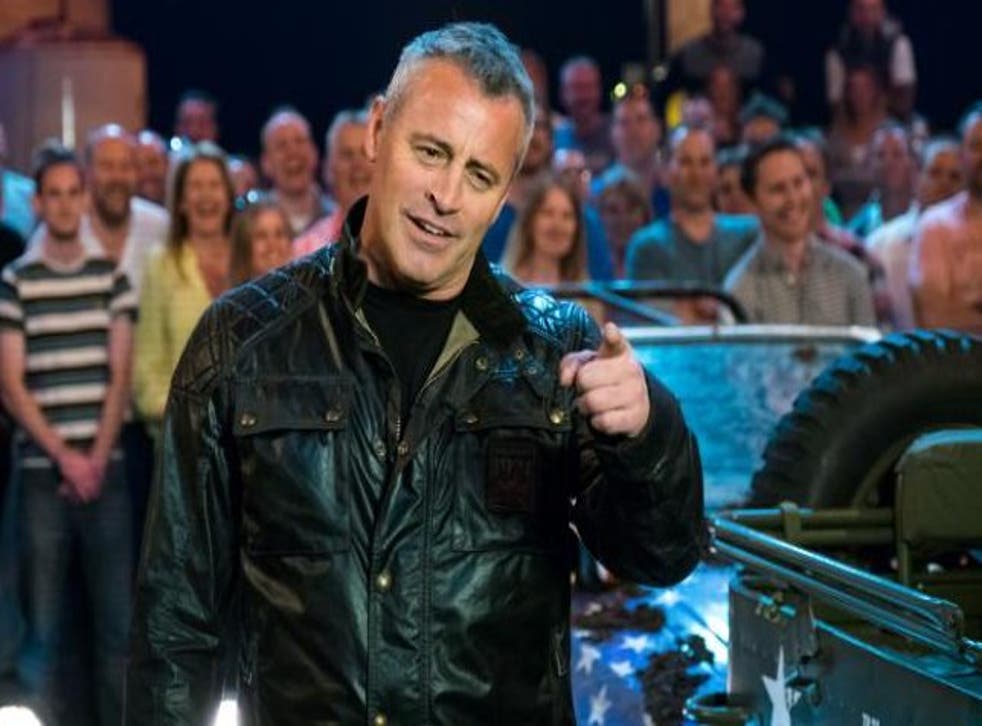 The new Top Gear can be easily summed up: Same shtick, different presenters.
It's a technique very familiar to the world's car companies. A particular model has been out for a while and starts to seem a bit old-fashioned. However, it is very expensive indeed to engineer a whole new model. So they keep the engine, brakes, transmission and all the complicated electronics and mechanical stuff, and instead give it some new bodywork, hoping the buyers won't notice or care. Then they call it "The New Renault Wombat", or whatever, and then hype it up. (Just to be clear: although they do make something called a Kangoo, there is no Renault Wombat. You can, though buy a Skoda Yeti, but I digress).
Thus, the much-hyped "new" Top Gear. It's the same mix as before, pretty much: Obscure, not always interesting cars, that no-one much can afford to buy, filmed in expensive locations that most Top Gear viewers can only dream about visiting. Stunts. Stupid stunts. Dreadful cliche-packed items that are as worn out as bald tyres.
New Top Gear series clips
Do they really think there is anything novel about taking the mickey out of Reliant three-wheelers, cars long since passed into history and a feature of British comedic life since at least when Del Boy acquired one in 1982? Or that driving a small car into the back of a transporter while on the move hadn't already been done (better) in The Italian Job (1967). As for jokes about Blackpool, I think they've been doing those since before the war. Les Dawson certainly got there before Chris Evans. (Probably in his Rolls-Royce Silver Shadow. I digress again). The Lord Mayor of Blackpool was game enough, though.
There is a female presenter now, Sabine Schmitz, a proper racing driver, but that doesn't mean the casual sexism completely eradicated. Matt LeBlanc told us excitedly that the Ariel Nomad, a sort of go kart for off roading, weighs as much "as your mom's G-string". He adds that, apparently driving the Ariel is also "the most fun you can have with your clothes on". God help us if they think that sort of writing deserves a Bafta. I reckon Blanc should go back to Warner Brothers and stick to doing the voices for Bugs Bunny and Barney Rubble.
The post-Clarkson Top Gear era in pictures

Show all 21
Chris Evans is just annoying. I couldn't care less about whether he thinks the Dodge Viper is better than the Chevrolet ZO6, because I've seen them compared before and they're much the same anyway. Much the same goes for the original Land Rover v Willys Jeep segment. The "star in a reasonably priced car" bit has been scrapped, replaced with a Mini on a rallycross circuit, to no great obvious advantage.
It is all pointless, hackneyed and tired. Yes, I realise that is like Top Gear always has been, but what spark of originality there once was is now missing. They don't seem to be having as much fun playing with cars, this new lot.
Before Jeremy Clarkson decided to thump a producer, some of the Top Gear production team had hinted that the show might be in need of a refresh, just as Clarkson and producer Andy Wilman revived it when they revolutionised it back in 2002. Well, the old show certainly got that. But rather like a car maker's bungled relaunch of a fading model line, it's all just a bit embarrassing.
Register for free to continue reading
Registration is a free and easy way to support our truly independent journalism
By registering, you will also enjoy limited access to Premium articles, exclusive newsletters, commenting, and virtual events with our leading journalists
Already have an account? sign in
Join our new commenting forum
Join thought-provoking conversations, follow other Independent readers and see their replies