Treasure Island with Bear Grylls review: Human greed is the defining feature of this series
Morally challenged Lord Mountbatten is the highlight of episode one of this new series, writes Sean O'Grady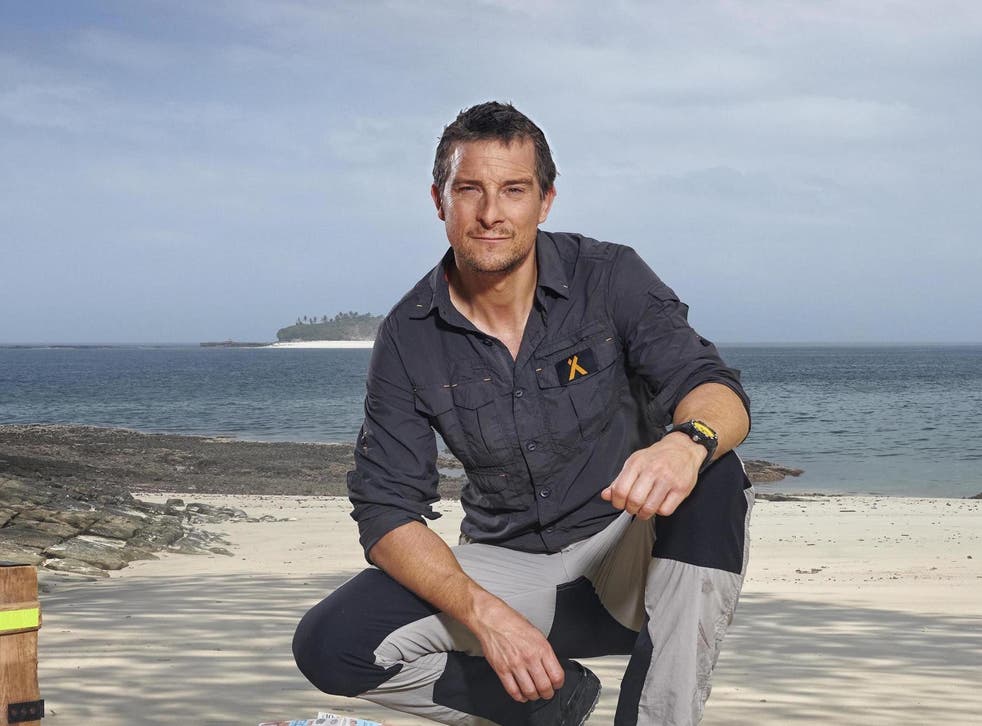 Treasure Island with Bear Grylls is a bit of a misnomer. There is treasure on the island – £100,000 in crates of £10 notes randomly dropped by helicopter onto a deserted south pacific atoll – but the "wonga", as the participants call it, is entirely incidental to the real defining feature of the series: human greed. So "Greed Island" would be rather more apt.
As for The Bear himself, we find him stomping around a bit at the beginning to warn the 12 "ordinary people" marooned on the island about the man-eating sharks and poisonous frogs around the place. Or that might have been man-eating frogs and poisonous sharks; same difference, I guess, if you end up arguing with one. After that, though, Bear clears off, maybe to check into a luxury hotel, maybe to camp out with the frogs, maybe to barbecue a marine iguana. Who cares?
We are then left instead to consume the sweaty footage gathered from bodycams and a team of six camerapersons stationed on the island to follow the action. The monochrome scenes shot with night-vision have an eerie texture to them, adding a bit of Most Haunted to a show that is basically a cross between I'm a Celebrity... Get Me Out of Here! and Radio 4's The Moral Maze. If you can't stand the heat and the thirst and have to get off the island, you get nothing. Otherwise you're left in the dilemma of cooperating to find and share the cash, or selfishly trying to keep it for yourself.
Anyhow, less time for Bear Grylls means much more time for the most entertaining of the various punters selected – Lord Mountbatten. This isn't, of course, the original Lord "Dickie" Mountbatten, hero of the Second World War, last viceroy of India, murdered by Irish terrorists and whose personal predilections gave rise to the nickname "Mountbottom". This, rather, is the 56-year old Ivar, whose occupation is given as "Lord and Estate Owner". But he is much, much more than that, an endlessly intriguing character.
The best TV shows of 2019 (so far)

Show all 47
At first, he tells us that the reason he's turned up in this promising bit of reality TV is that, despite the grand title and close connections with the royal family, "money is always tight". This, though, does seem at odds with the biographical video we see, where we find him roaming around his pristine grounds and enjoying a nice bibulous lunch with friends and family in the well-appointed kitchen of his Georgian mansion. When he eventually gets his hands on the first £7,500 he discovers, he delightedly squeals that it will "pay my daughter's school fees". For a term, that is. So, in a way, it is no wonder money is always a problem in the Mountbatten household.
Mountbatten is also morally challenged. Initially, in front of his fellow greed islanders, he puts his patrician case for sharing the loot. You see, the programme makers have been quite skilful in constructing a "mixed ability" class of individuals, ranging from 20-year-old northern waitress Ruby through a brain surgeon to a cockney builder (Jim, 52), all the way to the oldest, Irene, a retired florist aged 75. Taking the cue, Mountbatten and a couple of others suggest looking after the weakest in their mini-society – those like poor old Irene or Cat, the nurse with a dodgy knee, who'd be lucky to get off the island alive, let alone loaded with treasure.
So it is an experimental test of human nature, or of socialism in action you might say. The well-spoken Mountbatten looks and sounds every inch the aristocratic gent, a man with a sense of One Nation, of noblesse oblige. To some, he embodies "a new level of poshdom", in the awed words of Morag, an earthy 58-year old "property manager" who seems oddly anxious to stress she only ever charges her tenants a "fair rent".
And yet… when the informal leader of the group, a 30-year old former marine named Marco teams up with Ivar Mountbatten and the pair stumble across not one but two loads of loot, they quickly decide to help themselves to it, and keep their finds secret from the rest. They weave a tall story about a futile search for a freshwater supply, and tell ever more elaborate fibs to their, for now, unsuspecting mates. "I feel a bit of a s***," admits Mountbatten, privately to us, which at least suggests some self-awareness. I formed the impression that when his lordship wrestles with his conscience, he usually wins.
Marco, however, starts talking about his greed in a strange accent, like a Bond villain, suddenly possessed by the most base of human instructs. Which he had.
Marco and Mountbatten also had more than a selfish desire for bundles of tenners in common. Marco mentions that his mum is "married to a chick", at which point Mountbatten lets Marco into his own "little secret" – "I'm married to a bloke." "Everybody loves a gaylord," Mountbatten laughingly declares, which is obviously true, or at least true until they find out that you're quite a deceitful gaylord and you've got £15,500 secretly stashed away. Then you'll be liable to get a smacked Mountbottom.
Treasure Island with Bear Grylls continues on Channel 4, every Sunday at 8pm
Join our new commenting forum
Join thought-provoking conversations, follow other Independent readers and see their replies