TV review: Black Mirror, Channel 4 - Charlie Brooker's writing has changed since he became a husband and a father
Food and Drink, BBC2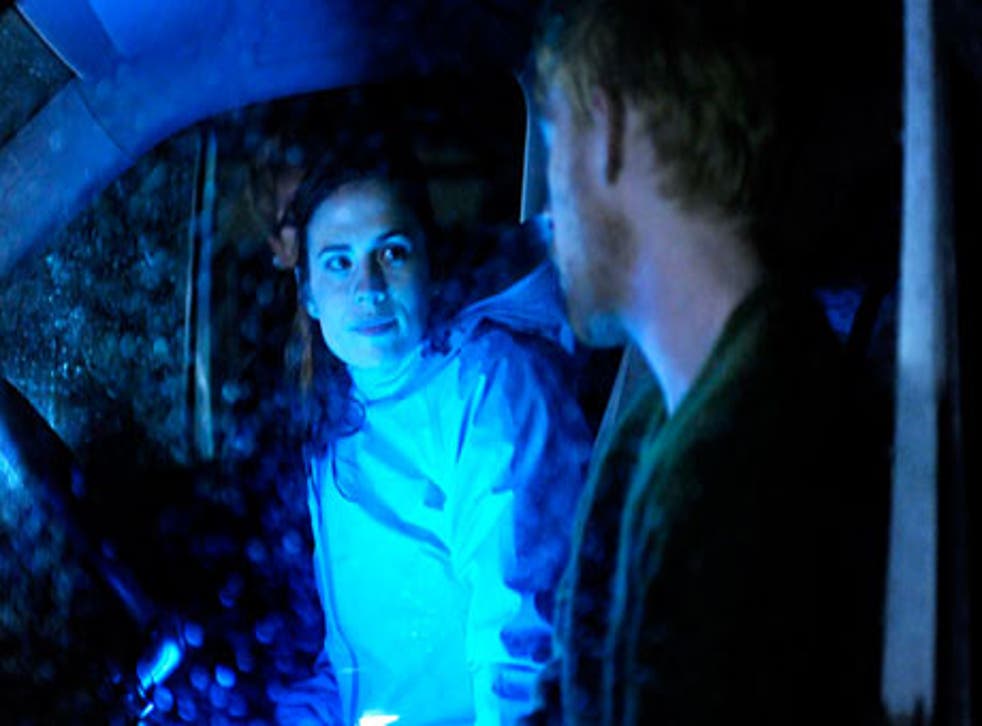 "Be Right Back", the first episode of a new series of Black Mirror, began in mundanity, a young couple – Martha and Ash – teasing each other affectionately as they drive through the night. He's a little distracted by his mobile phone and she's clearly getting a little tired of coming off second. "Glovebox," she says in an admonitory voice, a cue for him to put the device into purdah for a while.
As soon as they get home, though, he's staring down the electronic well again. She throws a tea-towel at him: "Just checking you're still solid," she says. "You keep vanishing down that thing." The writing's departure from idiom here is a clue – or a premonition. As is Ash's memory of how his mother reacted when there was a death in the family – sweeping away every photograph of the dead person and confining them to the attic.
It won't come as a huge surprise to any viewer that Ash doesn't have long to live. When he fails to return from an errand the next day, Martha's curiosity turns to anxiety and then, with the arrival of flashing blue lights outside the kitchen window, to grief. And it's at this point that Ash's obsession with social media comes into its own. At the funeral, a friend of Martha makes a suggestion: "I can sign you up to something that helps," she says. What she has in mind is an iAsh. Somebody has married artificial intelligence software with the dense crop of personal detail we leave behind us on the web to create a virtual loved one. Give it permission to access private information and the simulation will be even better: "The more it has, the more it's him."
Martha is initially appalled but then, in her grief, can't resist trying it. And the software it seems not only has a sense of humour. It has Ash's sense of humour. After she upgrades and uploads some home videos it has his voice too. And then she goes the final step. Two delivery men arrive with a very heavy crate. Inside it is Ash 2.0. All she has to do is add electrolytes, wait a little and he – or a fair replica – will be back. Ash 2.0 isn't perfect. He can't do sexual response because that isn't on the public record anywhere. But he has a degree of hydraulic control that flesh-and-blood men might envy and which clearly proves satisfactory when Martha succumbs to loneliness and sleeps with him.
It won't have come as a great surprise to any viewer either that this was a futuristic version of "The Monkey's Paw", that terrible short story about the dangers of getting what you wish for. Oddly, though, it was a tender, more wistful account of the fable, neither of those adjectives you would have associated with Charlie Brooker even a few years ago. His writing has changed since he became a husband and a father, but it's a thickening not a softening, I think, admitting feelings far more complicated than rage and exasperation. Here they included the counter-intuitive truth that it's not always the sweetness and the give that you miss about someone you love but the sourness and the resistance, too. I wasn't too sure about the science of Ash's resuscitation, but I thought the emotions were engineered pretty well.
Television occasionally stages its own unwise resurrection. Food and Drink has just returned from the vault, for example, and what a zombie of a programme it is, vaguely reminiscent of the original but without a spark of life. Michel Roux Jr presents, with Kate Goodman playing the Jilly Goolden role, and last night included a stale item on the baking fad and, bizarrely, a defence of sliced white: "There is surely room for bread that is nutritionally iffy, that's cheap, that's crappy and white," said the reporter. Oh, and apparently the French make good croissants and have nice street markets.
Join our new commenting forum
Join thought-provoking conversations, follow other Independent readers and see their replies