TV review: Da Vinci's Demons - Raffish romp through the Renaissance
The genius of Leonardo da Vinci is disguised somewhat in this cheerfully anachronistic tale of his encounters with the Medicis
Mike Higgins
Saturday 20 April 2013 20:33 Comments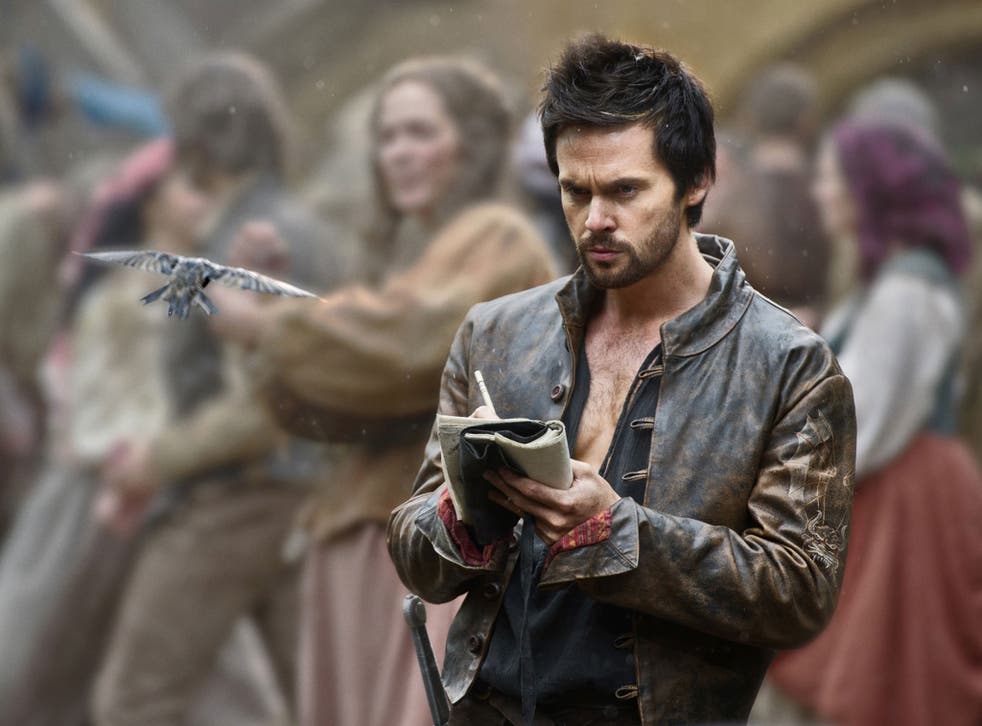 Did you know Leonardo da Vinci loved getting high on a bong now and then? And was, like, a totally ripped hottie? There he was, on the Fox channel's new series Da Vinci's Demons on Friday night, checking out the sweet babes of Florence and all but fist-bumping Lorenzo de' Medici. This is probably not the maestro you're familiar with, or any artist, as it happens. You might have seen Jack Vettriano on What Do Artists Do All Day? a couple of weeks ago, and if he's anything to go by, the artistic type grumps about in his vest, smoking and ignoring the phone.
Da Vinci's Demons's pedigree is not promising. It's one of those complicated co-productions that turns end credits into a logo bunfight: an American cable channel, Starz, and BBC Worldwide are putting the money up. (Why is it on the Fox channel?) The man who is writing the new Superman film is behind it. You can feel the crackle of all that Very Serious Money, not least in the lavish sets and disorientingly smooth computer-generated backdrops. Which makes it surprising that Da Vinci's Demons is actually a bit of a giggle.
The plot needn't detain any of us. It's the Medicis vs the Vatican, and Leonardo, in Florence, has an eye for two chances: to appoint himself Lorenzo's military engineer and show his etchings to his new employer's mistress. At the same time, a mysterious Turk, whom Leonardo rescues from the Night Watch, exhorts Leonardo to drop out of this whole Renaissance thing, tune in to his inner Mithras, and get to grips with his true, troubled destiny. (These, we understand, are the demons of the title.)
Tom Riley, you assume, has been asked to play Leonardo like Doctor Who in a leather blouson, which he does, with raffish enthusiasm, though possibly not much historical accuracy: within 20 minutes, he has built a working hang-glider and a flying robot dove. The artist kicks about with a grave-robber and an assistant from his studio, where he occasionally creates in that way that film-makers wish was true: by candlelight, off his nut. The script is cheerfully anachronistic, and by the looks of it, there's a bet among the production team to ensure that something is on fire in every other scene.
Da Vinci's Demons also represents an alarming new low for the representation of the Pope. The upper echelons of the Vatican these days have a standing somewhere between senior bankers and very senior bankers, but His Holiness outdoes himself here: we meet him canoodling naked with a young boy in a large pool beneath the dome of St Peter's, using a dagger as some sort of sex toy. Where can he go from here? Heaven only knows.
We can guess at Prince Charles's demons, but they weren't immediately apparent in Royal Paintbox (ITV1, Tuesday **). This was a trawl through the Royal Family's archive of its members' artistic output. They varied, from the rather good – Prince Rupert of the Rhine's mezzotints – to the rather bad – Prince Albert's Boys' Own cavalry charge scenes. Charles's own landscapes, of Greece, Tuscany, Scotland, anywhere our taxes have taken him over the years, were pleasant enough. As were his vague comments on his ancestors' daubings: "Eye to hand to paper … the scale of it … exercise in observation." And so on.
But given the Royal Family's history, where was the batshit stuff? The scary, oil-clogged reflections of Saxe-Coburg family horrors? Queen Victoria's work was at least moving. Before Albert's death it was sweet sketches of chubby toddlers; after, dark, empty landscapes. You ended up wondering about the one subject the family's artistic gaze seemed to avoid: us, the royal subjects.
Following House of Cards, the online streaming website Netflix released its next series of original drama on Friday, Hemlock Grove (**), 13 episodes to consume as you see fit. In the opener, there was blood, teen flesh, at least one possible werewolf and perhaps a vampire. So far, so Twilight, with the odd gothic comic book touch.
Register for free to continue reading
Registration is a free and easy way to support our truly independent journalism
By registering, you will also enjoy limited access to Premium articles, exclusive newsletters, commenting, and virtual events with our leading journalists
Already have an account? sign in
Join our new commenting forum
Join thought-provoking conversations, follow other Independent readers and see their replies