TV review: Luther - I can't tell my farce from my Idris Elba
'Luther' is back, with over-the-top murders and its tongue in its cheek
Mike Higgins
Saturday 06 July 2013 22:27 Comments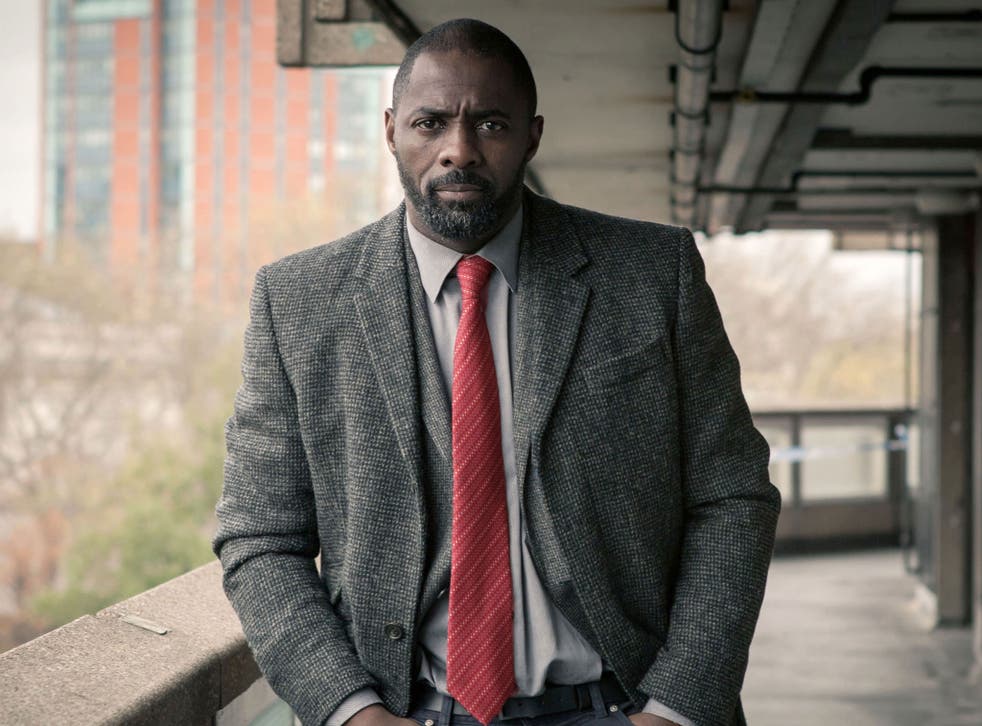 When dramatising sexual violence against women, you just have to know how to have a little fun. This is the daring line taken by Luther, the homicide detective series which returned for its third series on BBC1 last week.
Define fun? How about a first-person point-of-view scene of a murderer lying under a bed watching his victim kicking her shoes off; he then slides out from under the bed like a mechanic from beneath a car, in order, as we learn later, to strangle her and then dress her up like – and DCI John Luther is particular about this – a "post-punk" rocker. Or what about a woman cowering in bed while her partner, having gone to check out the bump in the night, is attacked by "the Shoreditch Creeper" and shoved half-dead through their bedroom ceiling?
Grisly though they are, I don't offer these examples entirely reprovingly. Even as you wince at yet another woman wide-eyed with terror at her imminent, bloody fate, it's obvious that the makers of this Golden Globe-winning series go to work with a slightly mad smile on their faces. The baroque hysterics of the violence they present is a knife-edge from campy farce. At first you wince. But by the time a suspect of another of Luther's investigations has put his hand in a blender to dodge fingerprint identification, you – or perhaps only I – almost chuckle in admiration. That case – the murder of an internet troll – had two purposes: to introduce what looks to be the engine of this series, a covert police probe into Luther's iffy policing methods; it also allowed, somehow, for a crime scene in which the victim seemed to have met his end in a Keith Haring installation, the wall's of his flat being coated in DayGlo graffiti.
Carrying this is Idris Elba, who gets an awful long way on big shoulders and the squint of a man who has once again put his contact lenses in the wrong way round. His lunking presence needs a foil beyond his unhappy looking colleagues, and fans of Luther will be hoping that the programme makes good on its hint that his original sparring partner, Ruth Wilson's psycho killer, will return. Until then, have fun with all those terrified women!
The terror of The Returned is altogether more muted. It is four episodes in and has adhered with compelling logic to its premise: the recently dead of a small French community in the Rhône-Alpes reappear, as weirded out by their resurrections as are their families and friends. It's a zombie drama, but that overwrought genre hardly fits the bill: the zombies here merely want their old lives back.
Yet, as we're learning, other unpleasant things are returning from the dead, thanks to the presence of these walking deceased. Faced with the return of their teenage daughter Camille, for instance, her divorced parents are, unwisely, considering rekindling their relationship. And Lena, Camille's twin sister, is now a few years older than this girl who is no longer, visibly, her identical twin and, in Lena's estimation, no sister either. There's the thorny matter of Camille's ex-boyfriend too. And so other characters face the return of futures they thought were denied them or pasts they believed they had escaped.
The horror of the situation is all the more stark thanks to the pared- back script and the restrained photography, with its clean lines and drained colours. The setting, too, is quietly creepy, a typically prosperous and spruce French town, but one with jagged peaks looming over tidy back gardens and outlying hunting lodges festooned with guns and dead animals.
It's an impressive, sophisticated drama, which, if I'm honest, does "ominous" to the point of monotony. So it's a relief that this French import isn't afraid to rummage about in the big back of horror tricks. There's Victor, an impressive addition to the freaky-little-boy tradition; he's back from the dead and, having attached himself to the vulnerable Julie, may, or may not, have driven a nosey-parker neighbour to kill herself. There are also strange things going on with the characters' plumbing, which are probably connected, and not just via copper pipes, to equally strange goings on up at the dam. And is it me or do "the returned" appear to be a little too peckish for comfort?
We're halfway through the series, and I've little idea where it's going – but I think we can assume it's nowhere good. Which is great.
Register for free to continue reading
Registration is a free and easy way to support our truly independent journalism
By registering, you will also enjoy limited access to Premium articles, exclusive newsletters, commenting, and virtual events with our leading journalists
Already have an account? sign in
Join our new commenting forum
Join thought-provoking conversations, follow other Independent readers and see their replies