TV review: Mad Dogs, Sky1
What Do Artists Do All Day? BBC4
Arifa Akbar
Wednesday 05 June 2013 09:29 Comments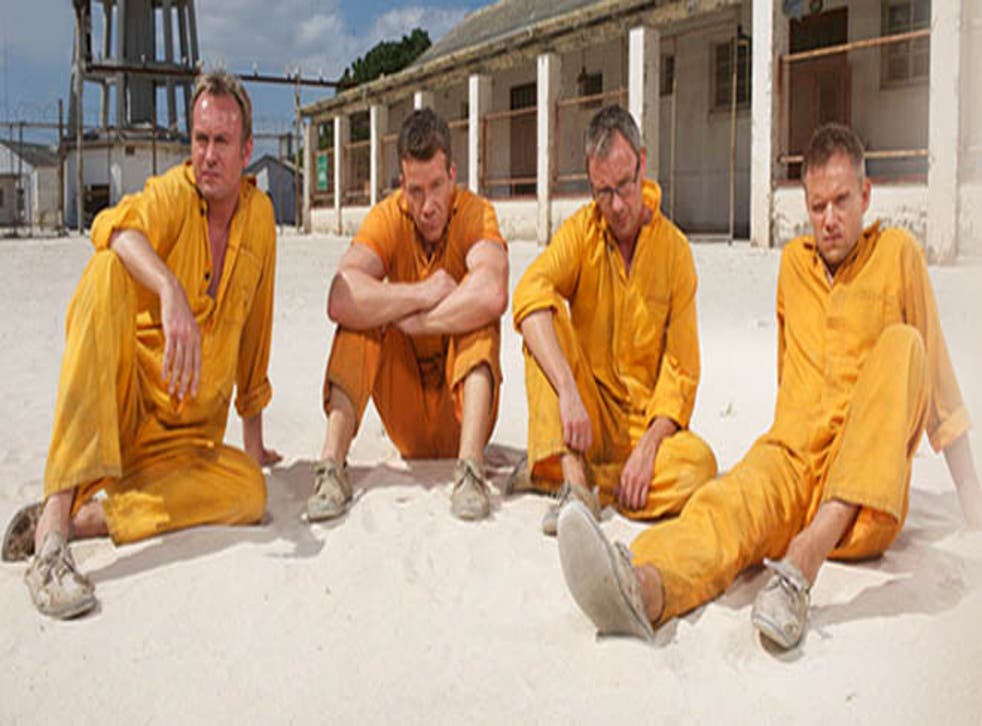 So the four, fortysomething, accidental criminals of Mad Dogs have returned for a third series, and this time Quinn, Baxter, Woody and Rick found themselves far from Majorca. Exactly which dodgy prison they had landed in was a point of some confusion at first. The orange jumpsuits and the cell graffiti ("I heart Bin Laden") offered some clues, though it turned out not to be Guantanamo but a place resembling it in the middle of the Moroccan desert.
Rick (Marc Warren) was even more baffled after seeing the M&S label poking out from his interrogator's shirt: "Extremists don't shop at M&S – do they?" So where were they exactly? A sharp-tongued, shaven-headed Jaime Winstone turned up as a renegade ex-squaddie to throw out a few menacing clues: "This place don't exist, therefore you don't exist." All was revealed when the quintessentially English Foreign Office guy emerged to explain – rather convolutedly – the connection between drug financing, the American security services and the four men's own precarious fates, which basically required them to abandon their families back home and relocate with new identities to a faraway land. In other words, South Africa.
Everything about this TV splicing of the buddy-movie with Michael Caine-style gangster shenanigans shouts of contrived, cobbled-togetherness on paper, so it is a wonder that it hangs together so well in the flesh. Perhaps it is the acting: the chemistry between John Simm and Philip Glenister that charmed us all in Life on Mars is still there, while Warren and Max Beesley are also perfectly cast. Or maybe it is the script, with its hint of darkness and depth that is laced with just the right amount of humour and silly plotting. The banter over what name to choose for their new lives offered up the gentle, bonding humour of blokey friendships. I'll be "Floyd", said Rick, though Baxter was not convinced: "No, that's a black name". They should pick names with meanings, Rick suggested. "I'll be 'Dances with Wolves'", Baxter quipped.
The "serious" issues – here touching on illegal detention, enhanced interrogation techniques, extraordinary rendition, and CIA kickbacks – seemed to pay lip service rather than attempting anything more penetrating, yet their echoes still gave the drama more of a backbone.
The wondrous artist Paula Rego was once called upon to give me a drawing lesson in her Camden Town studio, and when asked what the art of drawing was about, she said, quite simply, "looking". The more you looked, the more you saw. Here, in an occasional series that hopes to demystify the creative process, What Do Artists Do All Day?, Cornelia Parker offered much the same message. Inspiration, she said, often struck when she was in the car, so she tended to drive around, occasionally stepping out with her iPhone when something in London's urban landscape caught her eye, such as – unlikely as it may seem – a prison wall patterned with calcium deposits that she had seen while speeding by on her way to Waitrose.
If only we could have more intelligent and illuminating television like this half hour. It was good viewing for the art fan, but also for the conceptual art-phobe. Parker – the artist who put Tilda Swinton in a large glass box and made her sleep for eight hours a day, and who tied string around Rodin's The Kiss sculpture, and who once blew up a shed and flattened silver objects with a steamroller – took us through her thinking process, and the ideas behind the works sounded thoughtfully convincing. Even the piece she was completing in front of the camera – to "deify the cracks in a pavement" (so easy to sneer at) – made you see what she meant.
Register for free to continue reading
Registration is a free and easy way to support our truly independent journalism
By registering, you will also enjoy limited access to Premium articles, exclusive newsletters, commenting, and virtual events with our leading journalists
Already have an account? sign in
Join our new commenting forum
Join thought-provoking conversations, follow other Independent readers and see their replies