Us review, BBC One: Tom Hollander shines in this funny and acutely observed Sunday night drama
The opening scenes beautifully articulate a certain kind of middle-class London lifestyle, with its ridiculous consolations and pathetic disappointments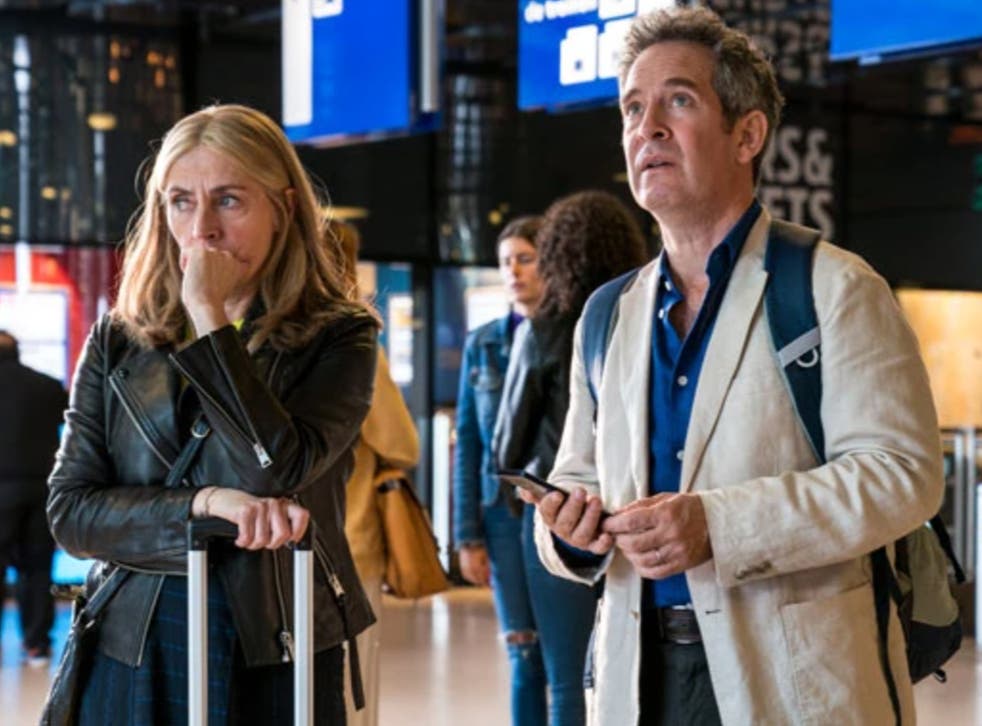 The BBC's four-part adaptation of David Nicholls' bestselling 2014 novel Us reaches us as a dispatch from utopia. Douglas and Connie Peterson's trip around Europe with their teenage son Albie is meant to be a study in disaster, as a middle-aged couple on the verge of divorce try one last throw of the romantic dice before heading off alone into old age. Instead, it's a vision of paradise, filmed before lockdown, a continent of trains and restaurants and museums where no character ever says "epidemiologist", "quarantine" or "Matt Hancock". The Louvre! What a charming concept.
Tom Hollander plays Douglas, a biochemist who works for a pharmaceutical company, stiff to the point of priggishness. When his more empathetic, freer-spirit wife Connie (Saskia Reeves) says she wants to leave him, he can barely believe it. "Don't you ever think our work is done?" Connie asks him. "It was never work to me," he replies. "Well it was for me, sometimes," she says.
The opening scenes beautifully articulate a certain kind of middle-class London lifestyle, with its ridiculous consolations and pathetic disappointments. After a miserable, sleepless night, Saskia and Douglas are disturbed by the arrival of a grocery delivery. "It's very hard to get a slot," Douglas mutters, contemplating the end of his marriage. He drives off to the dump, his "fortress of solitude", in his wife's words, where he weeps silently in the car. The Petersens have a tour of Europe booked. Douglas realises it's his only hope of saving the marriage, so they decide to go anyway, with the question of their future a black cloud that follows them around.
Although ostensibly a three-hander, Us is Hollander's show, perhaps an indirect consequence of the novel being narrated by Douglas. In his best screen work before this, in The Night Manager and In the Loop, Hollander has done gruff menace and downtrodden wit, and shows off both again here, but with a more vulnerable side, too. Hollander's gift is that the moment his characters appear – proper ones, this is; I'm not counting Pirates of the Caribbean – you can see a whole life behind them. Reeves is a balanced foil, sensitive to her husband's feelings but clearer in her mind. Albie (Tom Taylor) is a sensitive boy closer to his mother in temperament, but like his father prone to a strop.
As in the book, the present-day scenes alternate with scenes in the past, where we see how this improbable couple ended up together in the first place. For obvious reasons, the young Douglas (Iain De Caestecker) is drawn to the peroxide-blonde, party-loving Saskia (Gina Bramhill). She sees in him a "grown up", a man who "knows things". It's enough for the start of a relationship, but is it enough to sustain a lifetime? Bramhill inhabits her part more distinctly than De Caestecker, whose performance feels in thrall to the adult version.
The first episode lags ever so slightly towards the end, once the Petersons are in Paris and Albie runs off to do teenage boy things, leaving his parents alone with each other again. But this is classic Sunday night viewing all the same: funny and touching and acutely observed. More than any gorgeous Irish teen geniuses, these are actual Normal People, trying their best but worn ragged by the accumulated tiny humiliations of work and child-rearing. At the Louvre, the Petersons stand in front of The Raft of the Medusa, waiting for a flash of aesthetic sensitivity or familial connection. "At least someone's having a worse holiday than us," Douglas says at last. He's right, it is a comfort.
Join our new commenting forum
Join thought-provoking conversations, follow other Independent readers and see their replies