Westworld season 1 episode 2 review: Builds upon its brilliant opener
It's Thandie Newton's turn to shine in a series that clearly knows exactly where it's going
Jacob Stolworthy
Tuesday 25 October 2016 17:07 Comments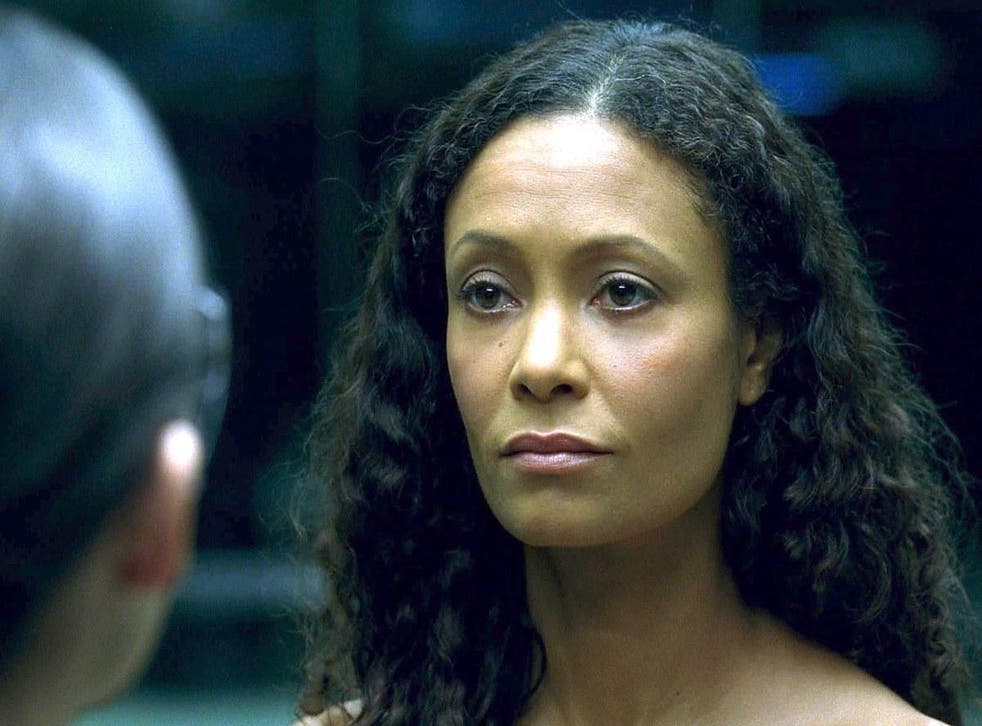 "Wake up," a voice instructs Dolores as episode two of Westworld begins. "Do you remember?"
The character - played by Evan Rachel Wood - is being haunted by an unseen force she doesn't understand, much like Donnie Darko in the Richard Kelly film of the same name. Is she having an existential crisis, like Darko? Impossible - she's not human, but one of the attraction's many artificial creations. So why does it seem her recent encounters with malfunctioning father Abernathy (Louis Herthum) has provided Dolores with a temporary conscience?
Terrifyingly, it seems contagious. One encounter with Maeve Millay (Thandie Newton) later and the Madam of Westworld is recalling memories of what we can only assume is from her past; former identities, slain family members and the brutality inflicted upon her by human visitors.
"Can you imagine how f*cked we'd be if these poor assholes ever remembered what the guests do to them?" asks programmer Elsie Hughes (Shannon Woodward) - this, the series' overarching gambit, is explored further in an episode which somehow exceeds expectation following last week's brilliant opener.
"Chestnut" does exemplary work at shoehorning in character motivations without making the viewer feel inundated. A subplot sees the introduction of newcomers William (Jimmi Simpson) and Logan (Ben Barnes) and it's through their eyes we discover how guests enter the amusement park (this is the plot of the 1973 Michael Crichton film the series is based on).
After been greeted by a delectable 'host' (Talulah Riley), the timid William - here assuming the Richard Benjamin role - is told: "How far you go is entirely up to you." They can stride into Westworld and be led on self-contained missions by local prostitutes or injured drunkards, but these are merely obstacles distracting visitors from the grand scheme.
Westworld: Who's a host? Who's a guest?

Show all 16
One character who knows this is the shady Man In Black (Ed Harris) who moves through this world with robotic precision. He's revealed to be an old-timer dweller - think a seasoned gamer - who has spent years playing the gunslinger. He knows this world, perhaps more than its creator realises, and expresses a desire to reach the game's "deepest level." If you thought showrunners Jonathan Nolan and Lisa Joy were going to make viewers wait to delve beneath Westworld's surface, the Man In Black provides evidence to the contrary; let's hope Harris sticks around.
But while all the cast impress, it's Newton who sneakily walks away with this episode. Of course, it helps that she's basically handed the material - when Westworld's programmers see she's acting up, they tweak her configurations; her aggression is bumped and emotional acuity intensified. Throwing her back into the park, she is shown repeating the same monologue to different guests - but with these added alterations. It's a joy to behold.
Westworld Extended Trailer

Word of advice: listen closely - even the most seemingly throwaway line of dialogue may bear weight. With passing mentions of "new narratives" and "storylines" slipping under the radar, it's unclear what the creators of Westworld - both on and off screen - have in store for viewers.
After only two episodes, however, it's becoming clear that rebellion may already be afoot. As Anthony Hopkins' creator Dr. Robert Ford states: "You can't play God without being acquainted with a devil." Maybe it's time he woke up.
Westworld airs in the US on Sunday nights and follows in the UK on Sky Atlantic every Tuesday
Register for free to continue reading
Registration is a free and easy way to support our truly independent journalism
By registering, you will also enjoy limited access to Premium articles, exclusive newsletters, commenting, and virtual events with our leading journalists
Already have an account? sign in
Join our new commenting forum
Join thought-provoking conversations, follow other Independent readers and see their replies