Who is America? finale review: Episode 7 showcased the best and worst parts of the show
Christopher Hooton
Monday 27 August 2018 03:53 Comments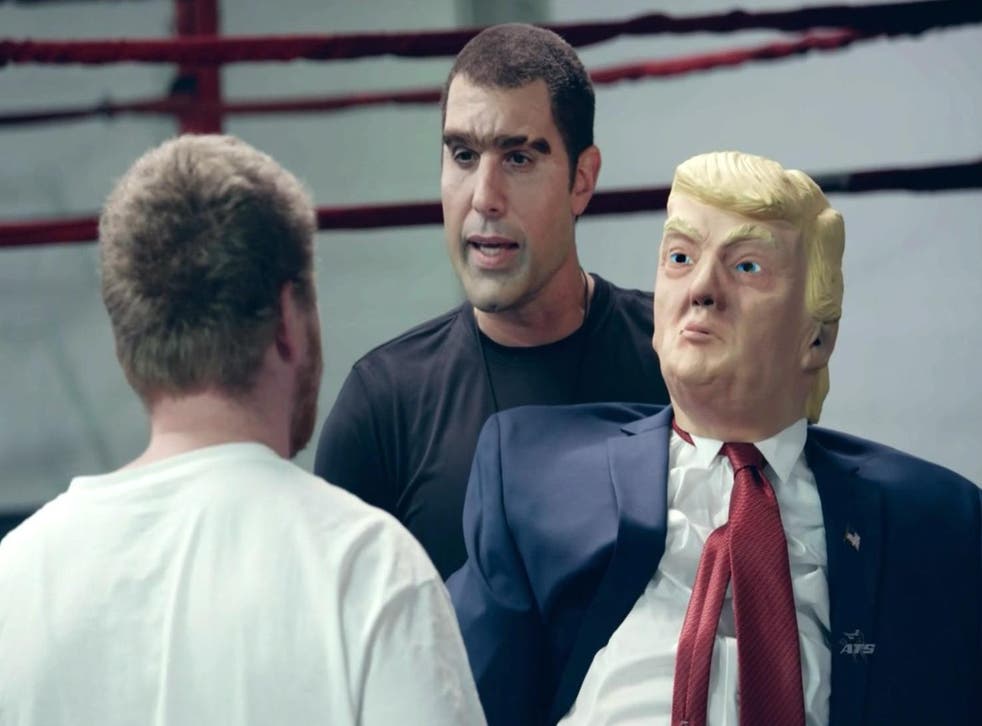 Who is America? seemed destined to go out with either a bang or a whimper, but in the end it turned out to be one then the other.
Erran Morad has been Sacha Baron Cohen's most successful character by far in the show – which will not be returning for a second series – his brand of foreign, no-nonsense conservatism proving so compelling to the kind of Americans who think Putin's "got a good thing going on over there".
It's been astonishing how far he's managed to get hardened, small town Trump voters to go in proving their allegiance to the cause – usually under the guise of them going undercover – and tonight capped things off with an image that said it all: Antifa-despising Republican Glenn sat on a bed wearing a dress and pink pussy hat, clutching a tote bag with Morad's arm around him as the pair watched Girls together. Between this and the Quinceanera earlier in the season, Erran's victims have seemed remarkably at home in drag, as though they've enjoyed it far more than they've cared to let on.
This extended segment, which also memorably saw Glenn rubbing the nipples of a Trump effigy with a dildo, cut to credits and probably should have stayed with them, instead being stopped short by one final hidden camera interview conducted by Gio Monaldo. Baron Cohen did his best to extract a confession a la Robert Durst in HBO's The Jinx from OJ Simpson, but the best he could get was an ill-advised murder joke, and the whole bit just felt a pointless exercise. It's easy to see why Baron Cohen end up prioritising attempting to skewer big names in the show given the ratings and headlines these moments drew in, but – whether it was Roy Moore or Corey Lewandowski – they ended up being the weakest parts.
Who is America? ultimately didn't come anywhere close to answering its own question, but when it did make you think about how just how divided the nation has become, it was in spending time with regular Americans. If it had spent longer with them, perhaps even whole episodes, the show might have found not only humour and schadenfreude but the human beings hiding under the bilious opinions – an act of aisle-crossing now so rare the aisle has truly become a chasm.
Register for free to continue reading
Registration is a free and easy way to support our truly independent journalism
By registering, you will also enjoy limited access to Premium articles, exclusive newsletters, commenting, and virtual events with our leading journalists
Already have an account? sign in
Join our new commenting forum
Join thought-provoking conversations, follow other Independent readers and see their replies