Year of the Rabbit review: Matt Berry in superb form as drunken and incompetent copper
The new Channel 4 sitcom is like 'The Sweeney' meets 'Ripper Street'
Sean O'Grady
Monday 10 June 2019 22:29 Comments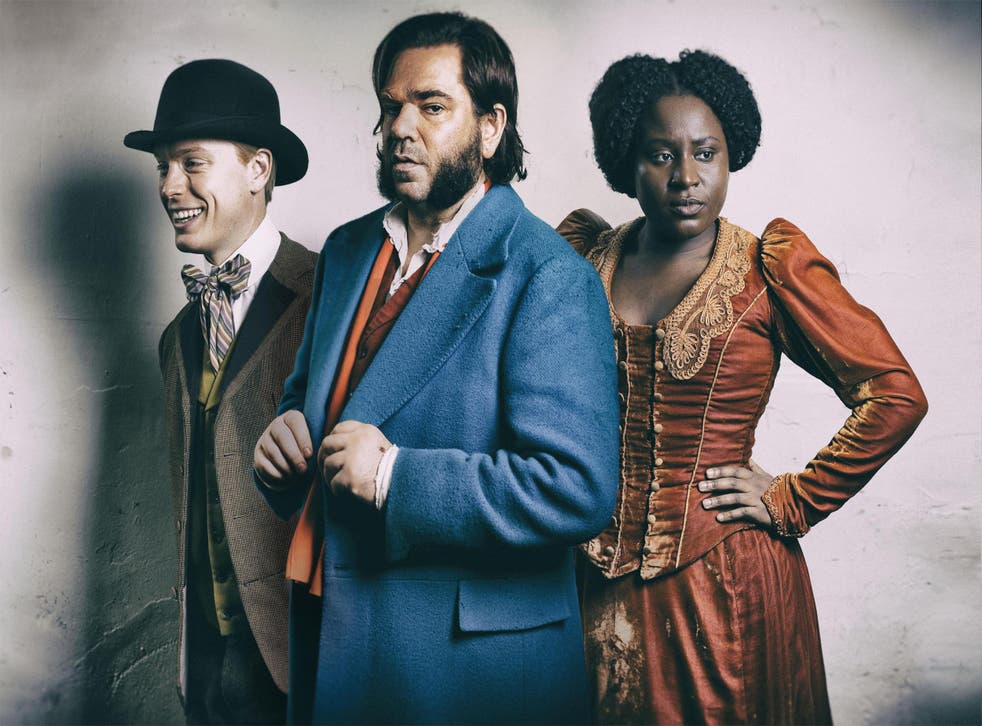 The first thing to note about Year of the Rabbit (Channel 4), is that it stars Matt Berry. The second thing, which follows from the first, like an iron law of comedy, is that it will make you laugh; it's another, this time Victorian, vehicle for Berry to show off his vocal gymnastics, his rubbery, brutish, expressive fizzog and his wide repertoire of bloomin' bad language. The bastard. The third thing – and this is the mildest of criticism, is that Year of the Rabbit is not quite as funny as Berry's sitcom Toast of London. One the most divine comedies ever crafted is Toast, and no mistake, so there's no great shame in that.
Year of the Rabbit is best thought of as a sitcom concoction comprising one part Ripper Street, one part The Sweeney, plus a dash of Murder in Successville and a few crumbs of Toast of London.
Berry's character, Detective Inspector Eli Rabbit, is plainly an 1880s East End of London, mutton-chopped version of The Sweeney's DI Jack Regan, so memorably played with appropriate cockney thuggery by the great John Thaw back in the 1970s. (I reckon they were both filmed in Wapping).
Like Regan, Rabbit has a similarly no-nonsense boss, in this case, Superintendent Hugh Wisbech (Alun Armstrong), who regards the drunken incompetent Rabbit as "a leg of fuckwit ham". A professional northerner, Wisbech' s use of the phrase "Remember who wipes your arse, Rabbit", causes Rabbit understandable discomfiture.
The 20 best bad police officers on TV

Show all 20
Rabbit also has a sidekick, DC Wilbur Strauss (Freddie Fox), whose naivety proves the perfect foil to the world-weary Rabbit, a hard-drinking, belching, knackered, randy geezer whose dog chewed off his right eyebrow. Like Regan, Rabbit is also prone to sharing his homespun wisdom to his junior officer, usually down the pub: "This city is a rat eating its own babies, babies made of shit, and once it eats its own shit babies, it shits them out again, and then it noshes them, and that goes on and on until the sun turns cold and the sea goes back into the sky."
There's been a murder of a beautiful young girl in the fog, as per usual in 1880s London, and the third figure in the crime-fighting trio is Mabel (Susan Wokoma), the adoptive daughter of Superintendent Wisbech. She pleads with daddy: "If a woman can be a nurse or a novelist, then why can't she find the stolen jewels or drown a nonce because a trial's too good for him". Mabel demands to be a female copper, or in a delightful series of pastiches of Victorian slang, "a fopper, a lady filth, a bacon dolly, a femiplod, fillyfuzz, femifuzz, bobby dolly…" She is, if anything, even more foul-mouthed that Rabbit. The one bum note in the script was when she uses the "C" word, which isn't really justified. Rabbit's rival DI Tanner (Paul Kaye) is a caricature of arrogance and evil, such that he makes DI Rabbit seem like Peter Rabbit.
The episode, the first of six, ends with a partial resolution of the murder, which turns out to be a joint enterprise between a corrupt MP and a pervy vicar. Randomly, the Elephant Man (David Dawson) turns up as a screaming camp theatrical type, helping Rabbit track down the killer with his superior detective skills, Hannibal Lector style. Merrick shares a joke or two about his "fucking big head". We also glimpse Keeley Hawes as some sort of criminal mastermind, a Moriaty in bodice and bustle, at the conclusion of this episode.
However, all that plot stuff is mere background to the real delights of Rabbit, which include another catchy score by Berry, wonderful 1970s Hammer Horror-style opening titles, and the most exquisite Dickensian liens by writers Andy Riley and Kevin Cecil (plus additional material by Berry).
More of this please. I feel sure this rabbit will run and run and run. A rare bit of hot comedy on toast, you might say.
Register for free to continue reading
Registration is a free and easy way to support our truly independent journalism
By registering, you will also enjoy limited access to Premium articles, exclusive newsletters, commenting, and virtual events with our leading journalists
Already have an account? sign in
Join our new commenting forum
Join thought-provoking conversations, follow other Independent readers and see their replies