Years and Years review: Emma Thompson is brilliant in dystopian BBC drama
Russell T Davies's six-part futuristic family drama stars Thompson as a politician with terrifying views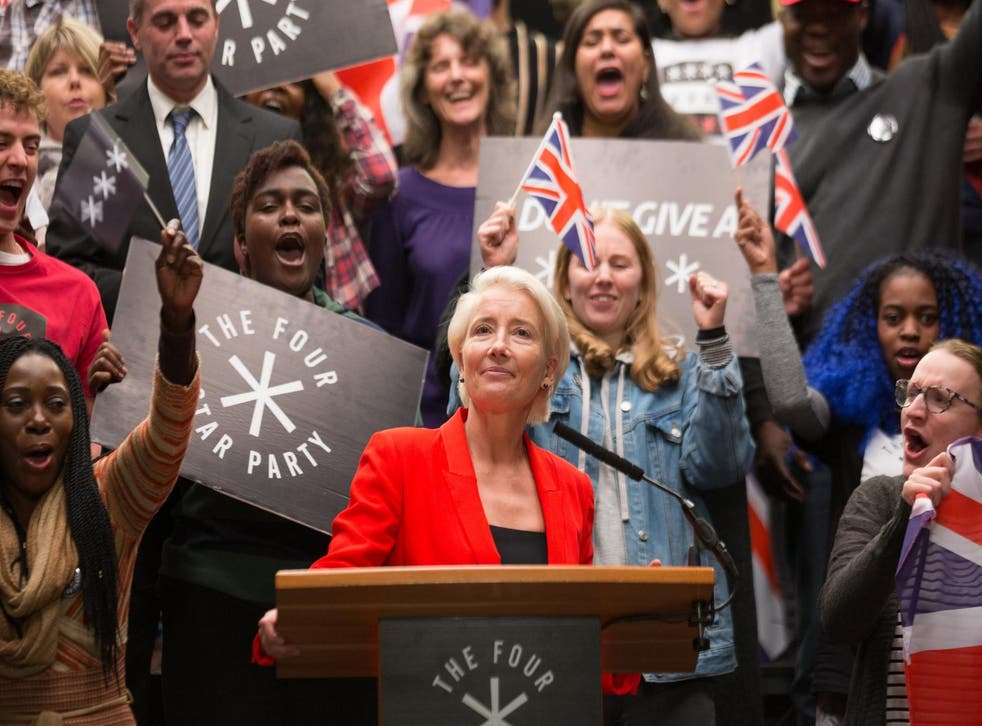 The near future is an interesting place to visit. It is another country obviously and, to be sure, often enough "dystopian", to borrow that overused expression (why does no one ever talk about "the dystopian past"?). But it should still be plausible enough to be able to believe in it, and be a little amused, and frightened, by it.
Russell T Davies's tour of the next couple of decades, Years and Years (BBC1) is precisely that, just pushing the boundaries of time, space and credulity sufficient to be intriguing, but not tripping over too much into the outright camp, which of course Davies used to reserve for his work on Doctor Who. Davros and all that.
Years and Years has completed its first leg of the journey successfully, telling its tales through the lives of the extended Lyons family. It reached its destination of Britain circa 2026, calling at: Trump's second term; the rise of a British Trump-style populist party; the first primitive domestic robots; the death of television; King Charles III; a civil war/Russian invasion in Ukraine, with attendant rush of refugees to the UK; America lobbing a missile at China; and a markedly more diverse and, mostly, tolerant society than the one we inhabit today. Apparently, in a few years you will only be allowed to enter Kensington in London if you pass a means test, which, as it happens, is more or less where we are now, given the price of a pint there.
The only obvious subject of futurology that we hurriedly passed through as a mere blur was Brexit, presumably because no one can predict what kind of outlandish result to this crisis we will end up with, or when. Dystopian indeed.
30 TV shows that jumped the shark

Show all 30
Domestic detail and global trends were all skilfully blended and balanced. A Ukrainian refugee, Viktor (Maxim Baldry) and his Manchester-based housing officer Daniel Lyons (Russell Tovey) fall in love, but only after the housing officer's husband Ralph (Dino Fetscher) falls in love with the increasingly crazy "fake news" stories that gain credence after the mainstream media finally throws the towel in in the fight for truth. It's when Ralph starts off on why the earth "might" be actually flat after all – "don't rule it out" - that their marriage falls apart. Well, that and a bit of good old-fashioned lust.
I particularly enjoyed the sequence with the robot. This little cyborg, named Keith, interpolates himself into the blossoming relationship between Rosie Lyons (Ruth Madeley), single mum, and a single dad she met in the park. She is initially charmed by the presence of Keith, but she when she discovers a mysterious metal tube by her (human) lover's bedside, she finds it will fit into Keith the robot's "mouth", like the way you fit an attachment on a vacuum cleaner, and, it must be said, Dyson-style cyclonic suction power. So Keith is in fact a cybersex slave, and what she thinks is him trying to shake her hand is in fact a much more sinister act. Not since Woody Allen appeared as a randy robot butler in Sleeper have I seen such a likeable robot. For now we are left pondering about the sexuality of Keith, and his owner: Can a robot be gay?
Years and Years, then, is favoured by some wit, a cornucopia of fab talent and promising characters. The dominant one as we continue our quest into the 2030s and beyond, will be Vivienne, or Viv, Rook, played brilliantly by Emma Thompson. As a bit of a long-term Emma-sceptic I was actually startled by how good she is in the role of the epitome of everything she has spent her life hating and campaigning against, for Viv is a horrifically nasty businessperson turned populist politician with the most terrifying of views. Viv Rook makes Ann Widdecombe look like, well, Emma Thompson at an Extinction Rebellion sit-in.
Thus, asked on a version of Question Time what she thinks about the Middle East, Viv blithely – and quite deliberately – bludgeons bien pensant sensibilities: "When it comes to Israel and Palestine [pause] I don't give a f***". After the remark is splashed in the newspapers as I Don't give a ****", it becomes her catchphrase, and inspires her new political movement, the "Four Star" party (a nice nod there to Italy's neo-fascisti, the Five Star Movement, already referenced in our dystopian present by the new Brexit Party). She's trouble.
We're also treated to Rory Kinnear as a nice, slightly bewildered middle-aged dad, Stephen Lyons, a type of role he is too often slotted into, though here well contrasted with his ballsier partner Celeste Bisme-Lyons (T'Nia Miller). They have to contend with teenager Bethany (Lydia West) who insists on wearing a thin glass mask that mimics those disturbing smartphone filter image/video effects you get, when your face is obscured behind some dog or baby features, like you're a living Tex Avery cartoon.
Access unlimited streaming of movies and TV shows with Amazon Prime Video Sign up now for a 30-day free trial
Sign up
Bethany comes out as "trans" – but not transgender, which her right-on parents are well up for; but as "transhuman", meaning, as he says: "I don't want to be flesh. I want to live forever as information. Where I'm going there is no life or death, there's only digital. I will be data. I want to get rid of this thing and become digital." Implying that, after her brain is downloaded to the cloud, she can be thrown on the compost heap. They will not put up with that.
Anne Reid, as the family matriarch Muriel Deacon, is her usual magnificent self, a symbol of a passing age, and we will also see much more of Jessica Hynes as Stephen's eco-activist sister Edith, so far only fleetingly glimpsed via Skype escaping the nuclear holocaust the Americans are unleashing in east Asia.
To be honest, there are so many complex family relations as well as a semi-familiar world to get used to that I am not absolutely sure who is doing what to whom and why. That's actually the only really dystopian bit of this drama, in a negative sense; the positive is that I really do want to know where they all end up in about 2039. Not extinct, one hopes.
Register for free to continue reading
Registration is a free and easy way to support our truly independent journalism
By registering, you will also enjoy limited access to Premium articles, exclusive newsletters, commenting, and virtual events with our leading journalists
Already have an account? sign in
Register for free to continue reading
Registration is a free and easy way to support our truly independent journalism
By registering, you will also enjoy limited access to Premium articles, exclusive newsletters, commenting, and virtual events with our leading journalists
Already have an account? sign in
Join our new commenting forum
Join thought-provoking conversations, follow other Independent readers and see their replies