Rillington Place, BBC1, TV review: Tim Roth and Samantha Morton lit up this dark, creepy thriller
The BBC's retelling of a seminal case made for perfectly pitched, spine-tingling TV
Sally Newall
Tuesday 29 November 2016 23:08 Comments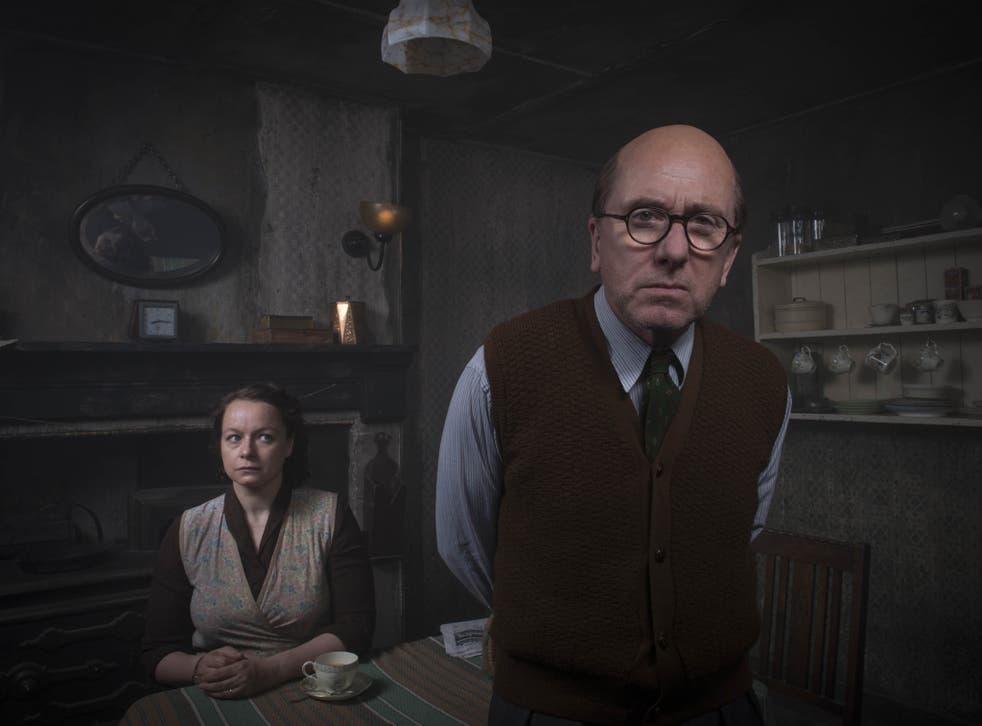 The thing with true crime dramas is that the viewer generally knows how the story ends – particularly if the story told is a high-profile case. That is exacerbated even more so if this is ground that has been covered before. Rillington Place fits into all these categories, so it's testament to the cast and crew, particularly to its big name stars, Tim Roth and Samantha Morton, that the opener in this three-parter held its own as a chilling thriller.
For those not familiar with the grim tale, Yorkshireman John Reginald Christie murdered eight women in the 1940s and 1950s, including his long-suffering wife Ethel. He hid the remains in the couple's Notting Hill flat and helped frame and convict another man for the murders – his upstairs neighbour Timothy Evans, who was hanged in 1950.
The miscarriage of justice was one of the key cases in the abolishment on capital punishment in the UK. It also caught the public imagination and was made into a 1971 film, 10 Rillington Place, starring Richard Attenborough as Christie and John Hurt as Evans.
Armed with knowledge of his crimes, every utterance from Roth's Christie had sinister undertones. "We'll do our own planting, if there's enough light," he said in the garden of the flat when he and Ethel first moved in. You sensed nothing would ever prosper there. In fact, there was very little light at all during the whole hour, with the screen so dark at times that I checked the settings on my laptop.
That was director Craig Viveiros's intention, of course. He has form for sinister – he was behind the BBC's adaptation of Agatha Christie's whodunnit And Then There Were None, as well as various episodes of Silent Witness. The warren-like flat with its creaking floorboards and thin walls was a much a character in this as Roth's softly spoken, deluded Christie. Like Attenborough before him, Roth nailed the killer's quiet voice – Christie claimed that it was damaged by a mustard gas attack during the First World War - and in his grey mac, hat and ill-fitting trousers, he pulled off entirely unassuming and quietly sinister in one package.
Samantha Morton gave a fine, nuanced performance as doomed Ethel. This first hour was told from her perspective and it was a clever move. We saw what she saw: waking up at night to find his side of the bed empty; clocking suspicious stains on the mattress; coming home to her husband digging in the garden (digging is never a good sign); eavesdropping on him charming a new work colleague – and eventual victim – with exaggerations about his medical training.
Morton portrayed a woman trapped under her husband's spell. She was determined to see the best in him and heard what she wanted to hear (the Blitz bombs proved a useful explanation for missing people in the 1940s, apparently). She talked him up to family and blamed everything but him – London, her miscarriage – as reasons for his odd behaviour.
Ethel barely left the flat and that gave the drama a claustrophobic feel. It was only when Christie nearly strangled her to death that she scarpered back up north to her brother. But the lure of her narcissistic husband was too strong. She returned to Rillington Place in time for the arrival of the newlywed Evans. This did not make easy Tuesday night viewing but, with such a strong cast and sense of place, that was very much part of this drama's creepy appeal.
'Rillington Place' continues on BBC1 at 9pm December 6
Register for free to continue reading
Registration is a free and easy way to support our truly independent journalism
By registering, you will also enjoy limited access to Premium articles, exclusive newsletters, commenting, and virtual events with our leading journalists
Already have an account? sign in
Join our new commenting forum
Join thought-provoking conversations, follow other Independent readers and see their replies