'I am not an easy sell': After decades of supporting roles, how Sandra Oh finally hit her stride
As she prepares to host the Golden Globes, 'Killing Eve' star Sandra Oh is having a moment – but, writes Alexandra Pollard, it's taken her a while to get here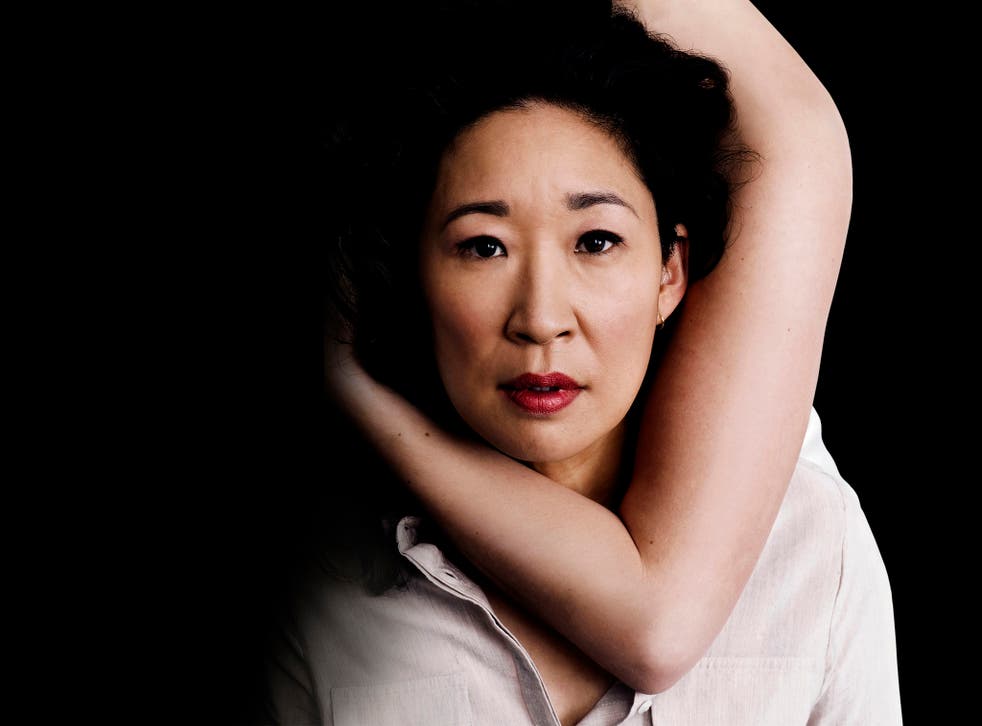 For the past 30 years, Sandra Oh has been stealing every scene she's in. Whatever role she is given – a bitter, single friend in romantic comedy Cake (2005), a fawning vice principal in The Princess Diaries (2001), a one-minute appearance as a grieving porn star in morbid TV drama Six Feet Under – her vibrant energy demands the kind of attention usually reserved for the biggest Hollywood stars. She'll probably be the best thing about this Sunday's Golden Globes, too – not that she'll have to fight for the spotlight; she's nominated for Best Actress for Killing Eve, and is co-hosting with Andy Samberg.
But it's taken her a while to get here. Indeed, none of those early supporting performances earned her better parts. "I am not an easy sell," Oh, who was born in Ottawa in 1971 to Korean immigrant parents, said in 2004. "I don't get jobs in films by auditioning. I'm not blonde. You can't place me in movies the way you can with certain actors. It's very difficult for my agents. They say to me, 'I have a hard time getting you in', and all I want is a shot."
Golden Globes trailer with Andy Samberg and Sandra Oh
A year later, Oh was given that shot when she was cast as the bristly, ambitious surgeon Cristina Yang in medical TV drama Grey's Anatomy. In what would become something of a pattern in Oh's career, her character was originally written as a white woman – or, as she put it, "a pert little blonde". Oh's Cristina might not have been what was originally envisaged, but she became a fan favourite, earning Oh a Golden Globe and five Emmy nominations. But when she decided to leave in 2014, she found herself back at square one, waiting for lead role offers that never came. It was, she said, "heartbreaking".
Then, four years later, along came Killing Eve. When Oh was first sent the script for the BBC spy drama, which was adapted from Luke Jennings's novella series by Fleabag's Phoebe Waller-Bridge, she flipped through the script trying to figure out where her character came in. "I don't understand," she said over the phone to her agent. "What's the part?"
"Sweetheart," her agent replied, "it's Eve. It's Eve."
The thought hadn't even occurred to her. "I think about that moment a lot," she told Vulture. "How deep have I internalised this? It's like, how does racism define your work? Oh my goodness, I didn't even assume when being offered something that I would be one of the central storytellers. After being told to see things a certain way for decades, you realise, 'Oh my god! They brainwashed me!' So that was a revelation to me. It's taken me 30 years to get this part. I see that so clearly.
Best TV of 2018

Show all 10
It was an inspired decision to cast Oh as Eve, the scatty, supremely intelligent MI5 officer who falls into a lustful obsession with a psychopathic assassin (Jodie Comer, a worthy co-star). She plays the role with wit, eccentricity and a deep, undefinable pathos. "She has brought the guts, the heart, the courage, the vulnerability of Eve," said Waller-Bridge. "To be able to balance the humour of the show with the drama, I was worried it was going to be a tricky thing – but with Sandra, it's been a dream to watch."
When Oh received an Emmy nomination last year for Outstanding Lead Actress in a Drama Series (she eventually lost out to The Crown's Claire Foy), she was the first ever Asian woman to do so. Her character, once again, was originally written as white. "It's about f***ing time," she said of the decision to change that. "The character is not Asian, but there are a billion examples of the reverse where the source material or the character in the book was one ethnicity or another, and no one blinks an eye."
In 2015, 3.9 per cent of characters in Hollywood's top-grossing films were Asian. That same year, Humans star Gemma Chan told The Telegraph, "You are more likely to see an alien in a Hollywood film than an Asian woman." With her work, scarce though the lead roles have been, Oh has offered Asian people an all too rare chance to see themselves reflected on screen. Fans have approached Oh to tell her this, and she has said, "I understand it, and I feel emotional just talking about it."
"I'm here for you. And I'll continue doing everything I can to fill something that I know you need right now, that we don't yet have as a community."
When Oh was invited to host the Golden Globes alongside Andy Samberg (the pair presented an award at the Emmys last year, and were hilarious), she realised it meant something big. "Honestly, I said yes even though it was so terrifying to me, really terrifying," she told The Hollywood Reporter. "I just could not let this opportunity pass me by, the life experience of being this scared of something."
If justice prevails, Killing Eve should earn Oh the starring roles she's been deprived of – but she's acutely aware that it often doesn't. "As I continue to mature and be in this world, I realise that change is excruciatingly slow," she said. "But I do feel like it bends toward justice. I've worked my whole life toward it and might not see the change in my lifetime."
She knows the vital role she herself plays in that bend towards justice, though. "Actually, to see oneself as a thread in the tapestry of change, I think has more meaning."
Support free-thinking journalism and attend Independent events
Join our new commenting forum
Join thought-provoking conversations, follow other Independent readers and see their replies