TV preview, Sherlock – a Victorian hero for the Twitter age
Looking ahead to Sherlock (BBC1, Sunday 9pm), Pointless (BBC1, Friday 4pm), Sugar Free Farm (ITV, Tuesday 9pm), Clean Eating - The Dirty Truth (BBC2, Thursday 9pm),  and Urban myths: Bob Dylan (Sky Atlantic, Thursday 10pm)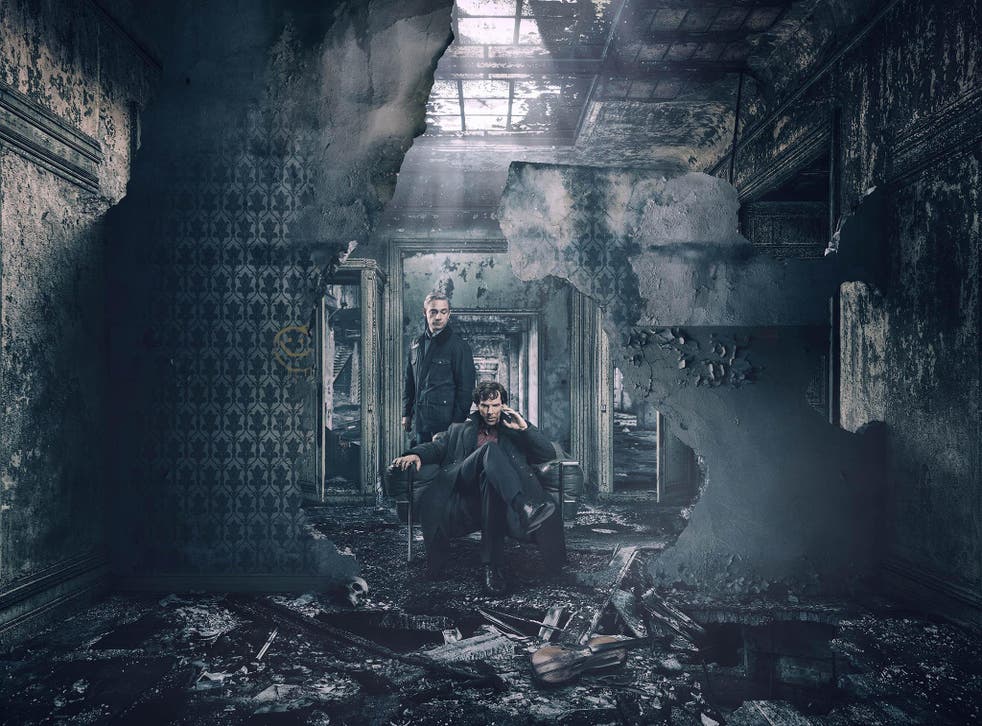 If you're the Queen, Neil Kinnock, Dame Judi Dench or Roy Hodgson, which you may be, it's easy to see what the TV highlight of the week is going to be. Why, the 1,000th edition of Pointless, of course. Apparently they are all fans of the quiz show, which started in 2009 and has grown into something of a tea-time phenomenon, like, say, Countdown and The Chase. I've never seen the point of it myself, and just regarded it as a version of Family Fortunes run in reverse, but, anyway, Alexander Armstrong, Richard Osman and a minor landmark of well-connected TV history is waiting for you, your mug of tea and tray of biccies at 4 o'clock on Friday afternoon. What could be more fun than that?
Sherlock, maybe? For me, this is the TV highlight of the next few days, and thus a disappointment in its own way, as it is the last episode in the all-too-short fourth series, where the questions are, naturally, even more tricky and to the point than they are on Pointless. This run, in which Arthur Conan Doyle's old freelance detective is reinvigorated by Steven Moffat and Mark Gatiss's imaginative and clever writing, has lived up to all its antecedents – original books, movies with Basil Rathbone or Peter Cushing, and modernising telly versions. It is very silly but has a transcendent ability to grip, entertain, indeed enthral an audience in the Twitter age (Benedict Cumberbatch's Holmes being as keen on Twitter as Donald Trump, but with less collateral damage to the world). You will learn more than you wished to about Sherlock's sister, if that she be, glimpsed briefly in a variety of guises in last week's richly murderous episode. Beyond that I'd rather not spoil the surprises.
It's strange how the supposedly special telly offerings at Christmas were so much of a let-down this year (Diane Morgan as Philomena Cunk in Charlie Brooker's Weekly Wipe being the obvious exceptions). Now that we're all back to work, back to realty, and back on the diet, the viewing is so much better, though easier to miss in our busy lives. Even the shows about food and nutrition, usually so dull, didactic and indigestible feel more lively this week, as well as topical. I have little hesitation in recommending the sight of Joe Pasquale, Ann Widdecombe and Peter Davison trying to live on kale and celery smoothies in Sugar Free Farm, and Clean Eating – The Dirty Truth is a timely and forensic exploration of the fad for fad diets – an unpredictable consequence of the power of social media, with, for example, 26 million lovely pics of "clean food" on Instagram alone.
I find it difficult to believe that anyone imagines they can protect themselves from cancer by going vegan, but what is most galling is the confidence of those social media personalities pushing these panaceas. The truth is out there, if we care to look – the recommended daily amounts of calories, salt, sugar and fats as detailed on the NHS website. You can also find on there a handy Body Mass Index calculator, too, and common-sense advice that's just too straightforward and prosaic to be taken seriously, so it would appear. Many of those who would never consider themselves slaves to political dogma or religion are willingly brainwashed about gluten-free diets or cave man food, and the like, beholden to the most stringent and nonsensical of nostrums about what they put in their gobs, and far in excess of the most orthodox followers of any faith or political movement. It is the opposite of moderation, which, in turn, is the key to a balanced diet.
Last, I offer Urban Myths: Bob Dylan, an amuse-bouche of a little drama, tucked away in the nether regions of Sky Atlantic, but well worth trufflling out. It recounts the (possibly apocryphal) story of when Bob Dylan dropped in on a plumber in Crouch End, north London, mistaking the modest Edwardian villa for the Euthrymics' star Dave Stewart's recording studio. The "action", such as it is, revolves around tea, biscuits and reruns of Countdown. A pretty pointless afternoon, all things considered.
Join our new commenting forum
Join thought-provoking conversations, follow other Independent readers and see their replies