The Crimson Field, TV reviews: A series beginning to find it's feet
After a couple of shaky episodes, the characters are starting to get their emotional balance
Rose Troup Buchanan
Monday 21 April 2014 09:40 Comments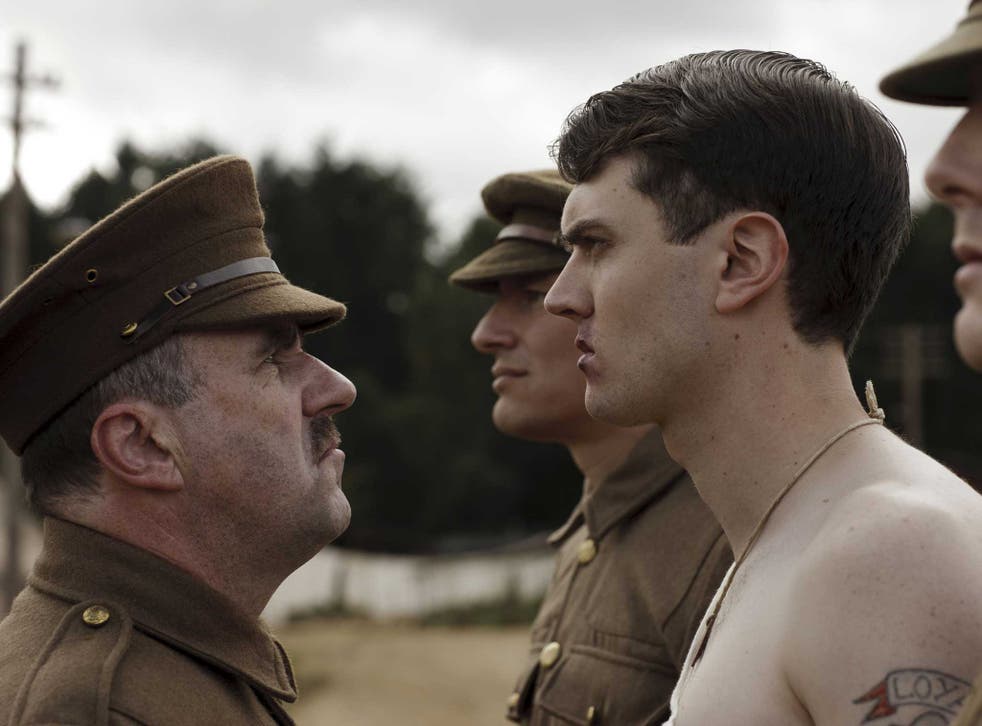 We open with Captain Gillian (Richard Rankin) dreamily remembering his encounter with Kitty on the beach – culminating later in the worst line so far of the series ("I've been alarmed since the moment you arrived") and which sets the odd tone in this slower moving episode, with the beach a focal point for many of the characters.
Sergeant Aloysius McCafferty (what a name) and his Irish protégé Edna Peache (Loracan Cranitch and Kerr Logan) have their relationship disintegrate as pressure from home proves worse than anything the front can throw at them, resulting in a uncomfortably funny confrontation and sad conclusion with the young lance corporal out-growing his jingoistic sergeant.
Private Alan Nichols, an injured soldier accused of self-harming to escape the front, also finds relative peace on the shorefront, before being court-martialled near the conclusion of the episode.
Termed a 'ghost' by the other soldiers, Nichols' treatment is unsurprisingly used to show which of the doctors and nurses are 'good' and 'bad'.
In the good pack we have the kindly Miles (Alex Wyndam), Sister Joan Livesey (Suranne Jones), who has a nice little outburst against his treatment before going off and having her own crisis, and Matron who sews the condemned man a hankerchief, despite having an entire station hospital to run.
The Crimson Field: Meet the Cast

Show all 15
In the bad corner is (obviously) Sister Quayle. Having nothing but a curling lip for Nichols (and Matron's attitude towards him), she's reunited with Aloysius (seriously, what a name) and they share a bizarre little tea scene in the middle of a field with Berrick waiting on them. Again, how she's got the time to do this doesn't seem in need of explanation.
Alongside the tea-drinking and sewing, Sister Livesey kept roaring off on her motorbike to visit a Belgium civilian whose daughter she'd treated. Except, of course, he was married to a German and Livesey's mysterious engagement ring is revealed. Engaged prior to the war, she's had no way of contacting her fiancé but trustingly hands the Belgium a letter for him.
It all seems to be going alright until Berrick sees her ring in the shower, and tells Sister Quayle.
We get more of an insight into Flora's (Alice St Clare) background after she quietly clock's corporal Peter Foley's (Jack Gordon) homosexuality.
Access unlimited streaming of movies and TV shows with Amazon Prime Video Sign up now for a 30-day free trial
Sign up
It seems the only person actually being a doctor is Captain Gillan and he's hamstrung by yah-ing superiors, who are more concerned with his "tenement block" background than his innovative surgery methods.
It's by far the most graphic episode so far. Gillan's surgery, as well as the arrival of a shell-shocked man with ears round his neck, bring home to viewers the contrary nature of the times. Stuck between Victorian formality and modern atrocities, it's hardly surprising some of the characters are beginning to crack.
Stringing together different elements, it feels like the series it at last beginning to hit it's stride. There are moments of utter ludicrousness (see tea drinking) but the emotional vulnerability of the characters is slowly being developed to good effect.
Register for free to continue reading
Registration is a free and easy way to support our truly independent journalism
By registering, you will also enjoy limited access to Premium articles, exclusive newsletters, commenting, and virtual events with our leading journalists
Already have an account? sign in
Join our new commenting forum
Join thought-provoking conversations, follow other Independent readers and see their replies