The Great British Bake Off 2016 episode 4 review: It was into the deep-fat fryer for batter week
With the show's future in turmoil, it was a case of batter the devil you know in this first for the tent 
Sally Newall
Thursday 15 September 2016 10:48 Comments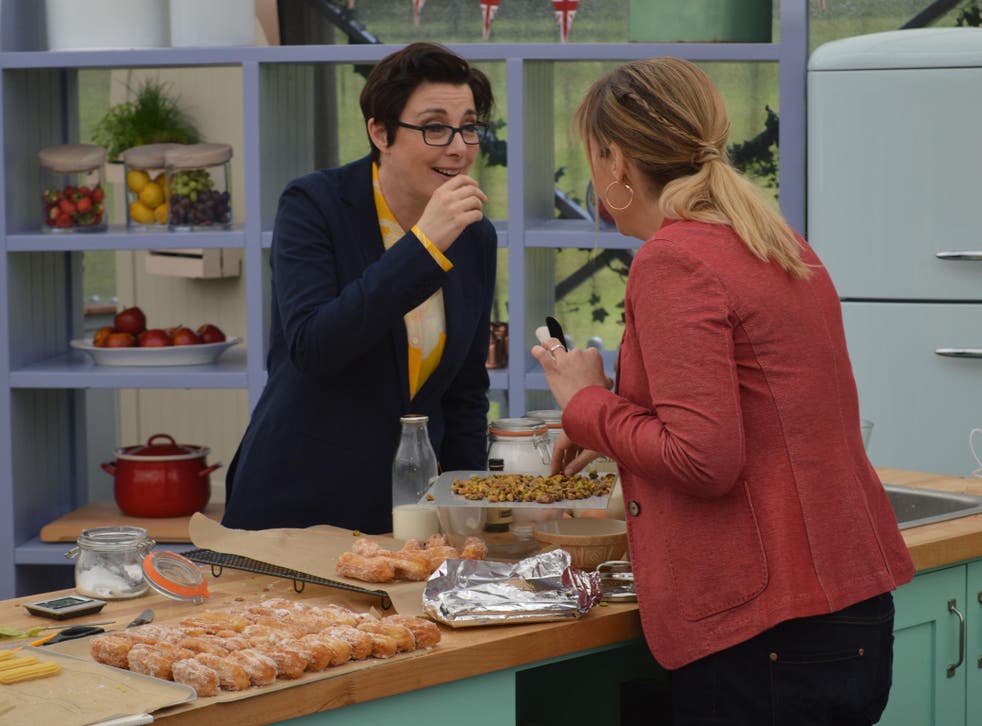 "Let's get battered" was Candice's mantra for Bake Off's first ever batter week. I bet that's exactly what judges Mary Berry and Paul Hollywood felt like doing after this tumultuous seven days in real-world Bake Off Land. Unless you've spent the week with your head in an oven and your KitchenAid mixer on full blast, you will have heard that the company behind the show, Love Productions, has sold it to Channel 4 for an astronomical sum and that presenters Mel Giedroyc and Sue Perkins have jumped ship. In their joint resignation statement, true to form, they said that they would not be "going with the dough". This will be the last series on the BBC and a breakup of the foursome that have thrilled over 15 million of us and in the process found and developed the perfect recipe for televisual greatness. So forgive me if this recap seems a bit emotionally charged in what I've decided is the start of Mel and Sue's Bake Off swansong. Or really, in tribute to the two pun-loving presenters, that should be "couronnesong".
Anyway, on with business: batter week called for 24 filled savoury Yorkshires in the signature, followed by 12 identical lace pancakes in the technical. If any of us were unsure what these would look like, Mel helpfully filled us in: "Like a doily you might find in Carole Middleton's guest bedroom." (You'll miss this sort of sweetly naughty analogy when she's gone, I promise.) Then it was 36 sweet churros (Spanish donut-like snacks) made using a, shock-horror, deep-fat fryer in the showstopper.
Mary obviously forgot about that one during her recently published and headline-grabbing Good Housekeeping magazine interview: "I don't think any household should have a deep-fat fryer," she said, stating that they're unhealthy, dangerous and make everything stink of chip fat. Maybe she just wheels one in for any Spanish-themed parties. Either way, the whole lot was jollied along by Mel and Sue in fabulous form. I could listen to Giedroyc do her impression of Spanish Bake Off all day.
Bakeastrophes
Everyone got hot and bothered about Yorkshires not rising, most notably Tom, whose flat efforts were down-graded to "blinis" by Paul. I don't think anyone will be making Yorkshires with chickpea flour – blamed for the failure – in a hurry. Elsewhere, Kate's Christmas dinner-filled efforts were tiny. Rav had a mare in the technical and his lacy pancakes looked "more like waffles" than Carole's delicate linens (Kate got a "webbing" slur). Lots of them had stiffness issues in the churros
challenge; Kate's bunny-shaped creations looked more like roadkill. "Cakeal Attraction", quipped Perkins (please don't go, Sue). Our laid back pal Selasi managed to get his churros both raw and burned, while Batter King Paul refused to eat Rav's "fatty" efforts.
Baking Bonanzas
Andrew aced it with his Spanish-inspired Yorkshies. "That. Tastes. Unbelievable," said Paul in raptures over Jane's 'Meat and Two Veg' filling. Shame about her actual batter. Val's spicy Mexican-inspired Yorkshires were deemed good enough for her to be allowed back into her home county (never accuse this show of not taking a bake seriously). Benjamina impressed with her elaborately patterned pancakes that Paul reckoned could pass as table mats. Both Mary and Paul loved Jane's
pistachio churros, with a perfectly stiff dipping sauce. But it was Benjamina's tropical take on the Spanish classic that had the judges swooning.

At the end of the hour, Benjamina was deemed Star Baker and bunny boiler Kate was sent back to farm. Apart from missing Mel and Sue before they've even gone, it struck me again just how nice the contestants are to each other. Everyone is so supportive, offering words of encouragement and rallying round the counters when disaster struck. Will the BBC's cosy format survive on Channel 4? Or will they want more drama and higher stakes competition for their money? Time will tell. Tutty byes, as Mel would say.
Candice lipstick watch: A gorgeous rich raspberry pink. The girl's an inspiration.
Paul's putdown of the week: "What you've got here is 24 blinis with rice on the top." Paul on Tom's disastrous Yorkshires.
Mary's understatement of the week: "They're a pretty dark colour. I'd expect them to be a bit more delicate than that. They're a little clumsy." Paul just went for "burnt" about Selasi's churros. Selasi smiled laconically, obviously.
Innuendo of the week: "I like the way you've toasted your nuts." Paul to Andrew about his "Tapas" Yorkshire puddings.
Pun of the week: "Don't throw them, that's batter-y." Sue during the signature.
Register for free to continue reading
Registration is a free and easy way to support our truly independent journalism
By registering, you will also enjoy limited access to Premium articles, exclusive newsletters, commenting, and virtual events with our leading journalists
Already have an account? sign in
Register for free to continue reading
Registration is a free and easy way to support our truly independent journalism
By registering, you will also enjoy limited access to Premium articles, exclusive newsletters, commenting, and virtual events with our leading journalists
Already have an account? sign in
Join our new commenting forum
Join thought-provoking conversations, follow other Independent readers and see their replies