The Great British Bake Off 2016 episode one recap: Business and innuendo as usual in the tent
Bake Off is back and all is right with the world. Our take on the first instalment
Sally Newall
Thursday 25 August 2016 08:46 Comments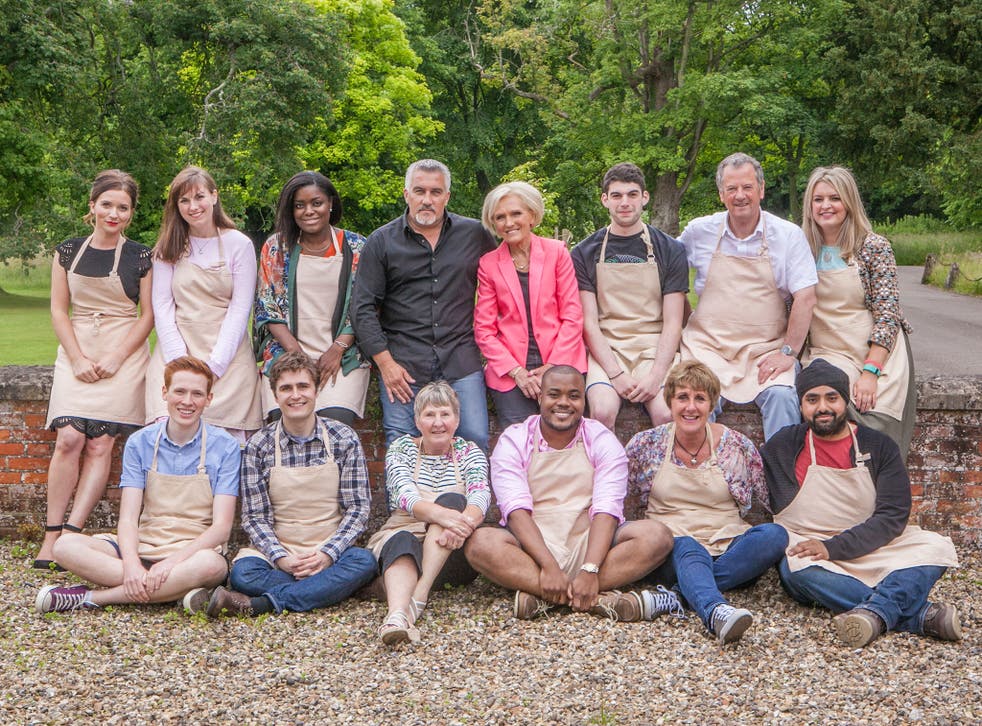 And so the annual baking love-in has begun. Fans will be happy, because the rest of the world might be going to hell in a handcart, but in a tent in the grounds of a stately home in Berkshire, the status quo has not changed, going on this first episode at least.
Hosts Mel Giedroyc and Sue Perkins were in fast with the innuendo – there was a joke about a sex toy in the first couple of minutes – then no one could stop saying the word "moist" and there was discussion of drizzle "penetrating" cakes left, right and centre.
In these early stages, there are too many contestants to invest in them too much in learning the names. The need to know is that, broadly speaking, you've got the usual suspects: the science-y one who applies the laws of physics to bakes; the devoted baking grandparent; the so-laid-back-they're-almost-horizontal-in-the-crème-pat one; at least one who should probably be revising for their university exams (this year seems a particularly young intake); the cryer; the one with the facial experessions (take a bow, Candice, she gets a special mention. Also points for distinctive purple lipstick).
Who is in the Great British Bake Off 2016 tent?

Show all 12
I'll worry about more specifics when the numbers start dwindling a bit.
There had been chatter beforehand of Mary's new super-coiffed do and 'tis true, it did have a good rise. I also detected Paul's hair was looking even more silvery, which only ramped up his steely-eye thing.
Anyway, I digress. It was business as usual in terms of the three stages on this Cake Week. They had to tackle a drizzle cake in the Signature round, a Jaffa cake in the Technical and the Showstopper involved a mirror glaze on a Genoese sponge (in layman's terms, a cake Paul could see his face in).
What I love about this show, apart from its warm predictability, is that for an hour, the only problems in the world are Bake Off Problems: Is it moist enough? Has it risen enough? Is it shiny enough? Invariably in this case, the answer was no. It turns out that Genoese sponges are quite hard to get right. Contestants were binning rubbery discs and starting again all over the place.
Benjamina ("the cryer") helped Sue Perkins deliver her only non-innuendo-laden -and actually quite heartwarming - line of the show. "Every second spent crying is a second wasted to show how good you are at baking." True that, Sue.
In the end, Lee the Reverend was packed off back to church (I didn't tell you about him for a reason, see?) and Jane the garden designer (I haven't come up with a name for her yet) was crowned Star Baker.
Either way, they all seem like thoroughly nice people. Mostly because when things do go a bit soggy bottom, the tent mates rally round. One of the young'uns got his Jaffa cakes the wrong way up, and instead of letting him approach the gingham alter and face a a death stare from Paul, the others set him straight.
If only every day could be a Bake Off day.
Paul's Put Down Of The Week
Candice: If I could have thrown that one [one of her Geneoese sponges] I would have
Paul: "I don't think you would be able to throw it, I think it would bounce back"
Innuendo Of The Week
"You've got great penetration there," (Paul on a well-drizzled drizzle cake)
Mystery Of The Week
During the Showstopper round, Selasi "the laid back one" had a bunch of red roses on his kitchen unit. Why? (I like to think they were a pressie from Mary.)
Register for free to continue reading
Registration is a free and easy way to support our truly independent journalism
By registering, you will also enjoy limited access to Premium articles, exclusive newsletters, commenting, and virtual events with our leading journalists
Already have an account? sign in
Join our new commenting forum
Join thought-provoking conversations, follow other Independent readers and see their replies