The TV drama of the season: To Walk Invisible
'Happy Valley' and 'Last Tango in Halifax' writer Sally Wainwright rips the chocolate-box wrapping off the story of the Brontë sisters and their short, hard and intensely creative lives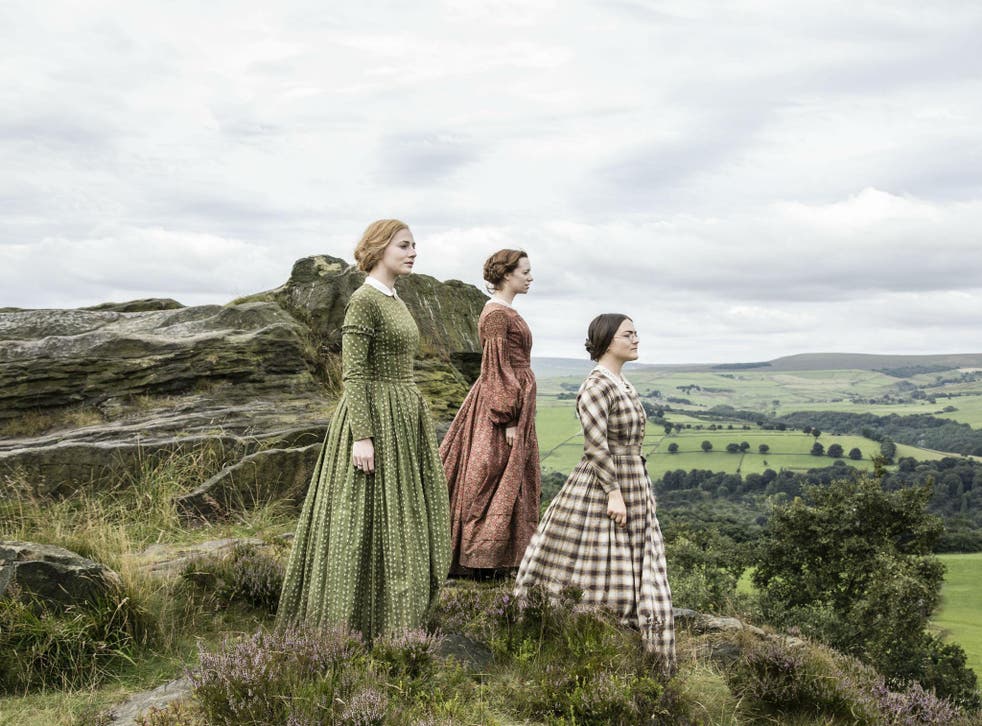 My two personal highlights of this year's Christmas television both feature Yorkshire writers of great style and character. If you missed Alan Bennett's Diaries on BBC2 on Christmas Eve, it's an absolute treat and available on iPlayer, while I don't believe I'm exaggerating too much to say that if Sally Wainwright's drama about the Brontë sisters, To Walk Invisible, had been an independent movie with, say, the wily The King's Speech and Shakespeare in Love producer Harvey Weinstein behind it, I could envisage it being in contention at the Oscars.
But it isn't; it's a one-off drama from the BBC, a broadcaster that has found the likes of Netflix and Amazon increasingly prone to parking their tanks on its lawn. To Walk Invisible is co-produced, as well as written and directed, by Sally Wainwright, who was raised 10 miles across the moors from the Brontës' home in Haworth. "I can't remember a time when I didn't know about the Brontës," she says. "It's a story I grew up with."
To Walk Invisible brings the contrasting personalities of Emily, Charlotte and Anne into focus, but also drags their brother centre stage, as Wainwright concentrates on the three years leading up to the alcoholic Branwell's early death in 1848.
"It's important to show that Branwell was a very important part of their lives", says Wainwright. "He wasn't just the wastrel brother, he was very much part of their world and, but for the grace of God, he could have been one of the Brontë sisters – he could have been up there with them.
"And there was something about his illness that motivated them, and also informed their work. I mean, Anne's The Tenant of Wildfell Hall is all about living with an alcoholic, and there are aspects of Wuthering Heights that are to do with alcohol addiction."
The three years between 1845 and 1848 were also when the family were, for the first time as adults, all living under the same roof at the Haworth parsonage (father Patrick was the local rector), after working away from home variously as teachers, tutors and governesses. It was also the period during which the sisters realised that each had individually continued the habit – begun together in childhood – of writing the poems and stories, and when they began their struggle in finding a publisher for Jane Eyre (Charlotte), Wuthering Heights (Emily) and Agnes Grey (Anne) – using the respective male pseudonyms of Currer, Ellis and Acton Bell.
"It was odd that they were all back at home", says Wainwright. "They'd all been away doing other things and for different reasons they all came back to Haworth in the summer of 1845, so it seemed a really obvious starting point."
Wainwright is celebrated for her strong female fictional characters in TV shows like Scott & Bailey, Happy Valley and Last Tango in Halifax – or as she once put it to me: "I write about what I want to write about and it tends to be women." Her Charlotte is ambitious and controlled, Emily warmer and more independent, and Anne conciliatory and a something of a homebody – but although Wainwright is steeped in Brontë scholarship (Juliet Barker's 1995 biography she describes as her "bible"), she admits that much about their lives remains obscure.
"Charlotte became famous in her own lifetime so there's a huge amount known about her", she says. "Less is known about Anne, and very little is known about Emily – she's known as 'the sphinx of English literature'. They've been reinterpreted and reinterpreted, and myths have been made about them. Why? Because it was such an unusual situation to have these three literary geniuses in one family, and the fact that they died relatively young."
Access unlimited streaming of movies and TV shows with Amazon Prime Video Sign up now for a 30-day free trial
Sign up
Emily perished at the age of 30, three months after Branwell, having contracted a chill at her brother's funeral that eventually led to tuberculosis. The following May, Anne also succumbed to TB, while Charlotte would live to enjoy her fame, lasting to the ripe old age of 38. Even so, the sisters easily surpassed the average lifespan in the Howarth of time, which, says Wainwright, was 19.
Aside from Jonathan Pryce, who plays the Brontës' father, Patrick, To Walk Invisible has been cast with relatively unfamiliar leads – Emily, Anne and Charlotte played respectively by the Edinburgh-raised Chloe Pirrie (War & Peace, An Inspector Calls), the Irish actress Charlie Murphy (who was actually named after Charlotte Brontë) and the Nottingham-born Finn Atkins. Their markedly different regional accents were transformed into the same West Riding enunciation by what they call "Brontë boot camp", as well the close attention of Wainwright herself.
It's not even known whether the sisters spoke with a Yorkshire accent – their father was from Ireland and their mother from Cornwall and it has been said that Emily had an Irish lilt, but Wainwright thought that would be confusing matters to introduce this much authenticity. However she remained determined to make the Brontës' world feel as real as possible – to get away from what Wainwright calls "a chocolate box world", whether covering the streets of Haworth with manure, filming in all weathers ("and all the weather you see is real – it was a pretty arduous shoot") or agonising over how they would speak.
"The biggest challenge was the dialogue," says Wainwright. "Trying to make the dialogue feel authentic to the period but also make it feel alive. I didn't want to just to copy what I'd heard in other period dramas because I think we have a kind of period drama language now which is no more authentic. And we had various conversations about whether we should have Branwell use the word 'fuck' – I wasn't sure about that one but I realised later on that he would have used that word."
The real Haworth parsonage, now a museum, features in an affecting and well-judged postscript that shows how the sisters' prestige and influence has endured to the present day. For filming purposes, however, the real house was out of bounds. "We couldn't have filmed at the parsonage because they couldn't have closed it for that amount of time", says Wainwright. "And it's too precious, too delicate."
"We also wanted to recreate the isolation of the house, on the edge of the village and looking out at that very important landscape, but you don't get such a sense of that anymore."
Indeed, To Walk Invisible is that rarity – a television drama with an overt feel for the surrounding nature, whether it be Emily and Anne taking long walks on the moors, or Emily and Branwell, sitting on a gate and gazing at the moon. "It does add something to the quality of the drama if you've got a beautiful landscape that reflects the tone and the mood of the show", says Wainwright. "And especially as Emily was hugely affected by the landscape, it was good to be able to reflect that. It can be bleak as well, which I like."
Such bucolic moments are rare, however, and the overriding impression of Brontë country in To Walk Invisible is of mud, rain and roads covered in horse dung. "We had conversations about the main street which I actually think we made it too sanitised in the end", says Wainwright. "I think it should have been a lot filthier."
'To Walk Invisible' is on BBC1 on Thursday 29 December at 9pm
Join our new commenting forum
Join thought-provoking conversations, follow other Independent readers and see their replies