The TV shows you need to watch this week: From Celebrity Apprentice to This Time with Alan Partridge
It's men vs women in the boardroom as Lord Sugar doles out humiliation for charity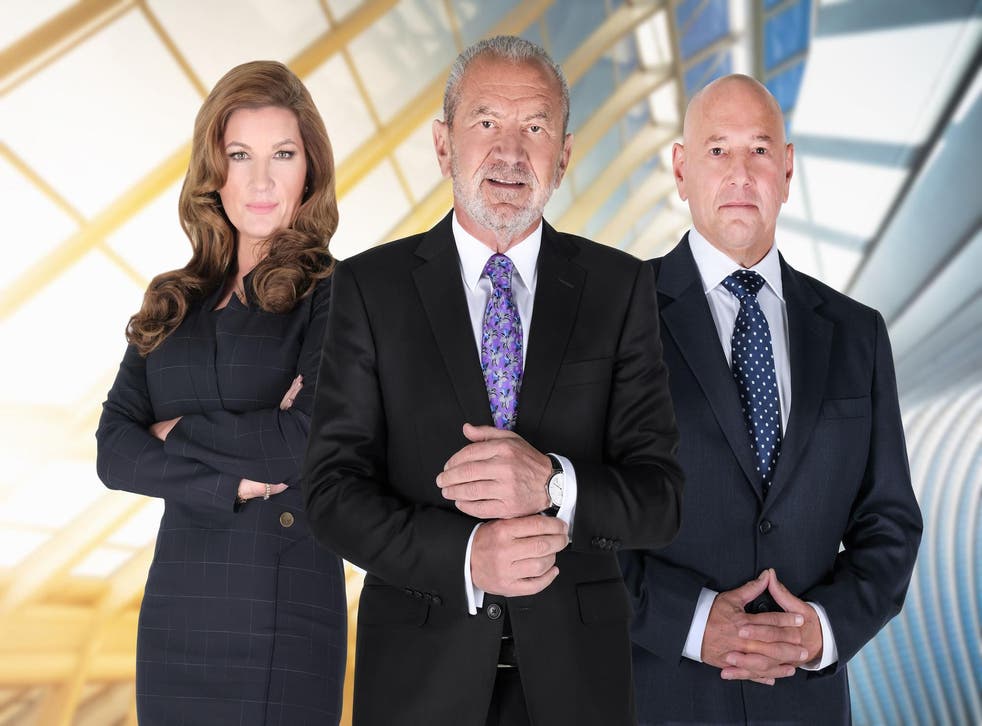 Business as panto then, this week, as Celebrity Apprentice for Comic Relief pits males against females. Which at least is an improvement on the real world, where the females, as often as not, don't even make it to the boardroom in the first place.
Topically, Karren Brady is joining Lord Sugar and Claude Littner on the judging panel, and I look forward to some of the ritual humiliations that will befall people who, to be fair, are quite used to shall we say public attention already – including Sam Allardyce, Rylan Clark-Neal, Rachel Johnson, Amanda Holden, Tameka Empson and Kelly Hoppen. No idea how much money they will manage to raise between them, and you ponder whether the cash the BBC spent on producing this particular joie de television exceeds the charitable donation. They're all wearing red noses, which is not an alibi for anything.
Along the same lines – standard reality TV show gets injection of celebs in the name of helping the less fortunate – comes The Great Celebrity Bake Off for Stand Up to Cancer on Channel 4. Now a show that manages to encompass Russell Brand and Noel Fielding may not whet your appetite, and even the plea that it is all in a good cause may not be sufficient to entice you to watch them blowing up their buns or whatever it is they'll be doing with flour and butter this week. But it's only telly after all. Prue Leith, plus "statement necklace", Paul Hollywood, Sandi Toksvig, John Lithgow and Jon Richardson will be overshadowed by the gigantic ego that is Russell Brand.
The broadminded will be very pleased indeed to welcome back Fleabag, one of the many comedy hits generated by BBC3, which still remains woefully underestimated and undervalued by the corporation's hierarchy, given everything it has given them (and us). Anyway Phoebe Waller-Bridge returns as the sexually ambitious 30-something metro woman of today sort of thing. This first episode reacquaints us with her family, such as it is. You also get Oscar winner Olivia Colman thrown in as Fleabag's godmother, and a priest. You can imagine, can't you?
As dark as Fleabag, but without the gallows humour, is MotherFatherSon, which sees the big old star Richard Gere arrive on British television. He plays a media mogul with an estranged wife, a drug-addicted son and indulges in some quite bad sex. So, yes, quite a lot like Fleabag.
You should also be intrigued by Endeavour, which sees DCI Fred Thursday (Roger Allam) become the focus of the drama, wrestling with his conscience as he is corrupted by his bent superior officer, Ronnie Box (Simon Harrison). Of course most police officers who wrestled with their consciences in the 1960s found that their conscience lost, but surely things will be different by DCI Thursday? Endeavour Morse, now in plain clothes again, is distracted by a corpse in the university's Bodleian Library, where many a student has been found slumped lifeless over bound copies of the All England Law Reports.
Norfolk's finest is back on peak-time BBC television again, to much critical acclaim. This Time with Alan Partridge is a caricature of a news magazine programme, in every sense, and Alan (Steve Coogan) is the ideal choice to co-host it, co-existing uneasily with the two-faced Jennie Gresham (Susannah Fielding). The show's regular old buffer presenter, John Baskell (Peter Wright) is no longer with us, and Alan must lead both the tributes and himself to a permanent position on the sofa. This he only partially succeeds in.
A real unexpected treat is Channel 5's Edwardian Britain in Colour. Last week's was just mesmerising. It shouldn't really take the addition of colour to footage from the 1900s to make these old films of street life in some sense more real or relevant, but still they do. It is simply riveting to peer through this window of time at all these long lost souls, especially the children, and ponder their fate through two world wars, a depression and the welfare state, all invisible to them as Edwardians. The children are all dressed as miniature adults, and everyone without exception has got a hat or cap. This week we get the strikers and the suffragettes in living colour. More, please.
Amazon Prime's Made in Heaven is an immersive drama series reflecting the lives of the wealthy echelons of modern India, narrated through the eyes of two wedding planners. Set against the backdrop of quintessential Indian weddings, the show chronicles the lives of Tara and Karan, two planners in Delhi. These two headstrong individuals often mask their supreme vulnerability – sometimes even from each other.
The show aims to portray today's India as a potent blend where tradition jostles with modern aspiration. Indians believe marriages are made in heaven and it is against these sacred unions that Tara and Karan's personal journeys are juxtaposed. An Indian production for a global audience, it stars Arjun Mathur, Sobhita Dhulipala, Jim Sarbh, Kalki Koechlin, Shashank Arora and Shivani Raghuvanshi.
Celebrity Apprentice for Comic Relief (BBC1, Thursday and Friday 9pm); The Great British Bake Off for Stand Up to Cancer (Channel 4, Tuesday 8pm); Fleabag (BBC1, Monday 10.35pm); MotherFatherSon (BBC2, Wednesday 9pm); Endeavour (ITV, Sunday 8pm); This Time with Alan Partridge (BBC1, Monday 9.30pm); Edwardian Britain in Colour (Channel 5, Saturday 8pm); Made in Heaven (Amazon Prime, Friday)
Join our new commenting forum
Join thought-provoking conversations, follow other Independent readers and see their replies