TV preview, The Mystery Of Van Gogh's Ear: a surprising take on a familiar story
Looking ahead to The Mystery Of Van Gogh's Ear (BBC2, tonight 9pm) and The 80s with Dominic Sandbrook (BBC2, Thursday 9pm)
Friday 05 August 2016 19:43 Comments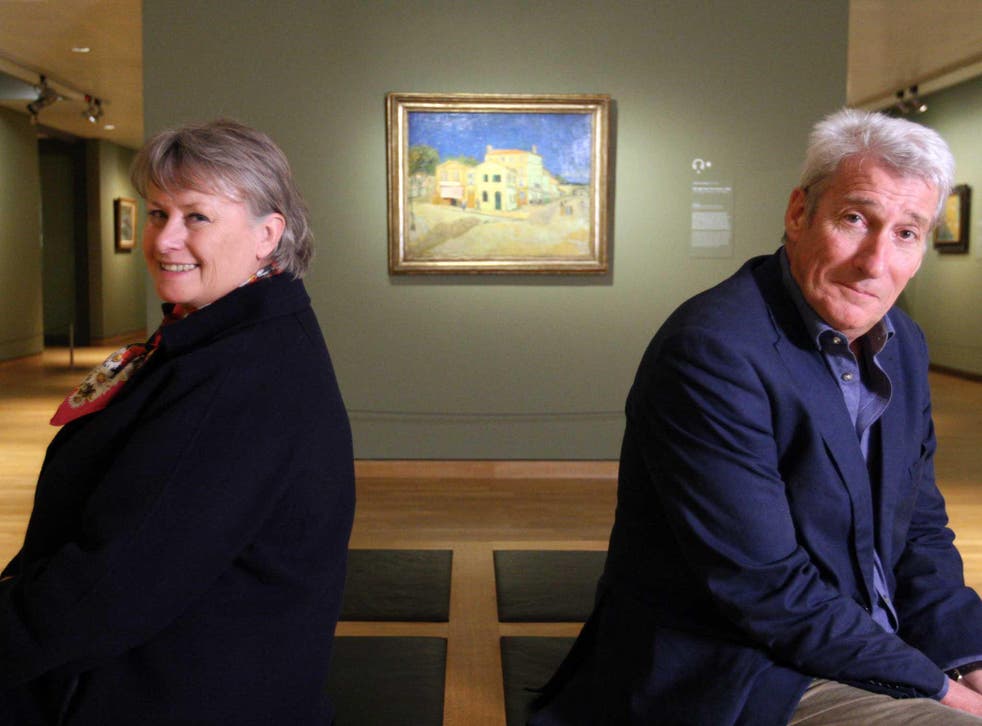 One day perhaps someone will make a history programme about the history of history programmes, from the live televised lectures of AJP Taylor half a century ago, to the masterful The World At War in the 1970s, through to today's adventures in time and space. I'm not sure about it, but I think we are living through something of a golden age for the genre, on television as in books, though I suppose the final judgement will rest with future historians, telly or otherwise. In any case, this week provides a couple of fine examples of storytelling.
The life of Vincent van Gogh is one that we all know, or think we do. We are all familiar, are we not, about how the brilliant Vincent sliced off his own ear in some sort of rage, the most famous episode that has happened to an artist? But was it even true? In The Mystery of Van Gogh's Ear, Jeremy Paxman tells the story of how amateur historian and researcher Bernadette Murphy spent years trying to solve that mystery. Despite the legend, you see, there has always been doubt in Van Gogh circles about what happened on Christmas Eve 1888, the night when Vincent is supposed to have committed his act of self-mutilation, bizarrely taking his own ear, packed up, to a brothel and giving it to a girl who worked there.
Although Van Gogh was not as famous then as he is now – that being part of the cause of his unhappiness – this strange behaviour caught the attention of journalists and there was extensive coverage of the affair in the newspapers in France. There is doubt about why he did it – a split from Paul Gaugin, whom Van Gogh had invited to start an artist's colony with him – was one possible reason. A taste for absinthe, a famously devastating drink, perhaps another. There is also doubt about the identity of the girl who was gifted the famous lughole. Indeed, according to Van Gogh's doctor – or at least one version of the doctor's account of events – there is some question about whether the whole ear came off or just the lobe – painful and terrifying enough, but not quite the full Monty. Bernadette Murphy, who happened to live in the same part of Provence as did Van Gogh, took it upon herself to find the answers to these questions, and the journey is a fascinating one, not least for what it reveals about the mind of this not very nice man.
Dominic Sandbrook's series of books on post-war Britain are required reading for anyone who wants to understand how we got where we are today, and his TV shows are just as excellent. The 80s with Dominic Sandbrook, his journey through that tumultuous decade, must have been an odd one for him to plan, as his audience comprises plenty of people (such as this reviewer) who remember the decade all too well, but also people who weren't even born when Margaret Thatcher was in her pomp. So I speak as one who did live through it, and didn't really like it that much.
Perhaps I was one of the people Sandbrook believes was trying to hold out against the wave of globalisation that was then invading Britain – although for many people, as he rightly says, the arrival of McDonald's on virtually every high street and Dallas on every TV set was a very welcome invasion. I didn't think, though, as Sandbrook argued, that the Falklands war quite rehabilitated the British armed forces after their reputation had become sullied in Northern Ireland's "dirty war", simply because few people cared that much about whether the Brits tortured IRA gunmen or not.
I'm afraid that I definitely have forgotten all about the home computing boom, which passed me by, and the impressive way in which the British took up the hobby of amateur programming, facilitated by a very uncharacteristic initiative of Mrs Thatcher's to get a computer into every school. Maybe you were one of the many millions of households that had an Acorn/BBC Microcomputers, Sinclair ZX Spectrum, Commodore Omega or Atari ST. I confess mine did not.
Anyway, Sandbrook chooses with his typical care and panache the right mix of the big and the small to make his history extremely watchable. So you get the usual Eighties staples – the Falklands War, the Miners' Strike, the Brighton bombing and Aids, but also the smaller stuff, such as Howard's Way and Space Invaders. Some of the "smaller stuff" of the time looks much more significant now, notably the rise of so many brilliant British-born black sportspeople. Sandbrook highlights how Tessa Sanderson, Frank Bruno, John Barnes and, above all, multi-Olympic gold medal winner Daley Thompson ("the world's greatest all-round athlete") did so much to change society just by being who they were. We couldn't quite see it at the time, but we know now that they did more than most to guide Britain on its way to a (mostly) tolerant, ethnically diverse and multicultural future that has become our present. As the Rio games start and as we face fresh challenges to the cohesion of our society, this is a good moment to reflect on how we made it through the last process of radical change, only three decades ago.
Register for free to continue reading
Registration is a free and easy way to support our truly independent journalism
By registering, you will also enjoy limited access to Premium articles, exclusive newsletters, commenting, and virtual events with our leading journalists
Already have an account? sign in
Join our new commenting forum
Join thought-provoking conversations, follow other Independent readers and see their replies