TV preview: This Country (BBC3, Wednesday from 10am)
Plus Roots (BBC4, Wednesday 9pm), SAS:Rogue Warriors (BBC2, Monday 9pm), Six Nations Rugby (BBC1, ITV)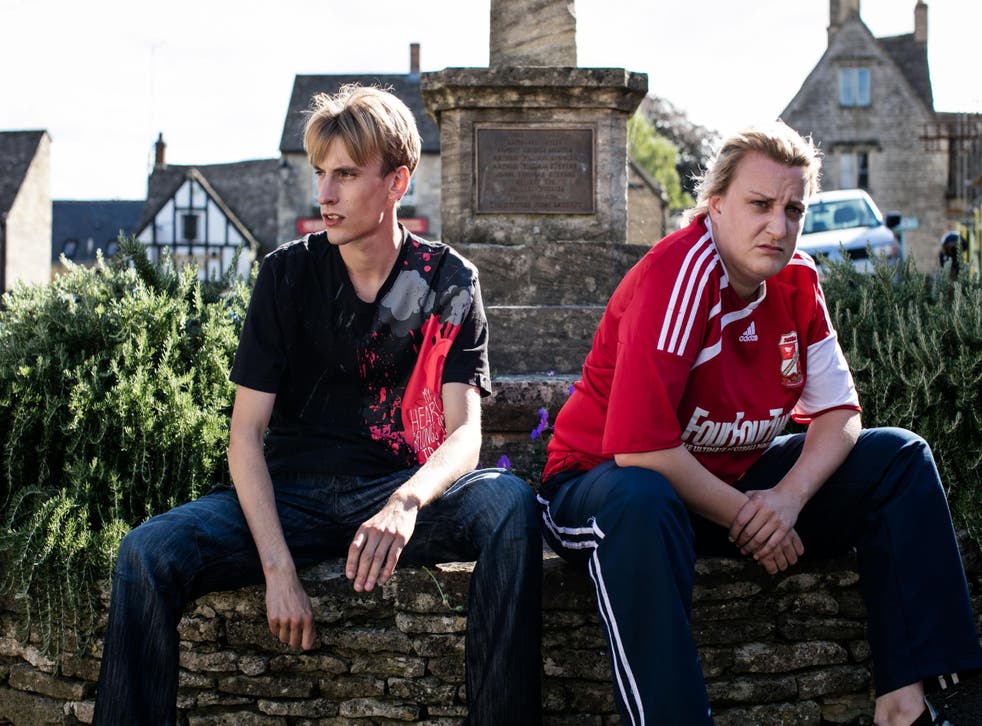 Is this the golden age of the mockumentary? Maybe not much else good is going on in the world, but you can at least find some solace in that tiny fragment. You see, it isn't very often that I am able to recommend something because it made we weep tears of laughter, but I am happy and heartened to say that the latest BBC mockumentary, This Country, is sublime enough to have lifted my spirits heavenwards.
This is odd because the subject matter is firmly in the gutter. The filming is very much centred on the wretched lives of cousins and "best mates" Kerry and Lee "Kurtan" Mucklowe, plus their immediate family, friends and enemies, including Big Mac, Fries, "slugs" and Uncle Nugget. In a Cotswolds village. But this is not the Cotswolds of cosy supper parties with Jeremy Clarkson, David Cameron and Rebecca Wade; of country gastropubs and riding schools, of picture postcard settings and meadows.
No. Kerry and Kurtan hang out in what a sociologist or MP might term a "pocket of poverty in an otherwise affluent part of the country" as members of, to use a rightly unfashionable phrase, the underclass. That is "this country". Choose arson, choose tattoos, choose a pit bull terrier, choose drunkenness, peeping toms, foul-mouthed abuse, bed-ridden parents, trendy vicars, caravans, tattoos, rural unemployment, dinosaur-shaped chicken nuggets, asbos, pig rustling, the Church of England, Laurence Llewelyn-Bowen, boxes of Celebrations, bus shelters and Fred West.
​Kurtan bears a striking – indeed, unnerving – resemblance to Gareth Keenan (as played by McKenzie Crook), David Brent's ridiculous sidekick in The Office, coming from roughly the same part of the world, with a similar accent, eccentric hairdo and "physique", and with much the same nerdy tendencies: Kurtan could, for example, quite easily deliver Gareth's line, "will there ever be a boy born who can swim faster than a shark?" Kerry, in a parallel link with classic BBC comedy, resembles Ronnie Barker in drag. Actually, not drag so much as unisex sportswear (Swindon FC-themed). This Country shares with that other BBC3 cult success People Just Do Nothing an uneasily well-observed quality that raises the comedic genre almost to an art form. If that doesn't sound too pretentious.
This first episode of six is nominally about the annual village scarecrow competition, but is actually a bawdy sort of Dickensian romp with a satisfyingly violent twist. It isn't in fact as hog-whimperingly amusing as the later episodes, but it's still worth summoning up on your tablet. So my strong advice is to stick with the series. Kerry and Kurtan, by the way, are played by real-life brother and sister team Charlie and Daisy Cooper, the funniest siblings of this or any age. We will, I hope, see and hear much more of these. Strong language throughout, by the way.
I don't suppose I ever expected to see Roots back on our screens, nor any reason why I shouldn't. It was a classic mini-series, and curiously seldom seen since. For those who remember it first time round, about 40 years ago it was quite a phenomenon, tracing as it did the African origins of the black diaspora through the life of one in particular, Kunta Kinte, whose suffering in slavery was given a fully graphic treatment. It was, basically, quite a shaming thing to watch, the violence, the greed, the plundering and sheer human suffering on such a scale – inflicted by white slavemasters and slaveowners but some allied African traders too. At the time it was so revelatory because it confronted a generation of people in Europe and America who had only relatively recently abandoned their lazy assumptions of imperialism and white supremacy. More than anything, they had to be impressed by the spirit of Kunta Kinte, and his descendants, whose lives were followed on their path through American history through to the Civil War and, in sequels, to the last century.
Now Alex Harvey's multi-generational historical novel has been adapted for TV again, and this one is more naturalistic and just as harrowing to observe, albeit slightly tucked away on BBC4. Malachi Kirby plays Kinte, and Forest Whitaker joins as fellow slave Fiddler: a fine drama in its own right.
As a bit of a history fan, I enjoyed my preview of Ben Macintyre's SAS:Rogue Warriors. Macintyre is a skilled story teller in print and television, and you might recall his previous books/shows about spies. This time it's the most daring of the daring, and. Although much of their story has been familiar for some time, Macintyre has got his hands on some revealing and previously unseen material to add to the lustre of the Special Air Service story, in all its semi-psychotic semi-amateur splendour.
By the way, the gut-wrenching excitement of the Derby County/Leicester City FA Cup tie vindicated my choice of it as the pick of last Friday's viewing; I feel just as confident in mentioning to you the England v France Six Nations Rugby match today, the whole Brexit thing adding to the usual traditional friendly rivalries.
Register for free to continue reading
Registration is a free and easy way to support our truly independent journalism
By registering, you will also enjoy limited access to Premium articles, exclusive newsletters, commenting, and virtual events with our leading journalists
Already have an account? sign in
Register for free to continue reading
Registration is a free and easy way to support our truly independent journalism
By registering, you will also enjoy limited access to Premium articles, exclusive newsletters, commenting, and virtual events with our leading journalists
Already have an account? sign in
Join our new commenting forum
Join thought-provoking conversations, follow other Independent readers and see their replies