The TV shows you need to watch this week: From Our Dementia Choir to Game of Thrones
Sean O'Grady picks the highlights over the coming days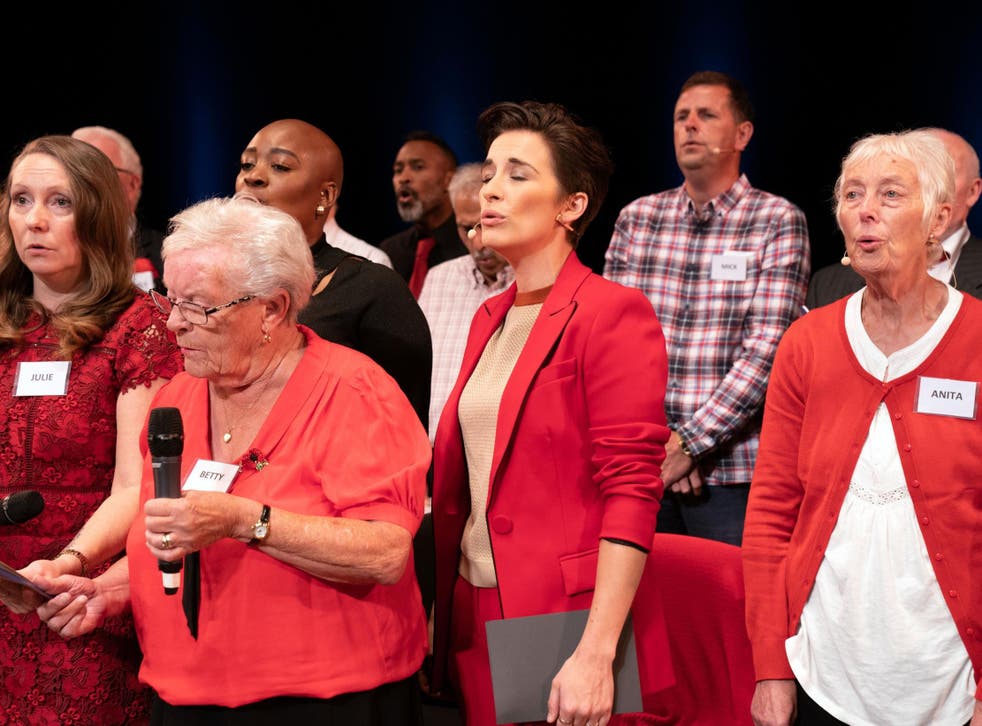 I hesitate a little to recommend Victoria, but I think this curious exercise in history as costume drama has a certain type of attraction all of its own.
On one level, for instance, it offers something to the somnolent Sunday evening viewer looking for a little distraction from contemplating on the grim return to work in the morning. On another, it furnishes a Ladybird book-style summary of 19th-century history, with two-dimensional portraits of anything from the Irish famine to Lord Palmerston, albeit with a ridiculously heavy emphasis on courtly politics, jealousies and manners.
Even at the stage we have got to in her glorious reign, around 1850, and long before the extension of the franchise even to the middle classes, the monarch herself had relatively little power compared with other ministers, though we are half-invited to suppose otherwise. The Crown, by the way, suffers from the same delusionary premise and obsession with palace etiquette. So Victoria, with its overdone costumery, starched characterisations and stilted dialogue, can be enjoyed on yet another level as unconsciously parodic.
Anyway, this week Victoria and Albert aren't getting on all that well, so they get dressed up for a fancier dress ball, and there's some upstairs-downstairs nookie.
Which brings us neatly to Game of Thrones, which, heaven help us, makes Victoria look like a Panorama documentary about food banks, such is its absurdity. For this hotly awaited episode Sky Atlantic viewers surely get their money's worth – a full hour and 20 minutes of the nonsense an army of undead warriors and some dead throners, as we might call 'em. One day the global collective obsession with fantasy will end. But, in the name of Tolkien, when?
More of a minority interest (I'm taking a punt here) is jazz. Not quite as cool as it used to be, BBC4 is brave enough to take on a minor revival of Jazz 625 Live, a live format that was probably last broadcast when Queen Victoria was still on the throne. Well, the last time England won the World Cup, anyhow. For one night only, then, the men in roll-neck jumpers and a sax take over the schedule. In the 1960s, Jazz 625 Live gifted us the likes of Cleo Laine, Oscar Peterson and Duke Ellington in living monochrome into our living rooms, which you can't really fault.
For 2019, we get a house band led by pianist Robert Mitchell, saxophonists Joshua Redman and Jean Toussaint, guitarist Shirley Tetteh and Gregory Porter. Rolling Stones drummer Charlie Watts – who is old enough to have been on TV in 1966 – also has a turn. I mean the musical kind, not having one at the age of 77.
When I Grow Up has the interesting idea of turning primary-school children into interns. Now I know everyone wants to get a job in the media, but it is surely a bit odd to send an eight-year-old child to do a shift on Hello! magazine? Well, not if it's a Channel 4 experiment about social mobility and class barriers. I'm a bit sceptical, but anything to liberate us from our current slide into becoming an unequal and privileged society is worth a go.
Our Dementia Choir with Vicky McClure is another experiment, this time with a more straightforward purpose. The Line of Duty star had the misfortune, as so many have, to watch as her grandmother succumbed to the horrible effects of Alzheimer's. During that decline, though, music was something of a comfort to her, and hence the idea of seeing how singing can have positive physical and emotional effects on those affected. It is moving, and very welcome indeed, to see the taboo and stigma of dementia gradually being brought out of the shadows and into the community, so to speak. Some of the choir members can't remember what they were singing 10 minutes ago, but so what?
Access unlimited streaming of movies and TV shows with Amazon Prime Video Sign up now for a 30-day free trial
Sign up
Of course, you can catch Ms McClure in Line of Duty itself, in her usual role as Kate Fleming on Sunday evening, if you fancy something a little more challenging than Victoria on ITV. She asks her boss, Superintendent Hastings (Arian Dunbar), "is there something you're not telling us?", and of course there is. More than one thing.
Recent cold cases such as the apprehension of a suspect in the American "Golden Gate" serial murders demonstrate the extraordinary power of modern forensic science. There has even been some suggestion that forensics have, at last, solved the identity of Jack the Ripper. Forensics: the Real CSI brings us right up to date on how the work is done, and what new frontiers are still left to explore. An excellent riposte to the lazy notion that police are too idiotic or powerless to do anything about crime.
Last, I do need to mention Trust Me, which is maintaining its air of suspense nicely. This week poor old Jamie (Alfred Enoch), lying almost paraplegic on a spinal injuries ward in Glasgow faces up to a blood test – a routine procedure rendered terrifying by the suspicion that there's a killer on the loose, and he, she or they are in a medical uniform, syringe in hand... Ashley Jensen, as Nurse Debbie Dorrell, has never been so sinister.
Victoria (ITV, Sunday 9pm); Game of Thrones (Sky Atlantic, Monday 9pm); Jazz 625 Live: For One Night Only (BBC4, Friday 9pm); When I Grow Up (Channel 4, Thursday 8pm); Our Dementia Choir with Vicky McClure (BBC1, Thursday 8pm); Line of Duty (BBC1, Sunday 9pm); Forensics: the Real CSI (BBC2, Wednesday 9pm); Trust Me (BBC1, Tuesday 9pm)
Join our new commenting forum
Join thought-provoking conversations, follow other Independent readers and see their replies