The TV shows to watch this week: From Years and Years to Victoria
Sean O'Grady picks the essential viewing over the next seven days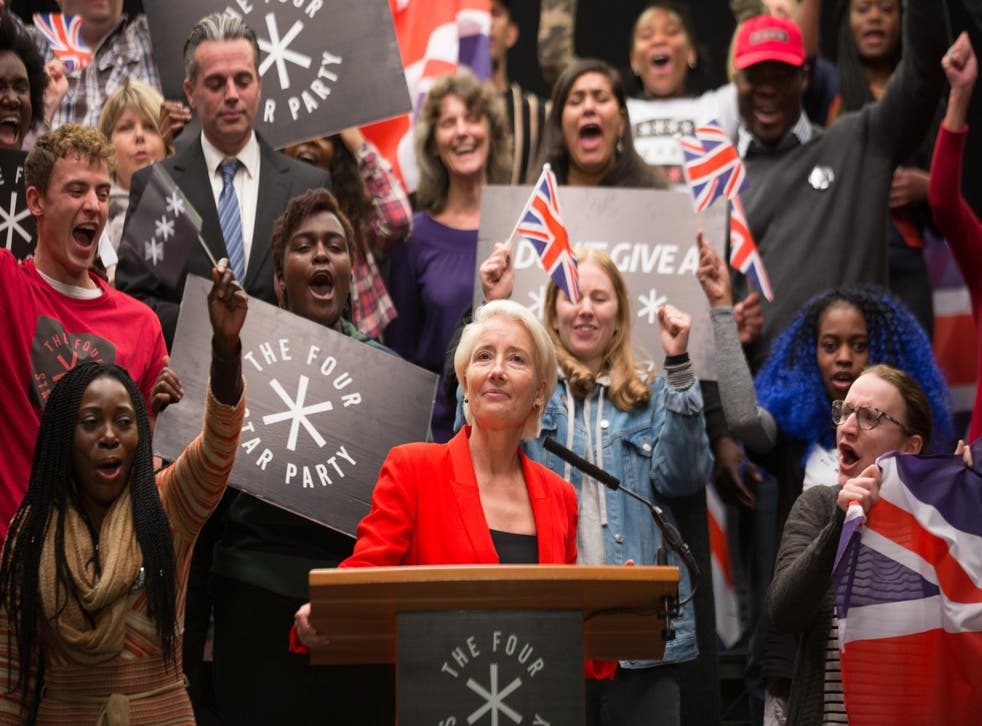 Maybe, in two hundred years' time, there'll be lots of telly programmes (or the 23rd century equivalent) about the life and times of the royal baby we must know, for the time being, as Master Archie Harrison Mountbatten-Windsor.
After all, when Queen Victoria was born on 24 May 1819, she too was a relatively large distance from the throne she was eventually to inherit. Today the royal industry, including the Queen Victoria media factory, has never been busier, and this week, if you can take it, you can mainline on three (at least) doses of Victoriana.
First out of the traps is Lucy Worsley, our liveliest telly historian, who manages to find a new angle on the old queen – the role music played in her life, and, still under-explored, the fun side of the woman who, from her public appurtenances at least, never much smiled after the death of her husband Albert.
Perhaps wisely, Worsley chooses not to do her usual thing and dress up as Victoria (because no one has done that better than Ronnie Barker, circa 1977), but her chirpy little documentary enjoys the usual large dosage of Worsley joie de vivre. Apparently the Empress of India enjoyed Indian music, as well as the bagpipes, waltzes and classical opera as performed by the "Swedish Nightingale" Jenny Lind.
I'm sorry to say that ITV's current biopic of Queen Victoria, Victoria, is drawing peacefully to a close on Sunday evening. Even so, we're only up to the Great Exhibition of 1851, so there's another half-century or so to go before they move on, presumably, to her son and hero Bertie, Edward VII, who really did enjoy a laugh. (I am especially looking forward to how they reproduce the famous special chair a Parisian brothel had made for the obese playboy so he could, well, you know.)
In Victoria, you'll enjoy the most extraordinary collection of absurd Germanic accents since 'Allo 'Allo was on the air, with a standout performance from Laurence Fox as Lord Palmerston. (Basically he's mimicking Boris Johnson, an inspired choice.)
Third in line to this particular telly throne is Victoria's Palace, in which ITV's go-to presenters, Julie Etchingham and Sir Trevor MacDonald tell us all about life at Buckingham Palace during Victoria's long reign, during good chunks of which she was absent from London, in her "widow of Windsor" phase. She didn't make as outward and public a change to the palace as did her grandson, George V, who, in 1913 installed the bombastic frontage that we are so familiar with today, but there's still plenty of domestic trivia to be getting along with. Did you know, for example, that the diminutive monarch could polish off a nine-course meal in half an hour?
10 most uplifting TV shows

Show all 10
If that's not enough of VRI, then I might also mention that the two Anna Neagle films about her life, made in the 1930s, and Dame Patricia Routledge's unlikely casting in the 1964 Granada TV series are out on DVD, and excellent period pieces of their own right they are. The British, it would seem, have never quite escaped the shadow of Victoria and her empire.
The British Academy Television Awards turn up on Sunday evening. This luvvie-fest isn't especially entertaining, I shall grant you, and being the rough modern equivalent of those glitzy society balls we see so much of in the ITV Victoria. However, the interminable ceremonials, presented, inevitably by Graham Norton (where's his knighthood?), do at least serve the purpose of reminding us that British television is going through something of a golden age; A Very English Scandal, Bodyguard, Killing Eve are the hot tips.
Access unlimited streaming of movies and TV shows with Amazon Prime Video Sign up now for a 30-day free trial
Sign up
I don't really feel that able to recommend Louis Theroux: Mothers on the Edge. It's an exploration of the severe psychiatric episodes that some mothers suffer after giving birth, to the extent that they must be sectioned to help protect them doing harm to themselves or their child. It is a distressing film to watch, given the circumstances, and I'm not convinced that the Louis Theroux style is well-suited to the subject matter, to say the least.
Years and Years is Russell T Davies' peek into the near future told through the medium of an extended British family. There is huge star quality deployed here – Anne Reid, Jessica Hynes, Rory Kinnear, Emma Thompson, and I think you know, more or less, what the next few years might hold for us all – robots, Trump, Faragism, war and refugees – but there is also some extra fun. The only fault with it is that you'll need to concentrate quite hard on working out who's related to whom. It's Emma Thompson's best work, by the looks of it, and you can take that any way you like.
A welcome return for Mum, the BBC's gently realised comedy starring Lesley Manville as a recent widow trying to get on with life and all that. This, however, will be third and last series for Stefan Golaszewski's Bafta-winning creation, so relish it while you can. Peter Mullan co-stars as the uncertain suitor Michael.
Queen Victoria: My Musical Britain (BBC2, Saturday 9pm); Victoria (ITV, Sunday 9pm); Victoria's Palace (ITV Monday 9pm); The Baftas 2019 (BBC1, Sunday 8pm), Louis Theroux; Mothers on the Edge (BBC2, Sunday 9pm); Years and Years (BBC1, Tuesday 9pm); Mum (BBC2, Wednesday 10pm)
Support free-thinking journalism and attend Independent events
Register for free to continue reading
Registration is a free and easy way to support our truly independent journalism
By registering, you will also enjoy limited access to Premium articles, exclusive newsletters, commenting, and virtual events with our leading journalists
Already have an account? sign in
Register for free to continue reading
Registration is a free and easy way to support our truly independent journalism
By registering, you will also enjoy limited access to Premium articles, exclusive newsletters, commenting, and virtual events with our leading journalists
Already have an account? sign in
Join our new commenting forum
Join thought-provoking conversations, follow other Independent readers and see their replies