TV Review, Great Indian Railway Journeys (BBC2): Portillo is back on track with his fine travelogue series
Plus: The World's Ugliest Pets (ITV)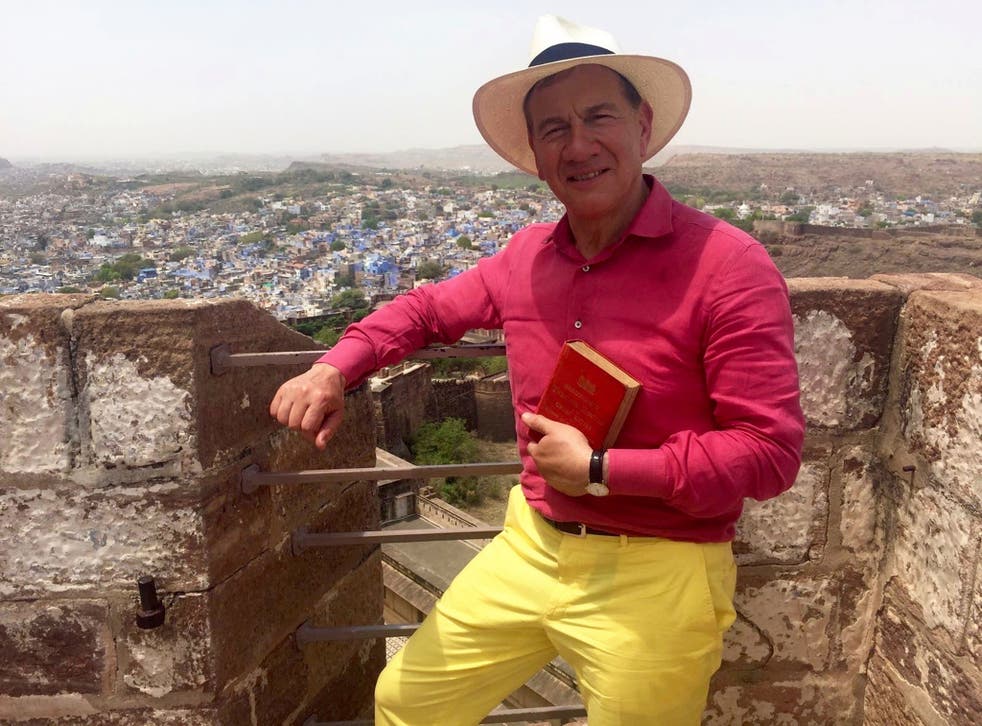 Watching Michael Portillo mounting the Himalayan Queen Express (a train) I was filled with envy. There he was, completing the final leg of a rail journey that, just from an inventory of its stops, sounds ridiculously exotic, romantic and indeed redolent of British imperial history: Amritsar-Ludhiana-Ambala-Chanigah-Kaka-Shimla. Each stop could fill an hour of TV on its own, but Portillo and the team managed, like an old-time Indian train with the passengers piled high on the roof, to accommodate everything and still keep things moving along at a tidy clip.
OK, there were some of the usual cliches. Portillo, vibrant and colourful as any Indian bazaar, had his own citrine-shaded "kurta" or Nehru jacket run up for him, complete with "pajama" breeches and an exquisite silk over-waistcoat. Indeed Portillo himself added decisively to the dazzling expositions of traditional bhangra dancing and dress with outfits sourced from his own British outfitters. I catalogued – in this one episode alone – shirt/slacks combinations of mint and magenta, lemon and violet, aquamarine and vermillion, all set off with, variously, a white Panama hat, maroon slippers and an orange Sikh headdress.
The "teeming" crowds around the Golden Temple at Amritsar, really did teem for India. They and the holy place were a breathtaking sight and remarkable that it was constructed back in 1588 (when British building achievements were rather more modest). He was also mostly engulfed by the organised bureaucratic chaos that still characterises aspects of Indian life to this day.
Portillo could also not restrain himself from quoting from his 1913 edition of Bradshaw's Handbook of Indian, Foreign and Colonial Travel, noting for example an unfathomable reference to the Sikhs' taste for "opium and cherry brandy" and the recommendation for "early rising because it allows a European to perambulate in the cool of the morning". And perambulate Portillo certainly did, all over Punjab.
Yet, for all its antique touches, Portillo's travelogue was spiced with glances at a modern, mature, self-confident India, with historians filling Portillo in on what exactly the reality of British rule meant to them, then and now. There was a stark contrast, for example, between old Shimla up in the Himalayas and the model city of Chandigarh. Both deserve their Unesco listings and the attention of international tourists. Shimla, because for six to eight months every year, when the old capital Calcutta, or Delhi were too hot, the entire apparatus of the Raj was moved by bullock cart or narrow gauge rail and dumped in a town about the size of Guildford and with much the same look and style of life.
From what looked to be a big hotel hundreds of millions of subjects of the British monarch were governed by a Viceroy who effectively oversaw a territory that comprises today's nations of India, Pakistan, Bangladesh, Sri Lanka, and Burma/Myanmar plus, even more remotely, the United Arab Emirates, Yemen and Singapore. Hitler, it was said, was mesmerised by how so many people could be dominated by a force of a few thousand British soldiers.
Well, it didn't last, not least because of the British massacre of peaceful protesters and bystanders at Amritsar in 1919, a moment of brutality and mass murder that Portillo rightly determined marked the beginning of the end of the Raj. The trains Portillo enjoyed taking such a relaxed ride on were also once moving targets for communal killings in the twin mass exoduses after partition in 1947 – Sikhs and Hindus to India, and Muslims to Pakistan, numbering perhaps 10 million – ten times, in other words, the Syrian movement into Europe in recent times.
Contrast Shimla and that messy imperial past, though, with the Le Corbusier designed 1950 model modernist masterpiece of Chandigarh, which, like Milton Keynes or Brasilia, has that deracinated "could be anywhere" quality. It is an impressive sight and a symbol, as Nehru intended, of what India could be. With the fastest growth rate of any major economy, India is, at long last, fulfilling its vast potential, and Portillo promises to show us that, too.
Unlike for most of his political career in the Conservative Party, Portillo displays a sense of balance, perspective and sheer humanity that make him an excellent guide. His leader, William Hague, during one of his many xenophobic spasms, once invited an audience to join him "on a journey to a foreign land" (by which he meant Britain, pathetically enough). It's funny to see how his one-time rival Portillo now shows us how it is done in amore literal sense. Next stop: Portillo tries to upstage the Taj Mahal.
I enjoyed Caroline Quentin's quest to discover The World's Ugliest Pets, and I think she managed to track a worthy winner down. Not, I have to say, the various pedigree Chinese Crested dogs, which tend to populate ugly dog shows, because the Chinese Crested is actually designed to look ugly (I assume), being bald and having random tufts of wiry hair randomly arranged on its scrawny body. Examples with exceptionally undershot jaws, or "milky eye" syndrome, or an especially wonky crab-like walk, or the full monty of grotesqueness, are especially prized by the ugly dog community, which is just as well, as otherwise these unter-canines would be sent to the great Crufts showring in the sky by the dog world's eugenicists.
No, the winner, for me, was a bald baby "fancy" (ie domesticated and bred to be hairless) rat, which its devoted owner allowed to crawl all over her. That's right, yes. Bald. Baby. Rat. Yet when Caroline met Bald Baby Rat she seemed almost transfixed but it, and fell for its, well, ratty little face. She thought it proved that "it's what's inside that counts" and that prejudice stems from a lack of knowledge. It's all true, of course, but who among us could bring ourselves to cuddle a bald baby rat? As near a test/definition of original sin as I've yet to find.
Register for free to continue reading
Registration is a free and easy way to support our truly independent journalism
By registering, you will also enjoy limited access to Premium articles, exclusive newsletters, commenting, and virtual events with our leading journalists
Already have an account? sign in
Register for free to continue reading
Registration is a free and easy way to support our truly independent journalism
By registering, you will also enjoy limited access to Premium articles, exclusive newsletters, commenting, and virtual events with our leading journalists
Already have an account? sign in
Join our new commenting forum
Join thought-provoking conversations, follow other Independent readers and see their replies